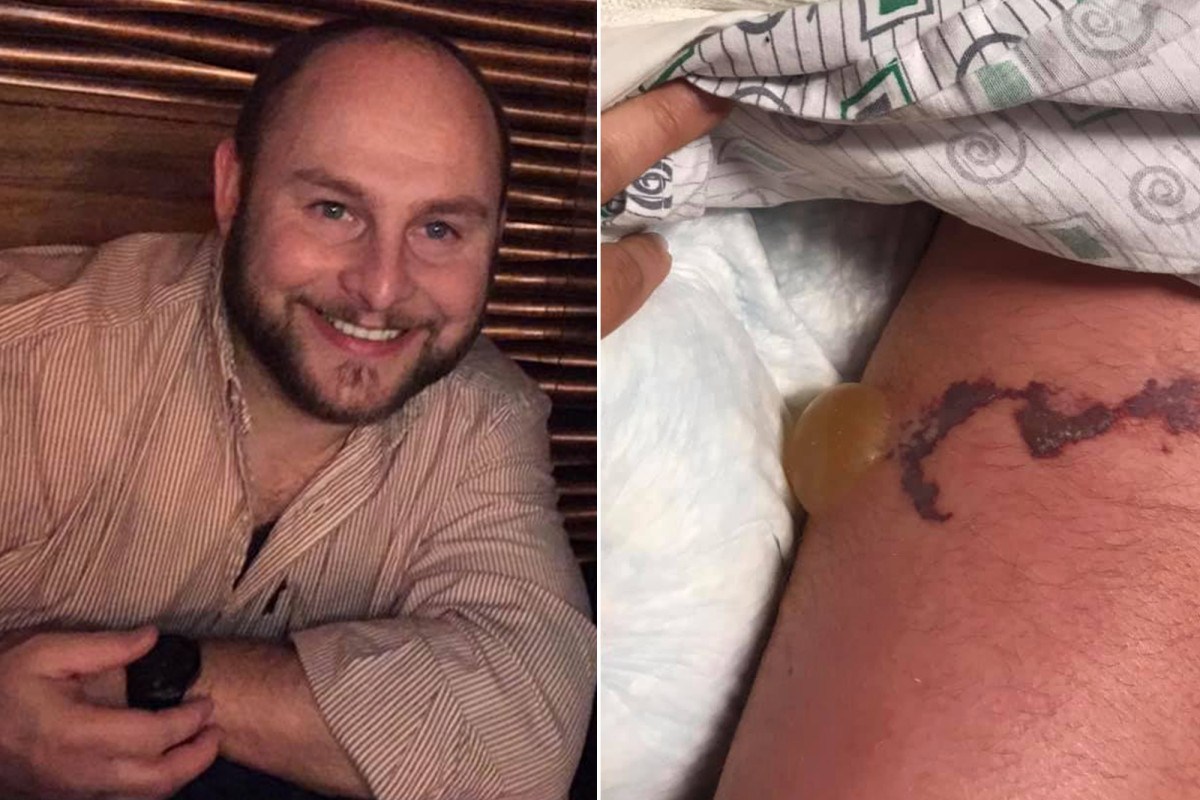 Jonathan Metcalf Kentucky man contracts flesh eating bacteria while on family camping trip and is left immobile two months later as he now awaits a skin graft. 
A Kentucky man has told of contracting flesh-eating bacteria during a camping trip two months ago that continues to ravish him.
Jonathan Metcalf, of Lancaster, took a Memorial Day weekend trip with his family to the Green River, where he went swimming and camping, WKYT reported.
By the end of the day Metcalf began exhibiting symptoms — including dizziness and fever. 
'It felt like someone has kicked me in the groin,' Metcalf told WKYT.
Metcalf then spotted something beginning to form on his left thigh, with the man saying he could barely walk.
A doctor diagnosed a case of necrotizing fasciitis, a rare bacterial infection that kills tissue and separates the lining from the muscle.
How necrotizing fasciitis forms and how to avoid it:
Symptoms of the disease include a red or swollen area of skin that spreads quickly, severe pain — even beyond the infected area of skin — and a fever, according to the CDC. Individuals with open sores or cuts or a compromised immune system are most vulnerable. About 700 to 1,200 cases of the disease have occurred each year in the US since 2010.
Metcalf spent two weeks in the hospital, where he underwent surgical procedures — one of which removed a 6-inch portion of his upper thigh. Now he's waiting for a skin graft.
'I've been in mudholes, creeks, four-wheels my whole life, probably every body of water there is. Most of them I was fine in,' Metcalf said. 'This never would have crossed my mind something like this could have hit me. It's something you see on Facebook that you never think could be in your house.'
Metcalf, an electrician, hasn't been able to work since the incident, and a nurse has been visiting for his at-home treatment. He's hoping to return to work in a month.
Metcalfs health crises follows a number of individuals contracting the potentially deadly virus with the recent onset of warmer weather where bacteria tend to ferment.
Virginia woman infected with flesh eating bacteria at Norfolk beach after ten minute swim
How? Alabama man fighting for his life after contracting flesh eating bacteria on kayaking trip
Father dies of flesh eating bacteria 48 hours after contracting it during Florida beach trip
Florida woman dies after contracting flesh eating bacteria while walking along beach (two weeks ago)