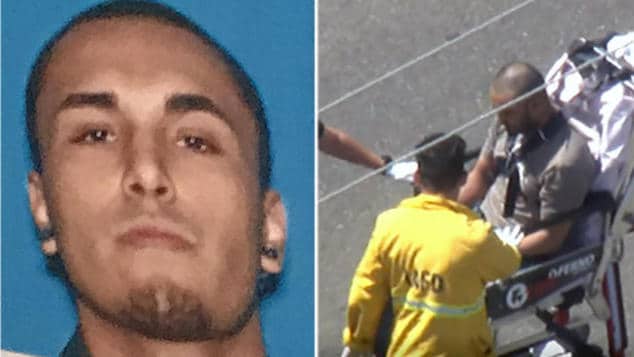 Gerry Zaragoza suspected Canoga Park shooter captured after killing his father, brother, critically injuring his mother, killing his ex girlfriend, and a man sitting on a bus. 
A man has been arrested following a shooting rampage in Los Angeles that left four dead and two others injured authorities said.
Gerry Dean Zaragoza, 26 was captured more than 12 hours after the deadly rampage which began across California's San Fernando Valley on Thursday.
The Los Angeles Police Department said the suspect was taken into custody Thursday afternoon following an 'intense manhunt'
Zaragoza is suspected of shooting his parents and brother in his family's apartment in Canoga Park just before 2am on Thursday. 
KTLA reported the man's father and brother dying, while his mother was injured and remains in hospital in a stable condition. 
Carlos Zaragoza, 56 was identified as the suspect's slain father. Coworkers said Carlos worked as a carpet cleaner – described him as a 'good' and 'funny' man by his coworkers. The other victim, Zaragoza's brother, who has not been formally identified, was 33 years old, police said.
Zaragoza is accused of then opening fire at a gas station in North Hollywood about 45 minutes later.    
In that incident, a woman was shot dead and a man was critically injured. 
The victims in the second shooting are believed to be acquaintances of Zaragoza but the relationship was not immediately known. Reports told of the slain female possibly being the suspect's former girlfriend.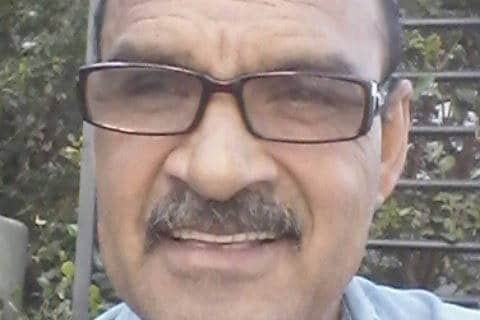 Wanted man walked up to the man sitting on bus and shot him point blank in the head.
The series of crimes started about 1:20 a.m. at the Roscoe Boulevard Apartments in the 21900 block of Roscoe Boulevard.
Officers responded to the location near Topanga Canyon Boulevard after receiving a shots fired call.
Authorities said they received follow up reports circa 7.45am that a man matching Zaragoza's description had tried to rob a man outside a Bank of America in Canoga Park.  
Police say Zaragoza killed another man when he opened fire inside an Orange Line mass transit bus at about 1pm on Thursday while authorities were hunting for him.
Witnesses said there was no interaction or provocation before Zaragoza walking up to the man and shooting him point blank in the head.
'He didn't do anything. He was just sitting on the bus,' a witness said about the victim on the bus abc7 reported.
The suspect appeared to be injured during the arrest and was taken from the scene in an ambulance. Police recovered a gun, but it has yet to be definitively linked with the shootings.
Investigators have not revealed a potential motive in the shootings. Police intimated the suspect was having 'problems' with his family earlier, without elaborating.
'I would say any time somebody shoots somebody, they're obviously displaying some desperation,' said Lt. Kirk Kelly with LAPD's Robbery/Homicide division. 'So we're looking into that.'
A GoFundMe page was started to help the Zaragoza family.
MANHUNT OVER suspect wanted in connection with shooting 6 people 4 of them dead. #LAPD taking the suspect into custody in Canoga Park then taken to hospital possible minor injuries when being taken into custody @KCBSKCALDesk pic.twitter.com/qG1v0ULiXb

— stu mundel (@Stu_Mundel) July 25, 2019