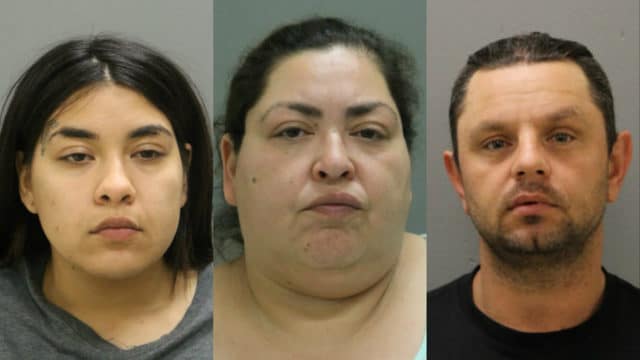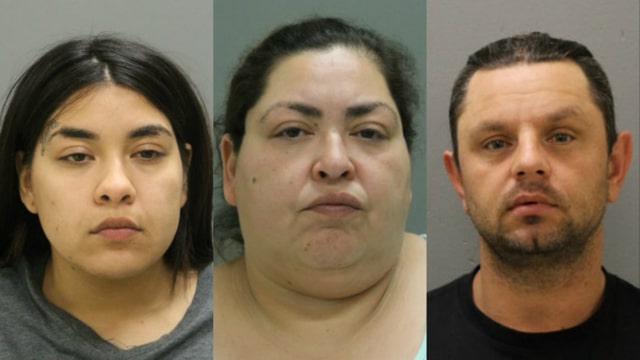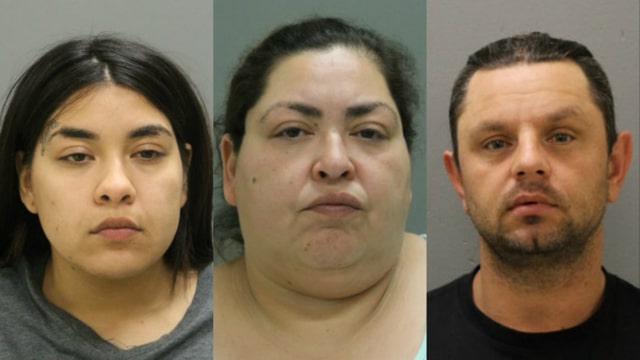 Marlen Ochoa-Lopez: Desiree Figueroa, Clarisa Figueroa, Piotr Bobak charged with the murder of pregnant Chicago teen girl, 

Marlen Ochoa-Lopez as baby Yadel Lopez fights for life.
Three people were charged Thursday — including a mother and her daughter —in connection to the murder of 19-year-old teen, Marlen Ochoa-Lopez, who had her baby ripped out of her womb after being strangled to death.
Clarisa Figueroa, 46, and Desiree Figueroa, 24, were both booked with first degree murder charges and Clarissa's boyfriend, Piotr Bobak, 40, was charged with concealment of a crime, according to Chicago officials during an afternoon press conference.
Clarisa and Desiree Figueroa were additionally each charged with aggravated battery of a child causing permanent disability.
Police say Clarisa recently lost her son, who was in his 20s, to natural causes.
All three are due in court for bond hearings on Friday.
Here's one of the messages #MarlenOchoa Lopez had with Clarisa Figueroa on social media regarding baby clothes. Police Superintendent Eddie Johnson said they'd communicated before and met before prior to the killing of #MarlenOchoa. @fox32news pic.twitter.com/Nshu6qqteP

— Tia A. Ewing (@TIA_EWING) May 16, 2019
Clarisa Figueroa sets a trap for unsuspecting 19 year old 9 month pregnant teen:
The unsuspecting teen mother walked into an open trap on April 23 when she responded to a Facebook ad for free baby clothes at a South Side Chicago residence – where she was slaughtered and her unborn child yanked out of her- only for that child to now be clinging to life as a 46 year old woman, identified as Clarisa Figueroa called 911 that day to report 'post- complications' with child delivery.
Authorities declined to explicitly say how the unborn child was 'forcibly removed' from her mother's body.
It wasn't until receiving an anonymous tip that investigators were able to determine that Figueroa was not the child's mother with DNA testing proving that the missing 19 year old was the child's parent along with her husband, Giovanni Lopez.
Notice of the missing teen's whereabouts came after investigators discovered Marlen Ochoa-Lopez in a trash can behind the residence she'd gone unwittingly to pick up the 'free baby' clothes- leading to the eventual arrest and charging of three individuals.
Of disconcert is the newborn child, Yadel Lopez's deteriorating condition, with the baby boy in critical condition at Advocate Christ Medical Center in Oak Lawn, Ill.
The baby suffered severe brain damage and may be pulled from life support in the coming days, the Chicago Sun-Times reported.
Clarisa Figueroa posted on @gofundme that her baby was ill. The baby belonged to #MarlenOchoa according to police. Clarisa is charged along with her daughter, she assisted in strangling the 19yo according to CPD. Burned clothes, bleach, and blood was found in the home. @fox32news pic.twitter.com/luqN5Tuhly

— Tia A. Ewing (@TIA_EWING) May 16, 2019
Clarisa Figueroa social media and GoFundme posts: 
Perhaps most foreboding and pointing to the trio's upcoming plan to 'steal' a baby were social media posts that the suspects had been posting online in recent months about the arrival of a baby boy, decorating a nursery along with seeking out expectant mothers on Facebook.
'Hello ladies, I'm due May 10 and I still need a ton of things for my son,' Ochoa-Lopez wrote on March 5.
'Due to the fact that I'm in school and can't work at the moment, I can't afford to buy the rest of the things since I'm short on cash right now.' 
Clarisa Figueroa, who had claimed on the Facebook group that she was pregnant as well,  responded and offered to give the teen 'brand new boy clothes' for free.
But it seems the suspects hadn't only just hoodwinked the unsuspecting Ochoa-Lopez but unsuspecting sympathizers as well.
Online fundraising appeals show that Clarisa Figueroa and Bobak claimed to be the parents of a premature child born on April 23, which they had named Xander Xavier Bobak. Online fundraising had scammed $9000 from unsuspecting donors who were unaware that the child 'about to die' was neither Figueroa and Bobak's or that the child had been forcibly removed from its legitimate mother.
'Baby Xander, despite all he is going through is a little fighter, and has already captured the hearts of many family members,' the scam GoFundme page read. 'Honoring the short life that baby Xander had is one small way to help provide closure and start the mourning process for the family.'  
Marlen Ochoa-Lopez's family and husband have since responded they have no intention of taking baby Yadel off life support and determined to seek justice for the slain mother and the baby boy as the child's father fought back tears as his world was forever rocked by unimaginable horrors and human cruelty…..
Was Savanna Greywind murdered pregnant woman victim of womb raiders?
Eight month pregnant Brazilian woman killed and her baby taken from womb by jealous woman
Brooke Lynn Crews: I wanted to keep Savannah Lafontaine-Greywind's baby
Heart & gut-wrenching story.

There's a growing memorial for 19-year-old Marlen Ochoa-Lopez outside Clarisa Figueroa's Scottsdale home.

Ochoa-Lopez's body was recovered from a garbage can here. @cbschicago pic.twitter.com/vGk0d72MCX

— Tara Molina (@TaraMolinaTV) May 16, 2019