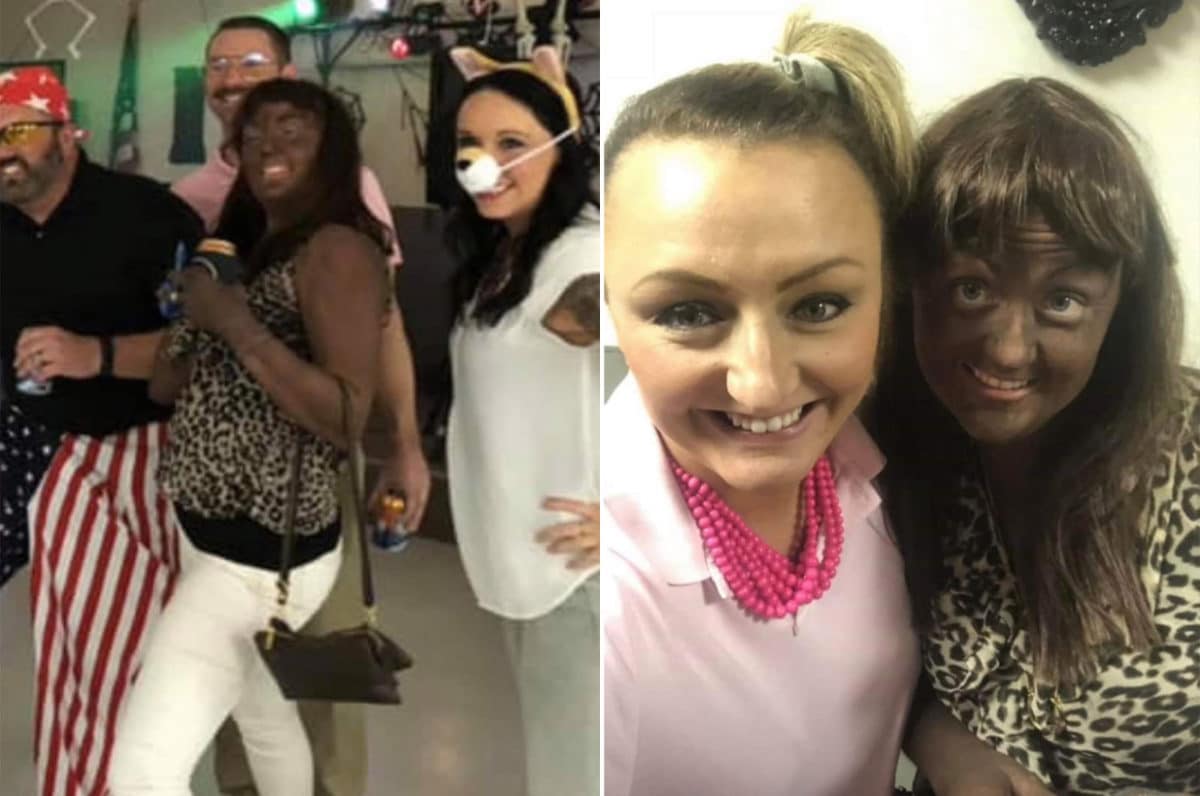 Megan Luloff-Davenport, Iowa, Walcott Elementary elementary school teacher pictured in blackface issues apology after viral photo: 'I didn't know any better.'  But will it save her job?
A Davenport elementary school teacher in Iowa photographed in blackface at a Halloween party has issued an apology claiming that she never knew the disparaging act of white individuals dressing up in black paint stemming from a controversial and demanding chapter of American history. To boot- the teacher insists she never meant to offend anyone.
The plea for mercy follows Megan Luloff, a first grade teacher at Walcott Elementary, being photographed on Oct. 19 at a party at the Walcott American Legion as part of a group of people dressed as characters from the 2004 movie 'Napoleon Dynamite.'
Luloff as part of her costume dressed as Lafawnduh, Kip Dynamite's wife. The photo unwittingly led to Luloff being the focus of an investigation upon school district officials being made of the contentious costume. 
Come Wednesday the nypost reported an attorney for Luloff releasing a statement saying the elementary teacher was 'completely unaware' of what blackface represented in American culture.
'At no point during her preparation for the party, or her participation at the event, did Megan ever intend to mock the character's ethnicity or take any action intended to be offensive to anyone,' the statement read. 'At this point in time Megan had never heard the term 'Blackface' nor did she know the history of the term. If she had that knowledge she never would have participated in such a way that she deeply regrets her actions.'
The attorney added that Luloff would never have knowingly mocked people of a different race because her child is an albino.
Luloff, according to the statement, is no stranger to how 'sensitive feelings about appearance can be' as the mother of a child of albinism.
'She knows how hurtful and damaging it can be when you think someone is mocking your appearance,' the statement continued. 'Throughout history, people affected by albinism have been humiliated, mocked, sent away from their families, worst of all beaten and thought of 'witchcraft.'
The statement continued: 'Unfortunately, this is a personal experience and knowledge that she did not have at the time with regard to Blackface.'
Megan Luloff is a racist. Call Walcott Elementary school at (563) 445-5200 & demand she is fired. https://t.co/GGcm0Vj1dZ

— Simar (@sahluwal) October 28, 2018
Will Megan Luloff still get to keep her job as the world demands she is fired?
The statement from the Cartee Law Firm also claims that the Quad City Times newspaper which published the photo of Luloff that went viral and caused wide spread commotion (and a flurry of threats) had sought to either 'promote an already divisive country or to cause death threats to Megan and her family.'
'It is equally apparent, that this picture has now made thousands of citizens aware of what Blackface is historically and how hurtful it is to all African-Americans,' the statement continued. 'For this awareness, Megan is thankful.'
'This was the first time Megan had ever been presented with the notion that she had done anything opprobrious,' continued the lawyer's statement- referencing her decision not to initially entertain media comment. 'At that time, she declined comment on the picture … Megan, along with many of her friends and family, were completely unaware of what Blackface was historically or that such a term even existed.'
While continuing, 'after learning about the term, however, our client immediately understood the anger and outrage behind the photo,' which have including calls for her firing by local NAACP officials. Luloff according to her attorneys then took part in the district's ongoing investigation into the photo.
Luloff the apology noted will be 'eternally sorry for her lapse in judgment'.
Welcome to a bold divided America-oblivious, ignorant to its sordid history, conflicted identity and at war with itself while nonchalantly celebrating wider pop culture which could only exist with the overwhelming participation of African America suffering and import….and artistic merriment.
Of note, the teacher's employment status wasn't immediately clear…..
St Luke's nurse fired after posting Blackface Halloween Beyonce
Owensboro father and son Nazi Halloween costume, 'I had no idea people would be offended'