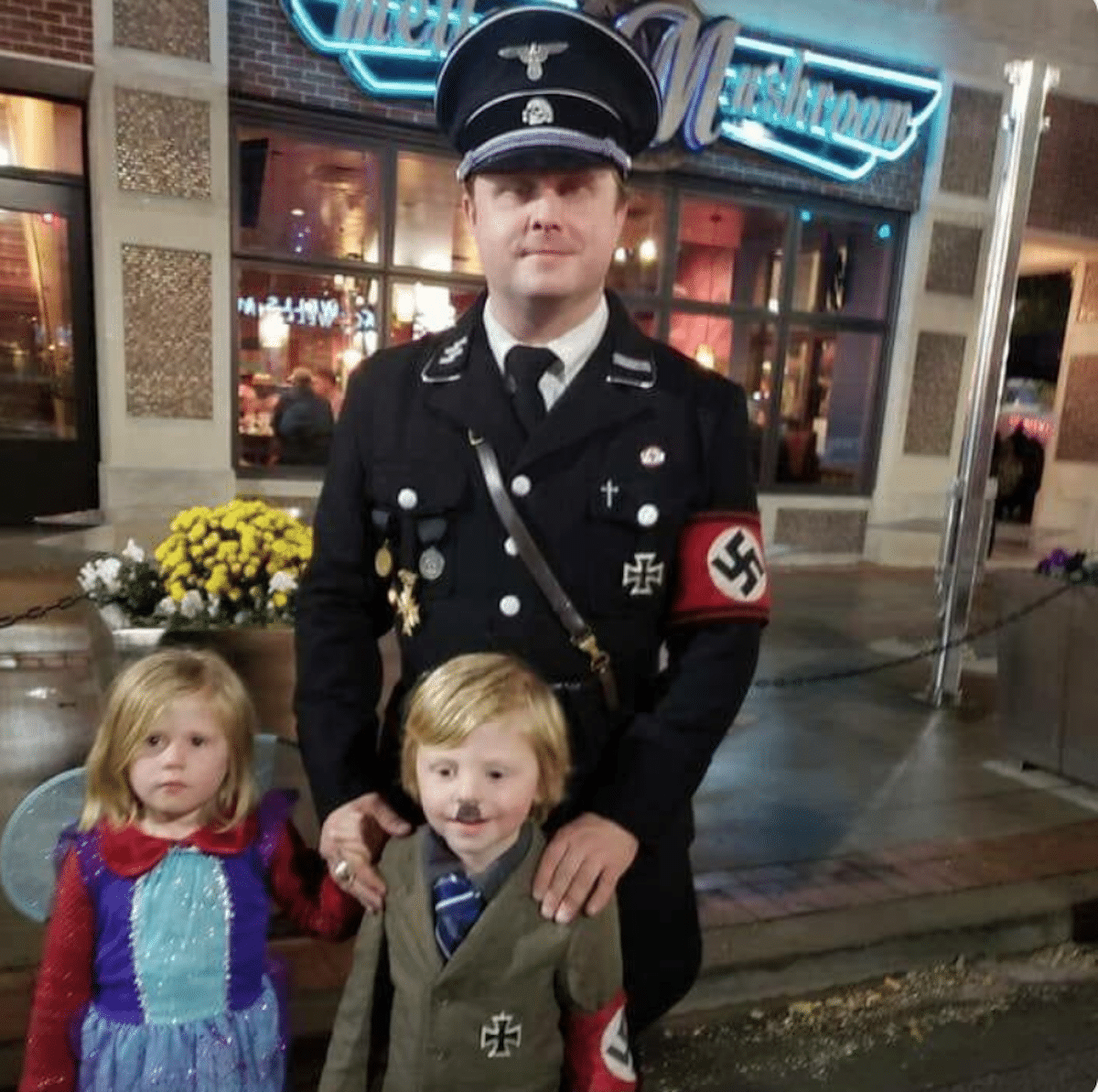 How Bryant Goldbach an Owensboro, Kentucky father became most loathed after wearing Nazi Halloween costume set up for festivities. What's in an image and did Bryant know better or simply not care (or is one obliged to care?). 
An Owensboro, Kentucky father has told of regretting dressing his son and himself in Nazi costumes during recent Halloween trick and treat festivities. 
The second thoughts follow an avalanche of criticism following online photos of the father and five year old son pair going viral online reported TriStateHomepage.com.
Photos showed Bryant Goldbach dressed as a Nazi soldier while the man's son was dressed as Adolf Hitler during Owensboro's Trail of Treats event.
Goldbach says he originally did it for historical purposes but reckons he may not have thought things through carefully. 
'Anyone who knows us knows that we love history and often dress the part of historical figures,' Goldbach posted on social media.
The dress up led to the father saying receiving 'snide' remarks- along with his son threatened (can anyone really blame a child?) for wearing the Third Reich costumes at Thursday event.
'Tonight grown adults threatened a child over his costume,' Goldbach wrote on social media. 'Threatened to rip his outfit off of him, screaming obscenities, scaring a small child.'
Adding, 'Anyone who knows us knows that we love history, and often dress the part of historical figures'.
Which is to wonder what is it about an image, no matter how physically non threatening and inert it is that it can still ignite passion, hostility and of course threats against a child? With even some wondering now the dad having subjected his son to child abuse– but then again to what extent is anyone responsible for the hostile reactions of others- if at all?
Bryant Goldbach 

Halloween Nazi costume: Is a father compelled to know better?
The Nazi costumes led to many claiming the father and son went overboard and exhibiting poor taste.
Goldbach for his part- said he didn't realize it would stir as much controversy (is he telling the truth? – surely he had a hint or two)  as has since apologized. 
'I think it was in bad taste for me to let my child to wear that, probably for me to wear that. It didn't occur to me. I thought it was a bad decision on my part,' Goldbach told via wfla.
The father's words carry extra weight following accusations or suggestions that Goldbach- who may or may not have been playing dumb, as many accused him or simply impervious or not caring of other's opinion having an affinity for right wing extreme groups. 
Reflected local, Shelby Worden, 'With all the hate in the world, it's bringing out more hate from the past. It's showing things that shouldn't be, not necessarily brought up, but romanticized.'
The Rabbi at Temple Adath B'nai Israel made a statement concerning how people should be mindful of what costumes they wear during Halloween.
Also addressing the incident was Rabbi Gary Mazo.
'The fact that the father apologized is important; the fact he did not know the costumes would be offensive is a very sad reflection on our society,' Mazo said. 'A good rule of thumb would be: 'if your costume calls to mind an event where millions were killed, choose another costume'.'
What do you think? As long as Bryant Goldbach never set out to impart a hate crime or persecute a group of people as such uniforms are apt to remind/reinforce- was he nevertheless acting in bad taste, knowing that his get up risked offending many in the community who have had to live with the consequences of history?
Or should Bryant Goldbach be free to dress himself and his son as he pleases- but not be surprised if he should somehow end up making it on the national front page….
This is Bryant Goldbach, an employee of yours in Owensboro, KY. He enjoys cosplaying himself and his family as nazis. And follows a few dozen Nazi/right wing extremist groups on social media. But I'm sure he just "appreciates history" pic.twitter.com/paUuepYRmE

— Tom Wolfson (@tom_wolfson) October 26, 2018
Bryant Goldbach pretending he's not a white supremacist but a history buff LOL
Owensboro man's Nazi costume sparks criticism online https://t.co/4RNX4DaawY

— Lila Miranda (@oh_dit) October 27, 2018
Because it's not just history, it's ideology, a sadly vivid one, that throws back to a very dark chapter of humankind history. There's a difference between killing and genocide, dressing up as a nazi reminds you of the later.

— A Good Time (@sup_johnny) October 26, 2018
I didn't say you were a fascist?! I'm talking about Bryant Goldbach, the guy who dressed his little kids up as Hitler and Eva then got all offended when people called him out on it. Then it turns out that his Facebook had loads of other family pics dressed up at home as Hitler

— That chap (@Lucanesque) October 27, 2018
Listen here, you fuck #BryantGoldbach, if you think for one second people are buying this squawking narrative claiming yourself as a victim, then you're too stupid. I have zero doubt you were gagging to wear this #Nazi costume and jerk off to the backlash it was bound to incite.

— Trevor Jordan (@VampirePangs) October 26, 2018