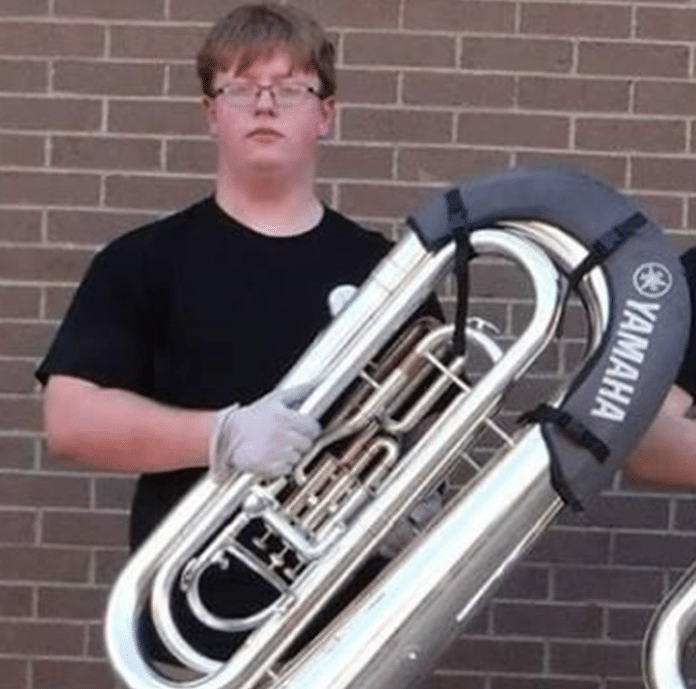 Gabe Parker Snapchat bullied: Kentucky Marshall County High School teen student goes on a shooting spree less than 24 hours after being ridiculed. 
New revelations made known to this author has revealed 15 year old Benton, Kentucky, Marshall County High School student, Gabe Parker going on a shooting rampage which led to the deaths of two fellow classmates and the injuring of 19 others, five seriously, less than 24 hours after posting a Snapchat video which saw the teen mercilessly teased and ridiculed.
Grieving what appears to be the passing death of his father, witnesses (who reached out directly to Scallywagandvagabond.com- more below) told of Parker, a student band member, appearing disheveled, sporting a variety of bruises, crying uncontrollably with the news that his father had just died. In the background of the posting, witnesses told of Parker being screamed at by his mother, who appeared to blame the youth on the father's recent death.
That said, to be fair to this author's sources, it was telling when one source doubted as to whether Parker's father had actually passed away, pointing to how much the teen had come to digress in his personal dealings, leading to many questioning the boy's sanity and inviting wide ridicule and contempt.
In fact come Wednesday afternoon, this author received the following private message, 'His father flew in from Atlanta yesterday.' 
Kentucky School shooting – Apparently Gabe Parker was bullied on snapchat the night before the shooting after he cried when his mum blamed him after his dad died that night. She was annoyed she had to come get him when his dad died. Next day she made him go to school pic.twitter.com/QoH6GwKPVZ

— ??(((AnnieLau))) (@AnnieLau99) January 24, 2018
Gabe Parker Snapchat Bullied: A cry for help.
Read a volley Facebook chat posts that were sent private message to this author and later shared on social media– names have been removed to preserve anonymity:
Wrote one social commentator: 'His father died last night too. HIs mother blamed him. He cried about the on Snap chat last night and had hundreds making fun of him over it.'
Responded another individual in turn, 'Why in the world would his mother send him to school the next day after his father died?????? Sad sad sad.'
Continues the initial commentator, 'She was angry she had to get him and run her night after his dad died at home. His parens never thought about him apparently. You could her yelling at him in the background. It was so sad. Then kids from school calling him a pxssy for crying in his video.
'He was hurting. He wanted those who were hurting him to hurt like he did. He went about it all wrong, but what we have is a damaged teenager that was hurt and overwhelmed the broke and acted horribly, not a monster that did this without reason,'
'His reasons will come out in his own words soon enough. Saddest part was THIS WAS PREVENTABLE and everyone that could've helped him before it got to this point turned their back. Teachers and other students seen the bruises, seen his posts and no one called cops, not even the teachers.'
A small Kentucky community is mourning the loss of 2 teenagers after a student opened fire at Marshall County High School. Bailey Holt and Preston Cope, both 15 years old, died from gunshot wounds. Fourteen other students were shot. @adrianasdiaz reports https://t.co/TSOTB3mbii pic.twitter.com/hHRf2hSzXg

— CBS News (@CBSNews) January 24, 2018
The victims of yesterday's shooting at a Kentucky high school have been identified as Bailey Holt and Preston Cope, both 15. A classmate called them "great people": "I have never heard one negative thing come from their mouths." https://t.co/GWO9dBiffE pic.twitter.com/GJlouz2uMz

— The Trace (@teamtrace) January 24, 2018
Gabe Parker Snapchat bullied: A history of emotional and physical abuse at home and school (but no one did anything). 
Identified as Parker's shooting victims were, schoolgirl, Bailey Nicole Holt, 15, who died at the scene, and Preston Ryan Cope, 15, dying later at a hospital, according to a statement released by Kentucky State Police Commissioner Richard Sanders.
Along with the two students being fatally shot, authorities told of 14 others being shot along with four children being injured as they ran from the gunfire.
Five students remained in critical condition in various hospitals late Tuesday.
Following the teen's arrest, Kentucky authorities told of the Marshall County student who they declined to publicly name, set to be charged with two counts of murder and multiple counts of first degree assault.
Following Wednesday's press conference, Assistant Marshall County Attorney Jason Darnall told reporters that the 15-year-old teen would face 12 counts of first-degree assault instead of attempted murder as prosecutors felt they have a better case for those charges right now. Darnall pointed out that the penalties for first-degree assault are the same as for attempted murder.
At present it was thought that Parker would be prosecuted as a juvenile, with the teen currently held at a regional juvenile jail in Paducah – about a half-hour away from the high school.
What is assumed to be normal social life in this country is dangerous. Cliques, shunning, shaming based on not conforming to crazy MEDIA driven standards is why kids feel desperate, do deadly things. If Gabe Parker had put a gun to his head at home only he would STILL be unknown.

— SomeoneHasToSay (@SomeoneHasToSay) January 24, 2018
This is not the first time Gabe Parker had trouble at school. He was suspended for 2 days for having a 13 inch knife and a hitlist a while back.

— Tanner Ridge (@TannerBrasher) January 24, 2018
It makes my heart so sad that this country is focused on the race and religion of Gabe Parker rather then the fact he murdered at the age of 15.

— Happy New Maya (@mayakrump) January 24, 2018
Gabe Parker Snapchat bullied: Classmates alleged to have piled on moribund teen. 
Following the posting of the above social media communications, this author reached out to the above redacted participants where the following additional revelations were made known to him.
Responded one of the above social media commentators, 'And children where making fun of him crying and saying mean things to him, with only a few saying sorry for your loss.'
Adding, '…he was continuously bullied at school and social media. I have been told he didn't have a good home life. I didn't see the video but a friend of mine did. Her name is (redacted) . She would be able to tell you more , considering she seen the video.'
From there this author reached out to another (redacted) social media commentator who offered the following, 'it was snapchat from the night before one of my nieces showed me the night before.'
Adding, 'I tried to find it again and couldn't. Don't know it he deleted it or investigators did.'
'From what I understood he's been bullied for years. And it didn't end at school, it was also online and his father was abusive as well. My niece is friends with his former step sister Sabrina and knew who he was. Sabrina could probably give a better insight. I think her last name is (redacted).'
Adding further, 'Her mom and his dad divorced a while back but she could give a better insight as to who he was and what all was going on. I seen one video and a few pics he'd put on snapchat off one of the kids phones and my heart broke for him.'
Then going on to express a sense of remorse shared amongst the many town-folk and small community where the Kentucky school shooting took place:
'If I'd known this kid i would've tried to give him another option. I was shown a glimpse of what he went through the night before he did something horrible. And yes I feel as if his actions could've been prevented if anyone even myself had reached out to him and asked what can I do to help.'
#Gabe Parker's dad died last night, mom blamed him, he went on social media crying about it, got made fun of, mom sent him to school even tho he was upset bout dad dying….so he went and shot up the kids making fun of him!#kyschoolshooting https://t.co/Rdjv0dLJie

— Althea (@Althea_69) January 24, 2018
Geez, stop defending #GabeParker
If it was a black kid you'd call him a thug, if he was muslim he'd be a terrorist. But because Gabe Parker was bullied…
Millions of kids are tormented by bullies. I was. I never hit anyone let alone shot anyone.
Fuck him.

— Orion (@OrionTallica) January 24, 2018
If I lived in Kentucky I would be friends with Gabe Parker, he seemed to be a lonely boy who suffered in the hands of idiots

— lonely boy (@hot_famosos) January 24, 2018
Gabe Parker Snapchat bullied: If he were a Muslim he'd be a terrorist.
Replied the social media commentator further as to what could have inspired Parker's shooting episode, 'Maybe the answer is teaching kids how to go beyond telling just a teacher or reaching out on social media. Because they don't know what or if anything will happen after they tell. Maybe the answer is teaching them about the additional resources out there like cps, child advocacy lawyers, that they can go to the county attorney and ask for help.'
Added the redacted social media commentator in private message: '…my niece to be nice and she kept showing me pictures of bruises on body parts and asking me what I would do if something like that happened to her. So I told her she isn't being abused like that and if she were I'd take her out of her parents home and file for emergency guardianship and after that she didn't ask me anything else,' 
'The next day after we left her sisters doctor appointment we'd seen where it was the same boy I had been shown pictures of the night before and instantly regretted not taking her phone and asking him what I could do to help.' 
Gabe Parker mother throws up when she finds out her son is Kentucky School shooter
Kentucky School 'tormented' shooting suspect to be tried as adult
Kentucky School shooting receives 16 minutes (only) Cable news coverage
Bailey Nicole Holt and Preston Ryan Cope I'd as Kentucky school shooting victims
Why? Gabe Parker Kentucky school shooter leads to 15 year old gunman killing two injuring 19.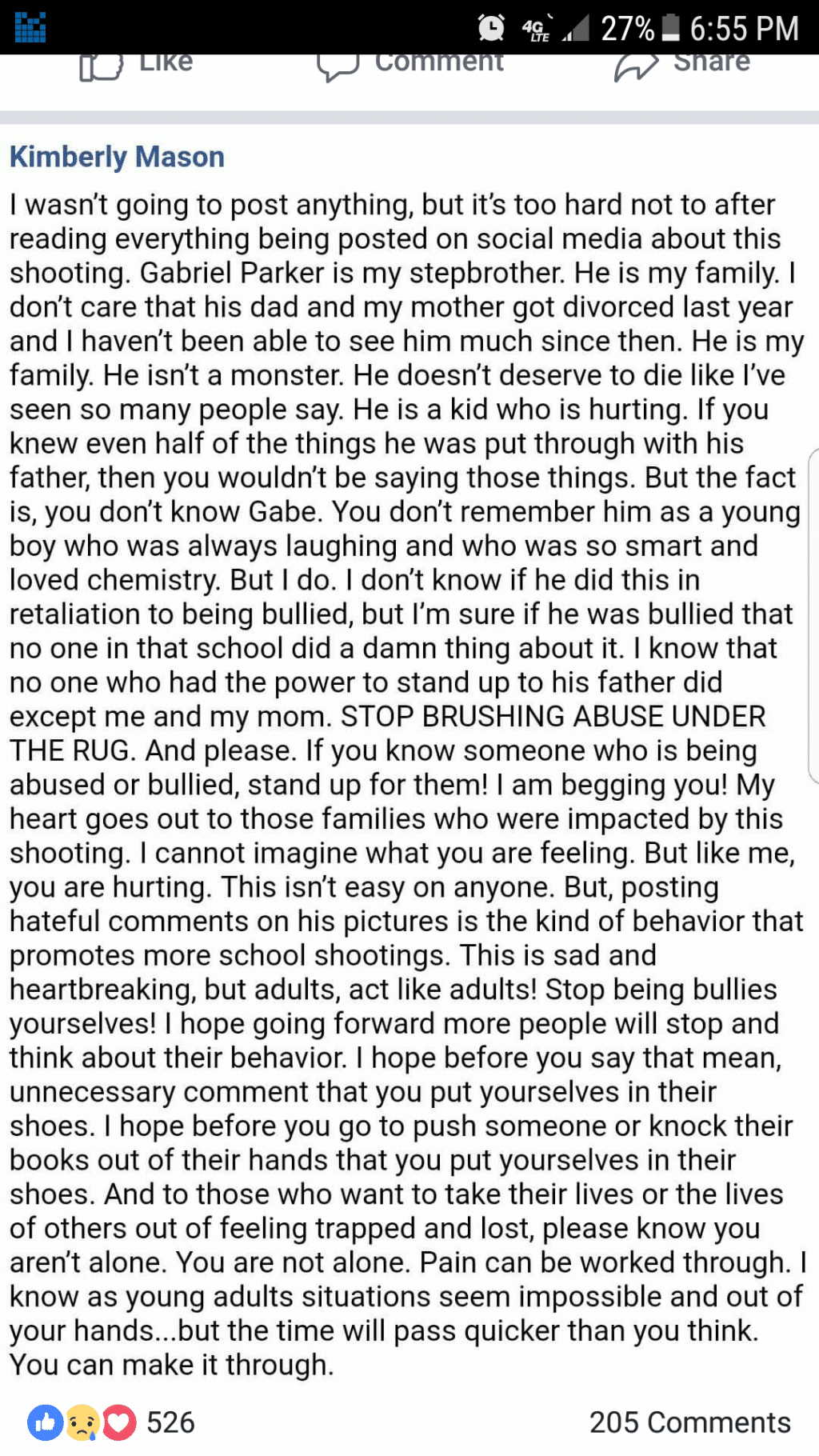 Gabe Parker step-sister: 'He deserved compassion too!'
Appearing to corroborate the above testimony was a social media post from Gabe Peter's step sister, Kimberly Mason, that this author came across on Facebook above.
In her comments, Mason re-affirmed her step-brother being mercilessly abused, both physically and emotionally at school and at home, particularly by Gabe's father.
Posted Kimberly Mason: 'I wasn't going to post anything, but it's too hard not to after reading everything posted on social media about this shooting. Gabriel Parker is my stepbrother. He is my family. I don't care that his dad and my mother got divorced last year and I haven't been able to see him much since then.'
'He is my family. He isn't a monster. He doesn't deserve to die like I've seen so many people say. He is a kid who is hurting. If you knew even half of the things he was put through with his father, then you wouldn't be saying those things. But the fact is, you don't know Gabe.'
'You don't remember him a young boy who was always laughing and who was so smart and loved chemistry. But I do. I don't know if he this in retaliation to being bullied, but I' sure if he was bullied that no one in the school did a damn thing about it. I know that no one who had the power to stand up to his father did except me and my mom,'
'STOP BRUSHING ABUSE UNDER THE RUG. And please. If you know someone who is being abused or bullied, stand up for them! I am begging you! My heart goes out to these families who were impacted by this shooting. I cannot imagine what you are feeling. But like me you are hurting. This isn't easy on anyone. But, posting hateful comments on his pictures is the kind of behavior that promotes more school shootings,'
'This is sad and heartbreaking, but adults, act like adults! Stop being bullies yourselves! I hope before you say that mean, unnecessary comment that you put yourselves in their shoes. I hope before you go to push someone or knock their books out of their hands that you put yourselves in their shoes. And to those who want to take their lives or the lives of others out of feeling trapped and lost, please know you aren't alone. You are not alone,'
'Pain can be worked through, I know as young adults situations seem impossible and out of your hands….but time will pass quicker than you think. You can make it through.'
Gabe Parker shooting victim prays for her shooter: 
Ironically in the immediate aftermath of Tuesday's school shooting at Marshall County High, one of Parker's shooting victims, Hannah Danae, hinting at the discord the teen shooter had been going through posted the following on social media, 'praying for everyone affected.'
Adding, 'The boy who did this was hurting too. And we can't hate him. I love you all. Praying for you.'
In the day after the shooting, local outlets told of West Kentucky Community and Technical College holding a vigil at noon Tuesday.
Lyon County Schools also hosted a community prayer service at the high school yesterday.
People also gathered at several churches in the county to pray as they sought to make sense of a tragedy that could have and perhaps ought to have been stopped in the first place….
This is from a girl who was shot today at Marshall County High School. @WPSDLocal6 @PaducahSunNews
Yes what happened is BAD. But we can't forget, that boy was hurting on the inside too. pic.twitter.com/QNcsaqgygh

— ✨khaleesi✨ (@dragonsbeauty) January 23, 2018