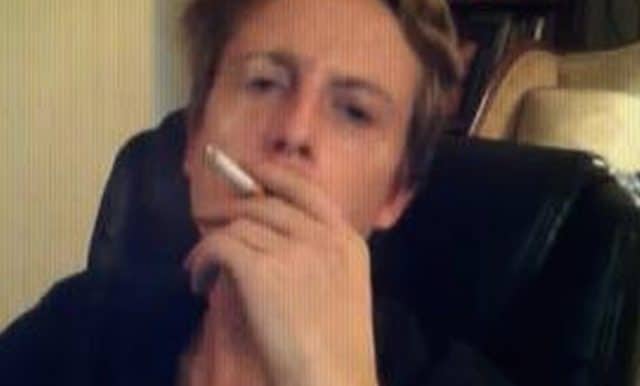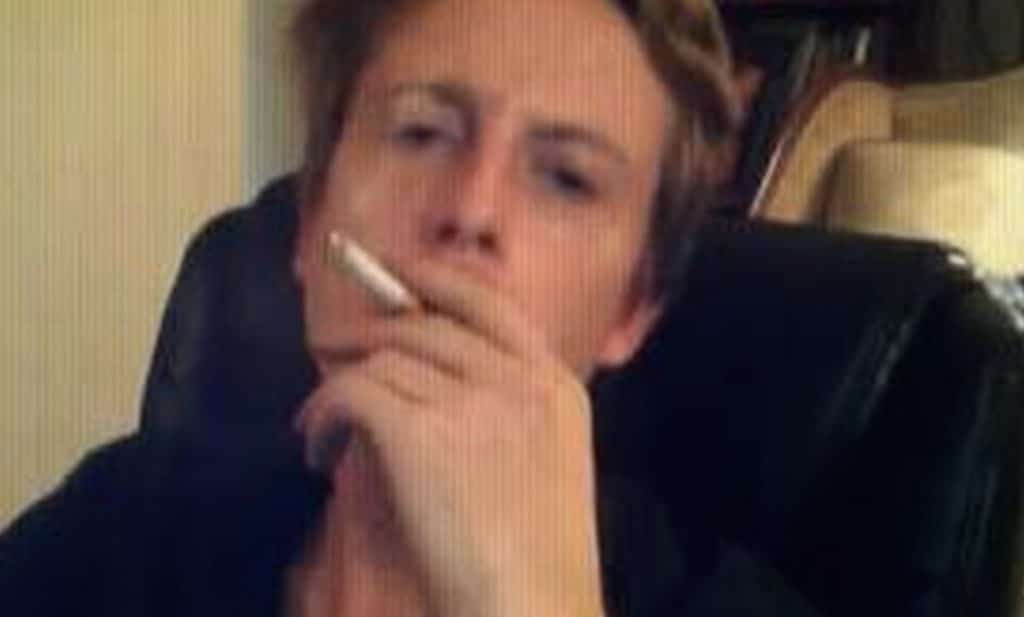 Barrett Brown arrested: What led to one journalist being arrested on the eve of giving an interview to PBS? Rethinking strategy of free press and critical reporting.

One of the challenges of being a journalist, blogger, reporter in the conundrum of post Wikileaks rebel outlet, whistle blower activism (think Chelsea Manning and Edward Snowden) is how to stay ahead of government agencies intent on keeping a certain breed of journalism off radar.
Enter Barrett Brown, hacktivist, freedom writer best known for his unapologetic brand of reporting into the 'deep state' and corporate cronyism who once again finds himself in the center of a new conundrum for any journalist intent on exploring abuse of corporate and government power. Facets of journalism that at one point used to be the de reguer mantra of any self respecting reporter and media outlet before the media landscape found most of us wondering what to do with the 'reality saga' of Kim Kardashian and similar tabloid dilemmas that keep the masses 'pleasantly' pacified.
According to a report via Sputnik News, Brown who was recently released into a halfway house after serving only four and half years of a five year federal sentence on charges of abetting fraud was earlier this week arrested a day ahead of giving an interview with government funded media agency, PBS, thus breaking the terms of his parole, barring of giving any interviews to the media.
Noted Brown's lawyer, Jay Lederman, 'he was arrested for trying to talk to the press without BOP [Bureau of Prisons] approval."
Lederman also went on to call the arrest "a terrible affront to the First Amendment".
The BOP confirmed that Barrett Brown has been booked into FCI Seagoville but will not divulge why.

— Jay Leiderman (@JayLeidermanLaw) April 27, 2017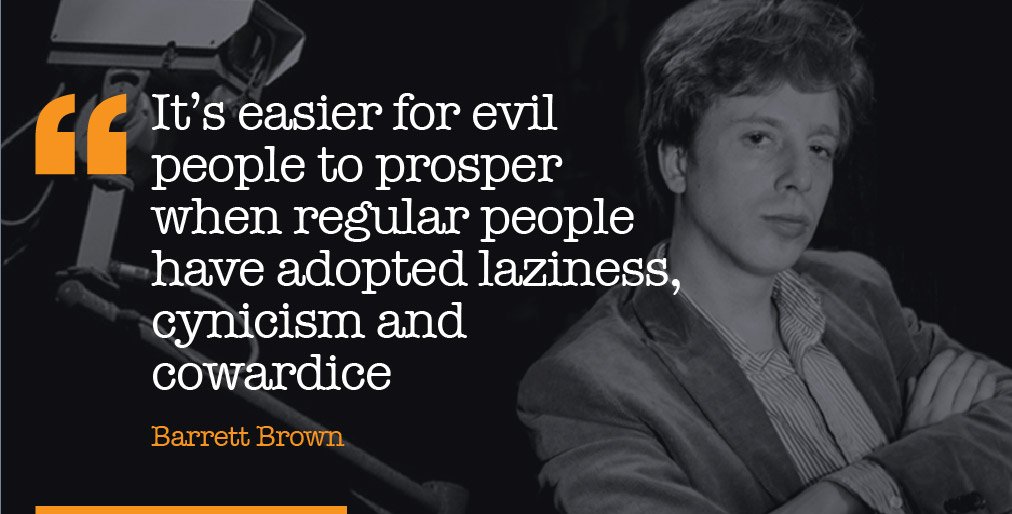 News of the notorious journalist's arrest came via Brown's mother, Karen Lancester who said her son was arrested during a routine check-in for what Brown believes was 'his refusal to get 'permission' from crews to film and interview him," according to a note Brown's mother sent to D Magazine, one of the publications Brown wrote for while in prison.
Brown's arrest comes despite claims the recently released prisoner (yes, the dangers of being a brave new world reporter….) never having missed a check-in or bed check from the Federal Board of Prisons (BOP) along with never failing a random drug test since being  released to a halfway house last November. 
Brown's mother went on to say that her son had requested the necessary documents granting him permission to give media interviews two weeks ago, only to have been refused provision of them, leading to Brown claiming he was never provided a copy of the form he was arrested for not filling out. A subplot that Franz Kafka could only be proud of.
A report via Reason cited claims on behalf of Kevin Gallagher who runs the Free Barrett Brown website, telling that Brown's supervised release did not include any restrictions on doing interviews with the media.
Until of course it suddenly did.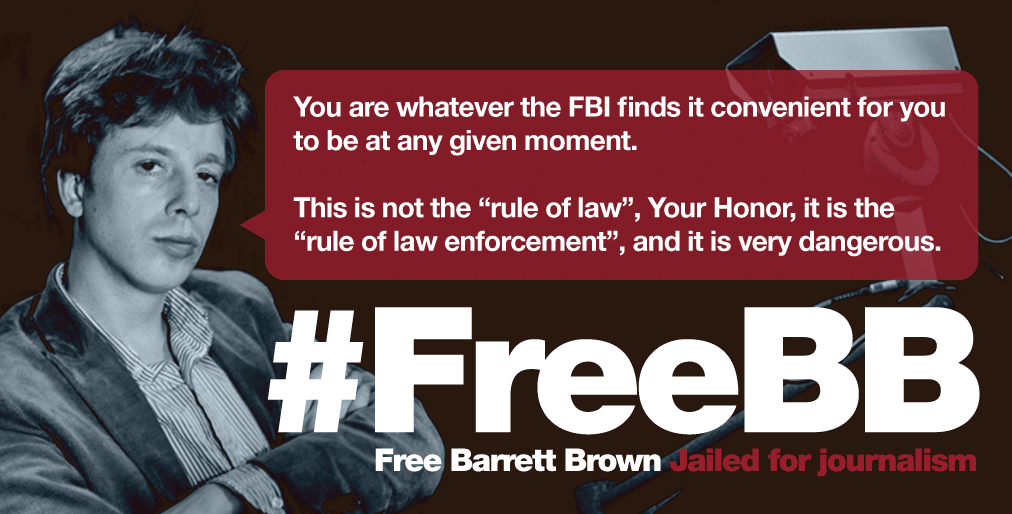 Barrett Brown arrested: the freedom of media at stake.

Perhaps trying to make the most of a perilous stalemate where journalists and reporters increasingly find themselves one degree from being the subject of government persecutions inquiries, Brown since his release has refused to let up on his mantra of giving his side of the story (and one assumes while also building his namesake legacy of les enfant terrible …), having given numerous interviews, on camera and by phone, including VICE magazine last week.
Which leads to the awkward question, in the knowledge that journalists are indeed being watched (especially the kind that prefer to expose government and corporate malfeasance, never mind the criminal justice system) – how are journalists to navigate the terrain? Whether one likes it or not, the post new world order has led to increased scrutiny of a particular brand of journalism, especially given where there is so much money, power, dominion and the prospect of world corporate hegemony at stake.
While Brown now faces the prospect of remaining incarcerated until his original release date of May 25, even he will have to rethink his strategy of how to continue challenging the elite and corridors of power, lest he find himself once again slammed by the more than eager lackeys of corporate overlords, the government.
Either way, continue to see a cat and mouse game between a certain breed of reporters and the brokers of power, whether government or the mainstream media who are only to often willing to give their 'preferred' version of 'patriotic' journalism.
Perhaps in the end it will require a band of writers and activists and progressive media outlets and groups maintaining their voices while making sure to beef up on lawyer support, funding (defending one self in court is not cheap) and community outreach programs aimed at making the ordinary public citizen aware that there is far more going on in the internet than the next celebrity selfie….
Journalist/Hactivist Barrett Brown Placed In Custody Ahead of PBS Interview: https://t.co/kYYNvuFG6S via @YouTube

— Tim Black ™ (@RealTimBlack) April 28, 2017
The Bureau of Prisons decided to pick on journo #BarrettBrown some more yesterday & re-arrest him, but the media only covered the NFL draft.

— Ron Brynaert (@ronbryn) April 28, 2017
I am equal parts disgusted and gobsmacked to learn of the re-arrest of Barrett Brown. Nothing changes. The government are as crooked as ever

— Luke Rad (@prozakuk) April 27, 2017
Does Barrett Brown, Anonymous journalist deserve 5 year jail?
Barrett Brown link sharing charges dismissed. But I'm still worried.
Anonymous representative Barrett Brown declares that they will either win or go to jail as Anonymous is now poised for further incriminating releases. But is it just a ruse?