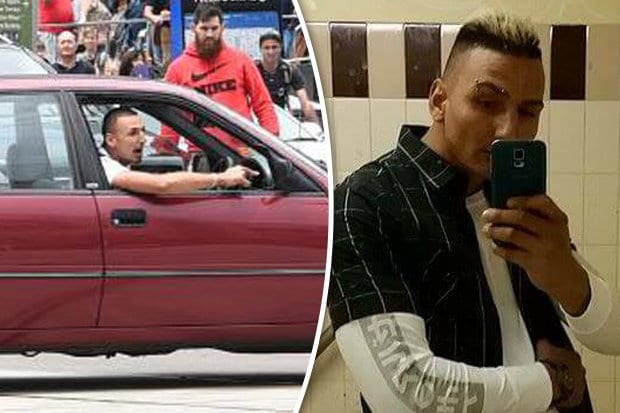 Dimitrious Gargasoulas Melbourne man driving rampage leads to four dead and up to 25 injured, four critically as a community asks why? 
Dimitrious 'Jimmy' Gargasoulas a 26 year old Greek Australian man who self identifies himself as being Islamic has been identified as the driver of a vehicle that allegedly mowed down dozens of people in Melbourne's main CBD shopping strip mall, killing four.
Carnage unfolded as the 26 year old man also known as James Gargasoulas deliberately drove at pedestrians in a Holden Commodore Friday lunch time along Bourke st, leaving in his wake carnage, horror, broken bones, broken lives and shattered dreams. 
At least four people were confirmed killed, including a man in his 30s, a woman in her 30s, as well as a ten year old Jewish girl, along with 25 more injured, four of them critically.
The horror mow down happened as Jimmy just hours before had thrown a burning Bible into his mother's 76 year old former boyfriend and threatened to 'gouge his eyes out' before stealing his car and rampaging through Melbourne city centre, leading to four people's deaths.
Ironically, Gargasoulas, a local Melbourne, Australian man was out on bail, having been charged with family violence offenses last weekend.
Dimitrious James Gargasoulas Facebook posts warned of terror, 'I'll take you all out'
'I'm a good boy' Dimitrious Gargasoulas dating profile
Akiir Muo Dimitrious Gargasoulas girlfriend: 'He threatened to run over people unless cops stopped'
'He can die in hell' Dimitrious Gargasoulas parents disown him
Local media report the man having a history of mental health and drug abuse issues with police saying he was also involved in a domestic stabbing incident earlier that morning, circa 2am.
At the time the man had attacked his brother, Angelo at their Windsor housing commission flat where they lived with their mother before making his way into his mother's ex-boyfriend, Gavin Wilson's, housing commission apartment and demanding the keys to his Holden Commodore.
The 76-year-old said Gargasoulas stormed in with a Bible, set it alight and threw the burning book into his face before threatening to gouge his eye out.
'He asked me twice for (the keys) and I said "no, I'm not giving it to you",' Mr Wilson said in an interview with Seven News.
'Then he put his hand in my eye and started pressing. He said "Give them to me or I'll gouge your eye out', so I said "OK, OK".' 
Neighbors then heard screaming outside the flats, saying Gargasoulas was allegedly hacking at a someone with a knife.
Told neighbor, Jess Bergin who heard screaming in the early morning hours, 'He had a knife and he was hacking at either a guy or a girl, I don't know.'
It is believed at that moment the man had taken a woman hostage.
From there police gave chase as Gargosoulas went on a wild ride, driving at dangerous speeds and weaving erratically along while doing 'burnouts'.
Perhaps in a decision that will haunt them, police called off the chase, over concerns for public safety as the man's female hostage was able to escape along Bolte Bridge.
By now, Jimmy was continuing to drive erratically, taunting news reporters as they reported on the unfolding drama, along with spewing and abusing passerby's as he now hung out of the driver's window, lapping the attention.
At one stage during the chase Gargasoulas is alleged to have shouted: 'Armageddon is coming. The end of the world's going to come today. Watch the news.'
Suddenly without premonition, just on 1.30 pm as city dwellers thronged the city center, on a hot summer day, Jimmy sped north towards Bourke Street, where he plowed through the crowded shopping strip, killing four people and injuring more than 25 people.
He had for that instant become a live battering ram, taking direct aim at a world and society he had come to loathe and had loathed and 'misunderstood' him.
Offered witness, Sharn Baylis: 'He was just collecting people as he was going along and they were flying like skittles, basically.
'He was just driving in a really determined fashion, just in a straight line. There was no hesitancy as he got to the crowds and he didn't swerve, it was just — he just drove through them.'
Subsequent to ramming into his victims, Victoria Police said the suspect was shot in the arm by police before being arrested and taken to hospital where he was treated for non life-threatening injuries.
At the time of his arrest, Jimmy was observed wearing nothing but red underwear.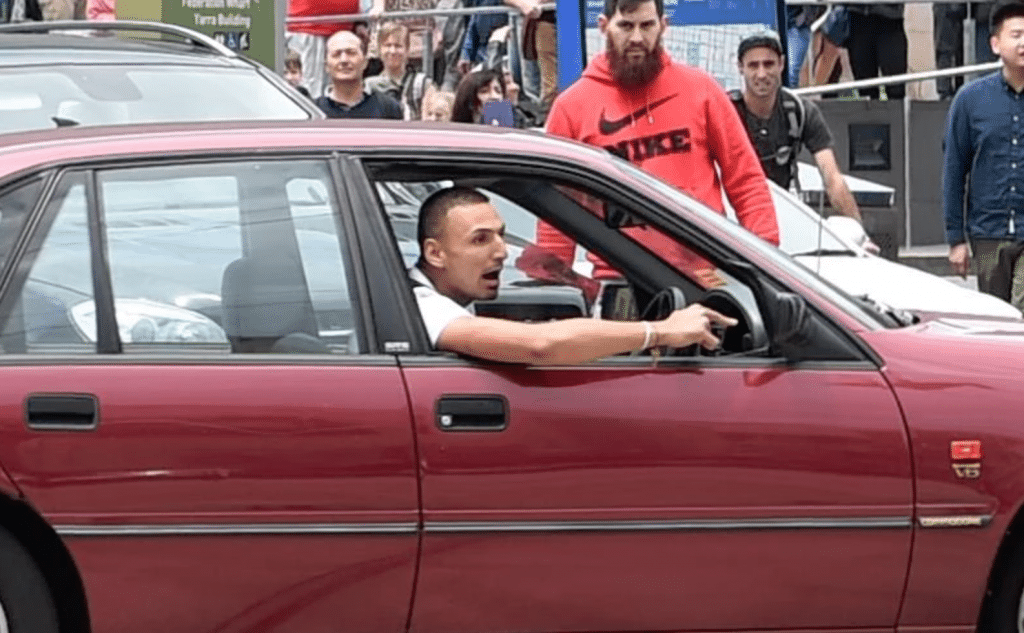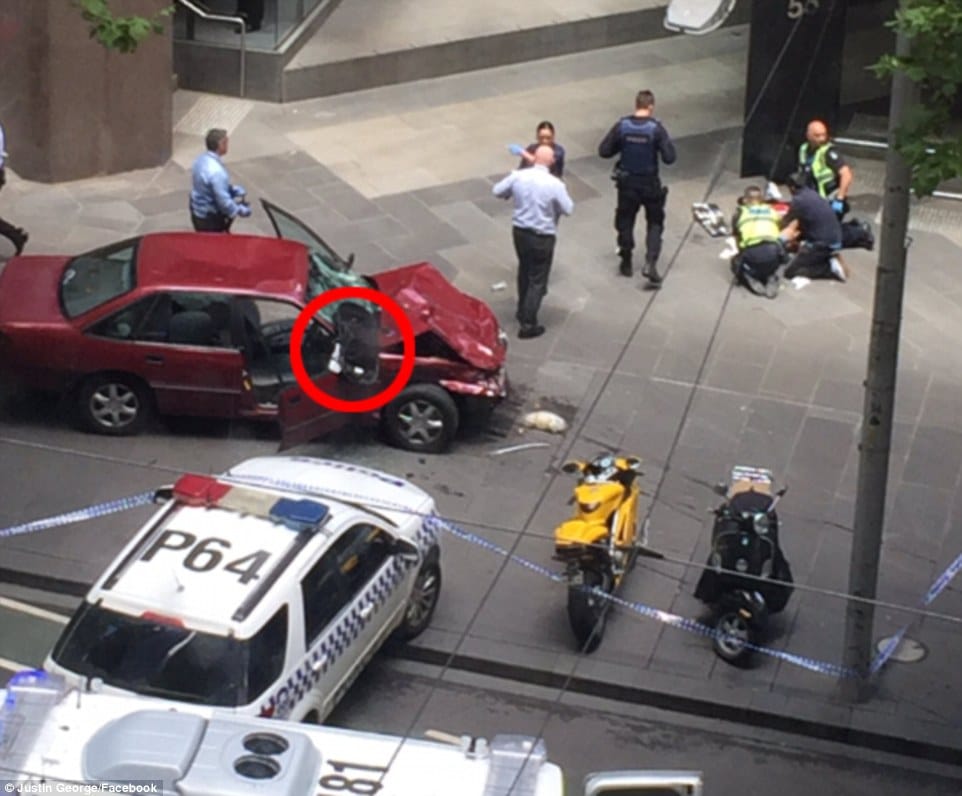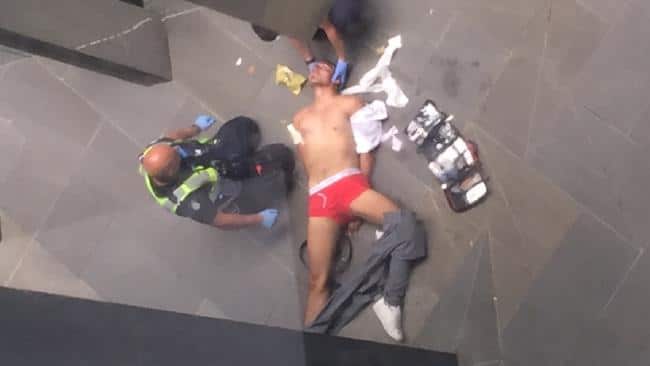 Victoria Chief Commissioner Graham Ashton said Jimmy had no links to terrorism but was well-known to police and had an extensive history of family violence.
Noted The Age: 'He has come to our attention on many occasions in the past,'
'That is mainly linked to drug issues and mental health problems.
'He also came into our attention in recent days in relation to assaults and was charged by us last weekend.'
A relative told of Dimitrious Gargasoulas having a drug problem and been in and out of jail for car theft and drug offences.
'Jimmy has always been a bad person,' she said. 'I knew it was him. I saw it on TV … the picture of him sticking his head out when he was doing burnouts.
'I saw a picture and I thought 'Oh My God, that's Jimmy.' I'm shaking. I knew it, as soon as I saw that picture I had this feeling. I can't believe this.
'I bawled out crying when they announced that baby died. I'm shaking.'
Whether Jimmy was on drugs at the time of the escapade has yet to be revealed.
Nevertheless a report via the heraldsun tells of Jimmy the evening before reportedly refused entry to a St Kilda outlet. Witnesses saw Gargasoulas walk from McDonald's in Acland St and take a seat at Dog's Bar across the road about 10pm on Thursday.
The man who appeared to be on drugs, was told to leave because of his state.
He became disgruntled after being told he couldn't eat his McDonald's at the venue, presumably to make his way back to his mother's council flat where the bender of violence would only escalate and touch off the mayhem that followed the following morning.
And yet the question remains- why?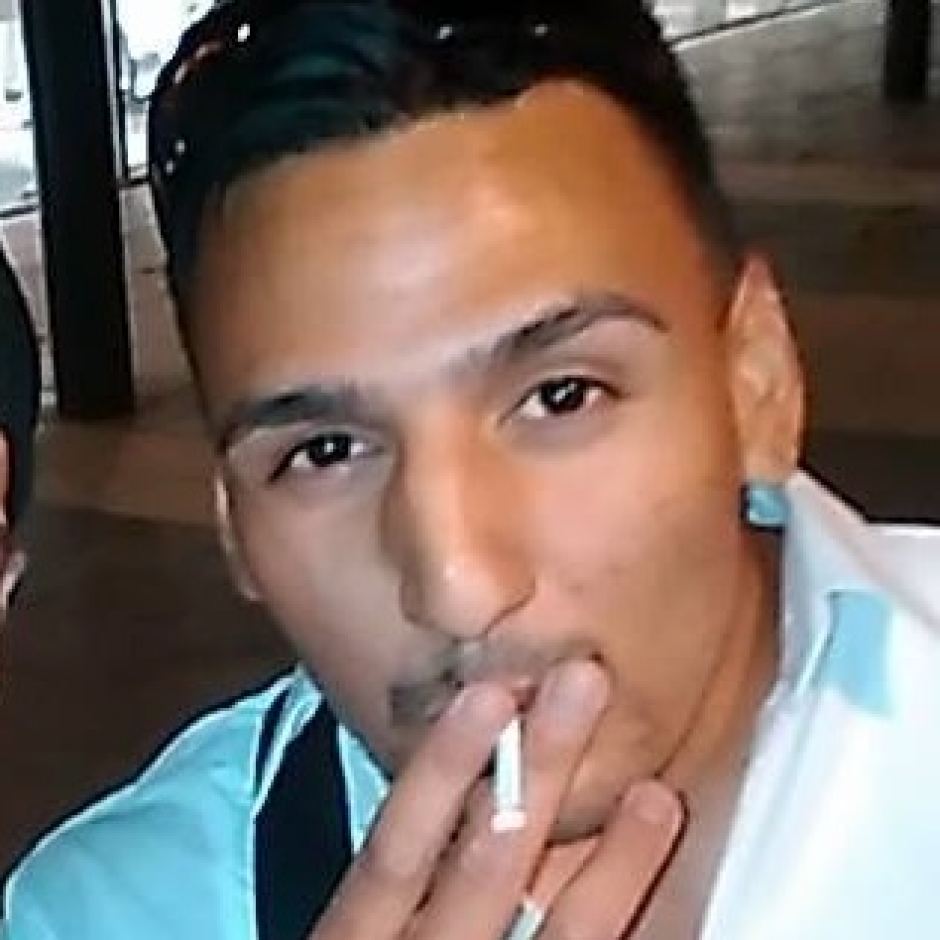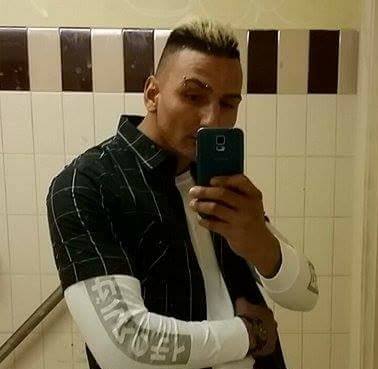 Perhaps in a bid to understand what may have motivated Gargosoulas rampage a regard of the man's Facebook page shows a disquieting portrait of an unsettled man full of rage, a love of violence, Hollywood gangster heroes, including a movie poster of Al Pacino as the anti hero, Scarface along with several recent rants at police, religion and scientology and illuminati.
In one post, dated December 28, someone posted on Jimmy's profile picture asking him if the tank he was standing next to was his new car.
Responded Jimmy: 'This is what people mess with when they mess with me.'
Another post dated January 1 included Dimitrious saying: 'Illumamati are a whole bunch of dogs, I found out.'
Another post included the man claiming he was not Greek Tongan, but rather: 'Greek islamic kurdish ANGEL OF CULT' (sic).
While another post read: 'I'LL TAKE YOU ALL OUT … YOU NEED AN ARMY TO TAKE ME'.
Authorities are now bracing for the prospect of more possible fatalities as a quaint cosmopolitan Australian city takes stock of savagery on its doorstep.