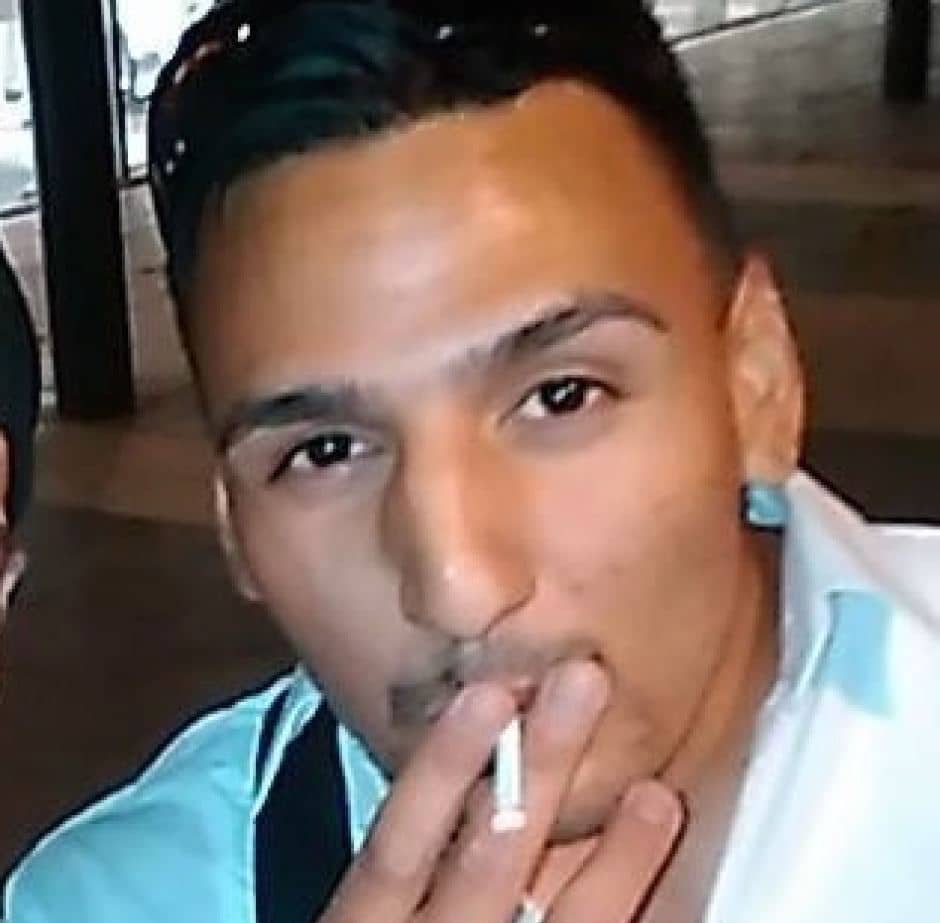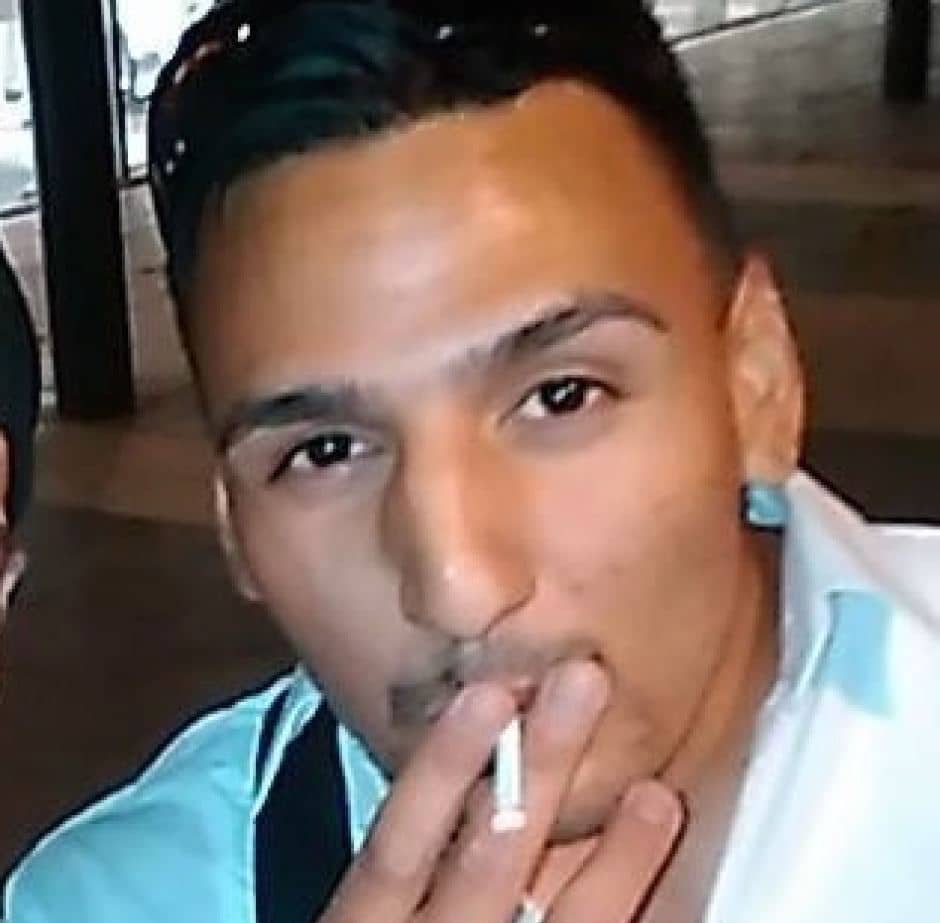 Dimitrious Gargosoulas Facebook: Where the clues of an imminent attack sitting there all along? Melbourne man condemns police, religion and the illuminati.
Dimitrious Gargasoulas the individual responsible for allegedly plowing into a crowded Melbourne CBD district mall that left four dead and up to 25 injured, four critically, had warned in the days prior to his vindictive actions that he planned to 'take you all out'.
In chilling Facebook posts the 26 year old man also known as James Gargasoulas and Jimmy, had offered little attempt to hide his intentions and views of the world and his place in it.
In an ominous post days before the Friday lunchtime carnage the man wrote: "I'LL TAKE YOU ALL OUT … YOU NEED AN ARMY TO TAKE ME."
In an abrupt juxtaposition, the man who used his Holden Commodore as a deadly weapon also declared himself to be a 'genuine good sexy young guy' adding that he has 'been blessed' while mentioning ominously 'what's to come in the following days, weeks and so forth'.
'He can die in hell' Dimitrious Gargasoulas parents disown him
Akiir Muo Dimitrious Gargasoulas girlfriend: 'He threatened to run over people unless cops stopped'
'I'm a good boy' Dimitrious Gargasoulas dating profile
Why? Dimitrious Gargasoulas mows down 4 Melbourne mall pedestrians dead
While police ruled out terrorism, Victoria Police's Acting Commander Stuart Bateson said it was a deliberate act in the heart of Melbourne.
While police maintained Gargasoulas had no links to terrorism, the man was well known to them after previous incidents involving the man having a history of mental health and drug abuse issues as well as a record of domestic violence.
Noted Police Chief Commissioner Graham Ashton: 'This individual is not related to any counter-terrorism or any terrorism-related activities,'
'He is not on our books as having any connection with terrorism and we're not regarding this as a terrorism-related incident.'
'What we do know of the person is there is an extensive family violence history involved.
"He has come to our attention on many occasions in the past. We have mental health and drug-related issues in the background of this particular person.'
Terrorism or not, Jimmy did little to hide his intentions of imparting violence, with James Gargasoulas boasting that Melbourne will 'need an army to take him'.
Which is to wonder had Gargasoulas been envisaging an imminent attack and was Friday's carnage simply the follow through of an altercation with his brother, Angelo Gargasoulas the evening which left the sibling stabbed or the culmination of deep seething angst and antipathy towards society?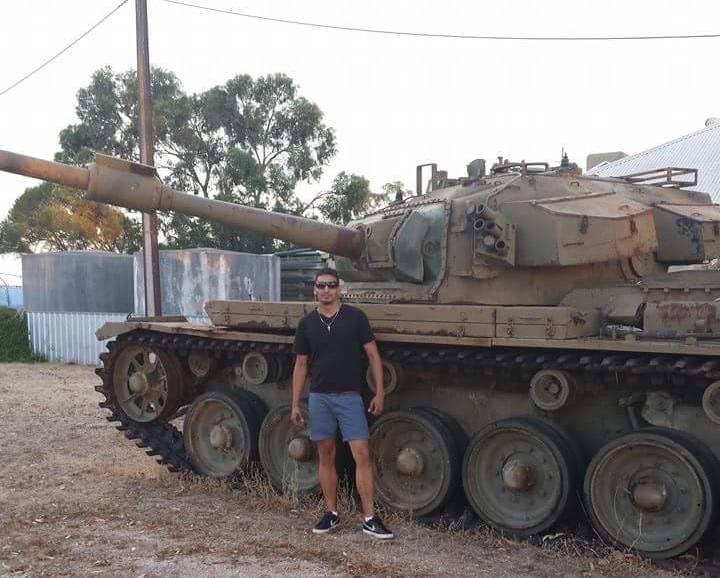 Posted Gargasoulas on Facebook, January 16: 'I DECLARE WAR ON TYRANNY TODAY YOU DOGS WILL HAVE THE OPTION TO EITHER BELIEVE IN ME AND HIS POSITIVE ENERGY HE OFFERS AND STAY FAITHFUL TO ME OR SERVE THE ONE WHO ENSLAVES YOU AT HIS FEET I OFFER FREEDOM NO WORK NO BILLS JUST THAT WE ALL KEEP FAITH AND BELIEVE IN THE ONE GOD THE ONE HIGHER BEING BEING FOR THE GOOD AND PROTECT THE ENERGY THAT HE GIVES WITH YOUR HEART GOD BLESS EVERYONE IN THE WORLD IT IS ABOUT TO CHANGE XOXO'.
While a chilling post two days prior noted the troubled man writing: 'I know exactly how to take you DOGS down the power of knowing has revealed and i shall have GODS laws re-instated'.
For reasons yet to be necessarily understood, Gargasoulas also had an aversion to scientology, and religion along with what he regarded as the illumanati.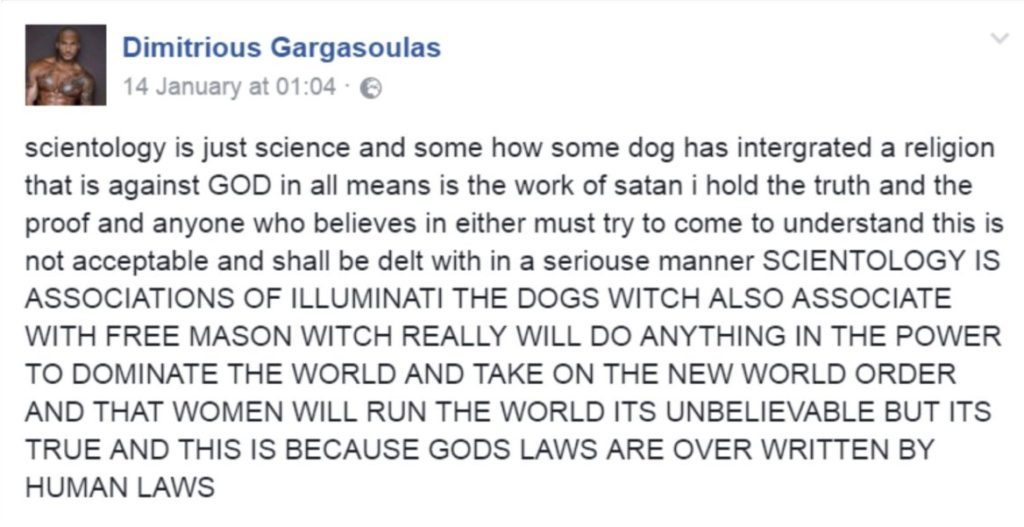 Wrote the man January 14: 'scientology is just science and some how some dog has intergrated a religion that is against GOD in all means is the work of satan i hold the truth and the proof and anyone who believes in either must try to come to understand this is not acceptable and shall be delt with in a seriouse manner SCIENTOLOGY IS ASSOCIATIONS OF ILLUMINATI THE DOGS WITCH ALSO ASSOCIATE WITH FREE MASON WITCH REALLY WILL DO ANYTHING IN THE POWER TO DOMINATE THE WORLD AND TAKE ON THE NEW WORLD ORDER AND THAT WOMEN WILL RUN THE WORLD ITS UNBELIEVABLE BUT ITS TRUE AND THIS IS BECAUSE GODS LAWS ARE OVER WRITTEN BY HUMAN LAWS'.
While another post noted the man who by then had been arrested for violent family offenses that weekend posting, 'Heaven and Hell IS REAL!!! WHO AGREES?'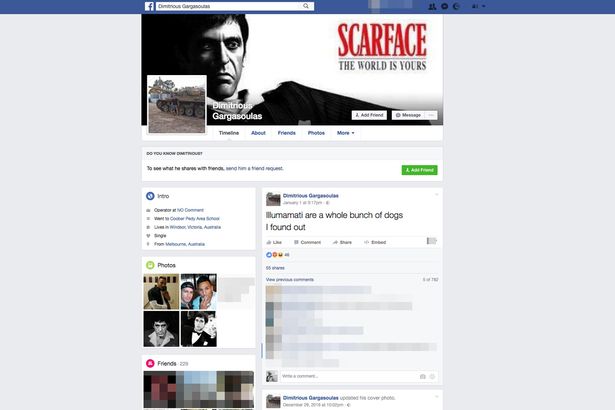 In the days prior the man had also gone on a prophetic rant, noting that good will always prevail over evil.
Wrote the man on January 9: 'TODAY THE GODS HAVE GIVEN ME WISDOM AND KNOWLEDGE. THEY HAVE AWOKEN ME.. I HAVE MY ANSWERS ALSO VISION OF A FUTURE THAT IS CLOUDED THE WORK OF SATAN TO FACE ME AND FAIL OVER AND OVER AMUSES ME RATHER THAN SHAKE ME TO THE GROUND. KEEP IN MIND GOOD WILL ALWAYS PREVAIL OVER EVIL AND THAT IS EXACTLY WHATS TO COME IN THE FOLLOWING DAYS WEEKS AND SO FORTH SOMEBODY TRIED TO FUCK ME……… WELL THAT SOMEONE IS ABOUT TO FIND OUT HOW TO DO IT PROPERLY AND 1 THING ILL TAKE YOU ALL OUT JUST ME YOU NEED A ARMY TO TAKE ME AND SO FAR YOU HAVE PRESENTED HALF A ARMY ARMY OF USELESS WAIT UNTIL YOU SEE MINE! FOR ALL THOSE WHO KNOW ME…. KNOW IM A GENUINE GOOD SEXY YOUNG GUY. AND THAT IVE EXPERIENCED DAYS AND NIGHTS I THOUGHT ID NEVER EXPERIENCE IN MY LIFE SINCE I GOT TO MELBOURNE WELL GUESS WHAT…… IVE BEEN BLESSED…. AND NOW YOUR FUCKED'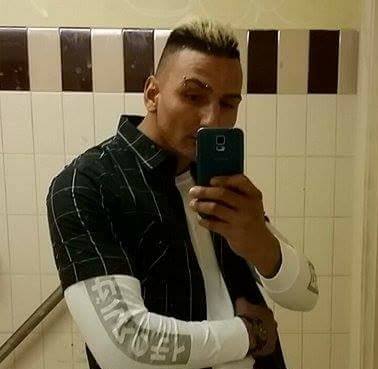 Betraying his attitude towards authority and law and order, the man also posted a message threatening the police, alongside an image of guns and bullets.
Wrote Jimmy: 'The next time you hear of a police officer being killed 'in the line of duty,' take a moment to consider the very real possibility that maybe in that case, the 'law enforcer' was the bad guy and the 'cop killer' was the good guy'.
Adding: 'As it happens, that has been the case more often than not throughout human history. F*%k da police.'
But Jimmy didn't just leave his lashing at the world just on religion, society and authority he also had special venom for women along with maintaining homophobic attitudes:
'I SAY WITH CONFIDENCE THERE IS A SECRET SOCIETY OUT THERE DIRECTING ORDERS.'
Another said: 'I have the holly (sic) power to change the world but i need you to belive (sic) in me … AND NO HOMOSEXUAL SHALL RULE THE WORLD.'
The man also appeared to be influenced by Islamic dogma, where he claimed he was not Greek Tongan, but rather: 'Greek islamic kurdish ANGEL OF CULT' (sic).