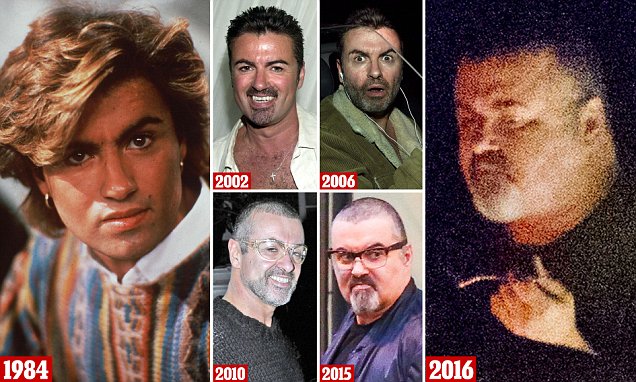 George Michael weight gain: How the singer's appearances betrayed a collapse in his health, and the rekindling of his inner demons and conflict of self. 
In his formative life, George Michael was brazenly omnipresent, as the kitschy persona of Wham duo, the stoic anti 'soul' hero of the 90's to that of outright gay persona who reveled in his sexuality to that of the sophisticated 'jazzy' crooner in the early 2000's.
All the while the singer maintained his good looks, along with striking aesthetics, and yet by 2010 something began to happen to George Michael's appearances. Or rather one senses he stopped caring about them, or at the very least made far less effort to show himself in public.
The last few years of George Michael's life saw the entertainer grappling with weight gain, an almost pariah concept for any entertainer who is constantly reminded as much as they may sound and act the part, they are compelled for the public's sake (so we are told) to look the part.
Perhaps most striking in the aftermath of the singer's death are photos that have surfaced of Michael showing the singer appearing exceedingly bloated.
One recent photo, taken whilst having dinner near his home town of Oxfordshire appears to show the singer almost scowling as a papery catches him amongst friends in an intimate setting. Perhaps fully aware that he is hardly looking his youthful best and that the photos would only serve to intensify speculation as to the goings of the entertainer who whether he wanted it or not, was held to a higher standard than mere mortals.
By now the artist had increasingly become reclusive, presumably conscious of his weight gain, less than youthful looks and presumably dealing with the haze of constant drug addiction which eventually also took a toll on the singer's appearances and health.
Whether the singer's increasing weigh gain and less than youthful dapper appearances were caused by his drug dependency, or fueled by it, of course remains an open question.
@libbymorrisseyx Probably the last foto of George Michael on a night out,taken around Sept 2016. pic.twitter.com/5B2Ci3IzQW

— John Kelly (@BallygallJohn) December 27, 2016
George Michael secret heroin addiction killed him says source
George Michael dead: Cause of death unexplained
George Michael crack addict says relative: 'I need more'
Revealed a source via the dailymail: 'George was a total perfectionist, always, but he had totally lost confidence,'
Adding: 'Even photos released for his last album, Symphonica, in 2014 were old. Aged 53, he could be ''horribly self-conscious'' about how he looked and about his weight gain.'
The singer also is said to have 'fretted' over very visible scars on his head and neck, caused when he fell out of a car on the M1 in 2013 in what may have been a suicide bid while high on drugs.
The singer in recent years along with drug addiction, including crack cocaine and what a source now reveals heroin addiction which saw the singer overdose numerous times in the last year of his life, Michael was also struggling with health problems. Again whether they were caused by the entertainer's hedonistic lifestyle or his need for a crutch, the singer was nonetheless saddled with health issue after health issue.
The fist signs of physical trauma came in 2011 when George Michael had to be hospitalized over a severe bout of pneumonia. What had caused the illness which the singer concedes almost killed him remained a source of tabloid intrigue.
The following year saw the singer bounce back, with pictures of the star looking more like his former (albeit older) healthier self alongside long term hairdresser boyfriend, Fadi Fawaz.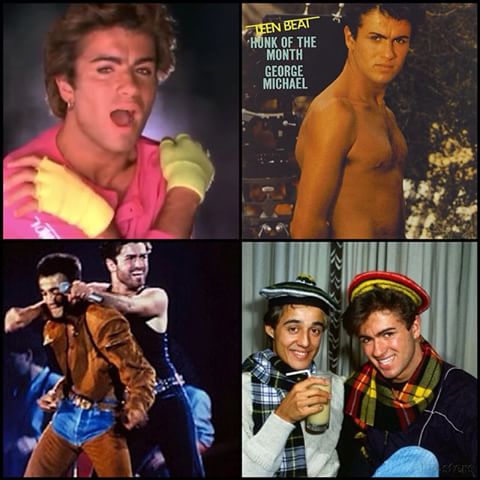 By 2014 as the singer's drug use once again amped up, with the entertainer in one episode having to be rushed to emergency treatment after suddenly collapsing.
Soon after the singer found himself checking into an exclusive drug rehab program in Zurich. Nevertheless the singer's appearances continued to deteriorate with his weight gain seemingly getting the better of him.
Was it the singer once again grappling with dire self conflict, depression, an unrelenting desire to put away his taste for the 'fast life' one can never be sure?
Told the manager of the Catherine Wheel pub in the village where George Michael over the years frequented via the dailymail: 'We have not seen him for a while. I last saw him about a month ago in The Miller Of Mansfield [another local pub]. I think he was with his manager and they were having a meal.
'He used to come in here, but he kept himself to himself and if he was recognised or bothered by anyone, then he wouldn't go back to the place.'
Adding: 'He used to go out and about a lot more when he first moved into the village, but in recent years he hasn't really been seen.
'He had changed over the years, got a lot bigger and wore glasses. He was very self-conscious. He just did not look like George Michael any more. It's very sad.'
GEORGE MICHAEL Last Photos HUGE WEIGHT GAIN https://t.co/n1UYO9JwDk via @YouTube

— Social Media NEWS (@socialmediantv) December 27, 2016
In the end, fans and the media can only speculate what led to the singer seemingly caring little about his appearances or perhaps increasingly unable to contend with health woes and his struggle with depression, unrelenting drug dependency which led to George Michael no longer looking (for the public) and one senses for himself the man he once used to.
And that may lie the crux in the singer's self implosion. While he may no longer have been the shining the star that the public craved, the allure of image, packaging and reputation ensured that George Michael forever maintained that vestige, even if deep down he struggled with the torment and the reality of who and what he had become in later life ….or wished to become. If just for himself.