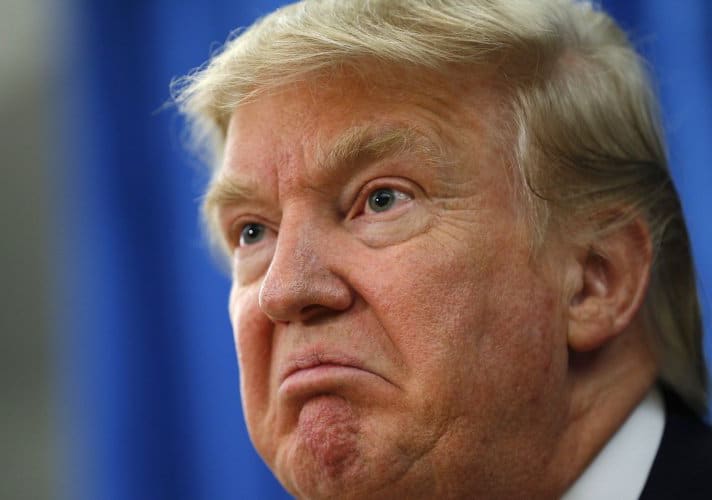 Cathy Heller 9th Donald Trump accuser: Have the floodgates been unleashed? A ninth woman in recent days accuses the Republican Presidential contender of unwanted advances.
Either the timing is too perfect or a recent 'grab them by the pussy' audio tape has unleashed them out of the woodworks. Never mind, also making her foray into the accusation sin bin of the Donald's purported mischievous ways is UK woman, Cathy Heller, 63.
In an interview with The Guardian, Heller recounted an experience she had with Trump in which he pulled her in for a kiss against her will, getting angry when she tried to avoid it. The incident is alleged to have happened during a Mother's Day lunch at Trump's Mar-a-Lago club in Palm Beach, Florida, in 1997.

Notes the guardian: 'It was a story Heller had told many friends and family members over the years, but is only now telling in public. Some 20 years ago, she claims, when she met Donald Trump for the first and only time, he grabbed her, went for a kiss, and grew angry with her as she twisted away. "Oh, come on," she alleges that he barked, before holding her firmly in place and planting his lips on hers.'
Donald Trump groping victims? Jessica Leeds, Rachel Crooks, Cassandra Searles, Mindy McGillivray, Natasha Stoynoff
"He was strong. And he grabbed me and went for my lips." Another woman accuses Trump of unwanted sexual contact: https://t.co/TsRQUu0k0k pic.twitter.com/Nhp35Jyq4G

— Molly Redden (@mtredden) October 15, 2016
Not surprisingly, Trump's campaign has denied Cathy Heller's account, claiming she was motivated by a personal vendetta to have her family's Mar-a-Lago membership fees refunded.
Told spokesman Jason Miller in a statement:  'The media has gone too far in making this false accusation,'
'There is no way that something like this would have happened in a public place on Mother's Day at Mr Trump's resort,'
'It would have been the talk of Palm Beach for the past two decades.'
Adding: 'The reality is this: for the media to wheel out a politically motivated Democratic activist with a legal dispute against this same resort owned by Mr Trump does a disservice to the public, and anyone covering this story should be embarrassed for elevating this bogus claim.' 
Perhaps what should be elevated are the purported policies of the two candidates, but that too has been scant and inconsistent as the 2016 Presidential election has devolved into character assassination while managing to keep the focus away from more pertinent issues which has caused much upheaval: the usurpation of civil liberties, the encroaching gulf divide between the haves and have nots, decaying race relations and how either candidate will seek to address the deepening distrust of the neoliberal establishment and their unrelenting hawkish policies.
Going against Trump is Heller's purported encounter with Trump is similar to what Trump described in the infamous "grab 'em by the pussy" hot mic moment from a 2005 Access Hollywood taping. During the conversation caught on tape, Trump said that he tends to just start kissing women before even talking to them. Indeed.
Cathy Heller's accusations follow that of a number of women who have come out in a perfect storm in recent days in which Donald Trump's sexual improprities have been put on full display.
As mediaite notes, the dates of the purported indiscretions range from the the late 70s to the late 2000s, which means some of these events occurred while he was married to his current wife Melania Trump (The Access Hollywood video also happened after he married her.)
Trump has denied all of these accusations, going so far as to question the women's attractiveness and mental health.
What to think, what to say? Just too coincidental, too perfect, or Donald Trump's swag and uber sense of himself and take no prisoner attitudes with women catching up with him, as another opportunity to get to the heart of America's real woes goes by the wayside. Indeed.