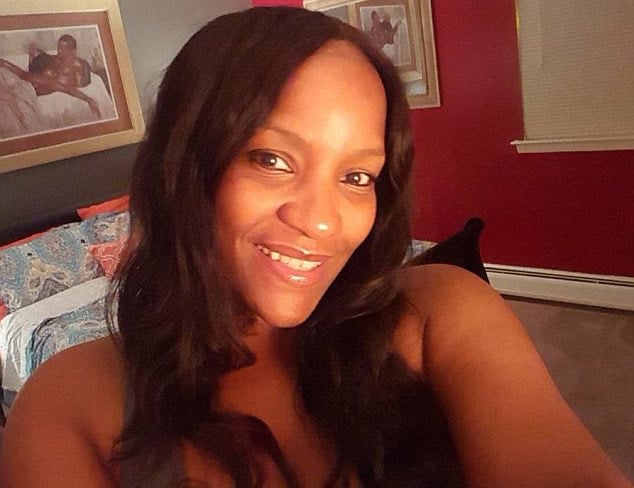 Philadelphia Police Sgt Sylvia Young ambush: What led to a shooter suspect targeting a local police officer? Letter professing hate for cops found.
An unidentified gunman has been killed along with a bystander during a west Philadelphia shootout that left two Philly cops shot and three civilians wounded Friday evening.
The mayhem began after the shooter walked up to Police Sgt. Sylvia Young's squad car in the Walnut Hill area around 11.20pm where they pumped out 15 gunshots through an open window, with eight bullets striking the 46 year old Philadelphia police officer.
Why did Nicholas Glenn ambush Philadelphia police?
Miraculously, the 19 year department police officer veteran survived on account of her bulletproof protective vest and was listed in stable condition at an area hospital according to Police Commissioner Richard Ross.
'It is absolutely amazing that she is here [alive],' Ross said, adding that the suspect did not say anything before he opened fire.
Subsequent reports told of Sgt Sylvia Young sustaining most of the gunshot wounds on her left arm.
Bullet holes through @PhillyPolice sgt. Window as he was ambushed. @6abc pic.twitter.com/zxcnEY0AEu

— Mike Nik (@6abcmike) September 17, 2016
A report via fox29 told of cops recovering a hate filled letter singling out police, including that of a parole officer as a target, near Sylvia Young's patrol car.
Not immediately understood was if the shooter had randomly targeted Sgt Sylvia Young and what led to the man choosing to shoot into the police vehicle the moment he did.
After shooting Young, the suspect fled and began shooting at random into a nearby bar, striking a security guard in the leg. As police followed suit, the suspect grabbed a woman and used her as a human shield before shooting her in the leg and running off again.
As he ran, the suspect fired off several rounds, striking a man and a woman sitting in a parked car. The pair were rushed to a hospital, where the woman was later pronounced dead and the man remained in critical condition.
The names of the pair in the parked automobile have yet to be released.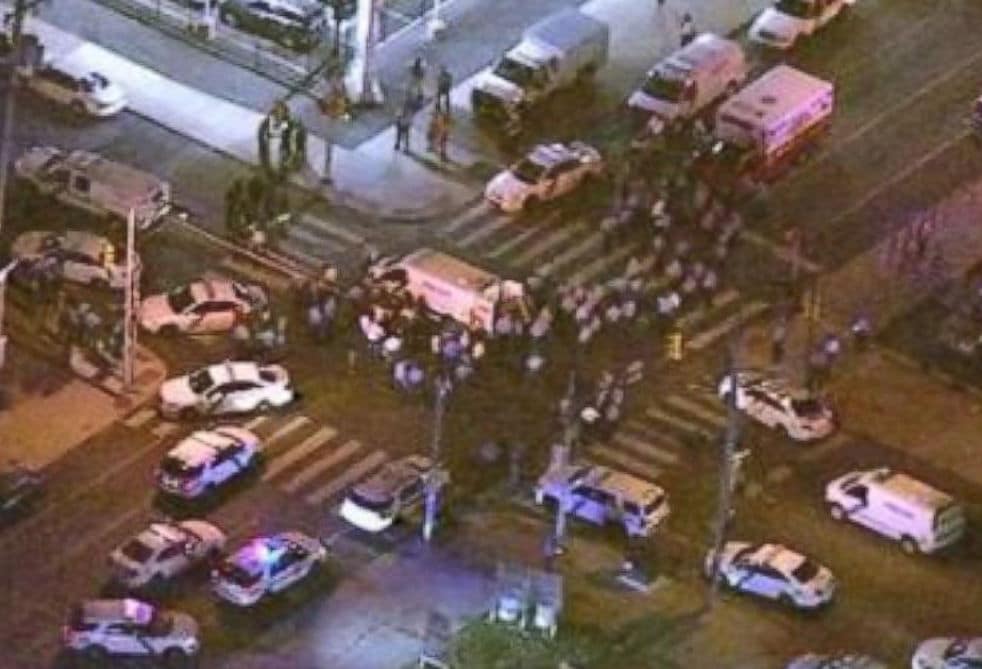 UPDATE: 1 female sergeant w/ the Philadelphia PD and 1 University of Pennsylvania officer were injured in shooting. https://t.co/7jniUPEbG1

— ABC7 News (@abc7newsbayarea) September 17, 2016
Ed Miller, a 56 year old campus cop from the nearby University of Pennsylvania, joined two other officers in chasing the shooter.
They eventually cornered him in an alley, where he was shot and killed. Miller was wounded during the brief exchange of gunfire but was expected to survive.
Friday's shooting was the second ambush of a Philadelphia police officer this year. In January, 30-year-old Edward Archer shot Officer Jesse Hartnett multiple times as Hartnett sat in his squad car.
Police say the motive is unknown at this time, while maintaining the shooting was an isolated incident.
Reiterated Police Commissioner Richard Ross: 'This is a dangerous job, it always has been, [but] this is a tough time in policing for a lot of reasons.'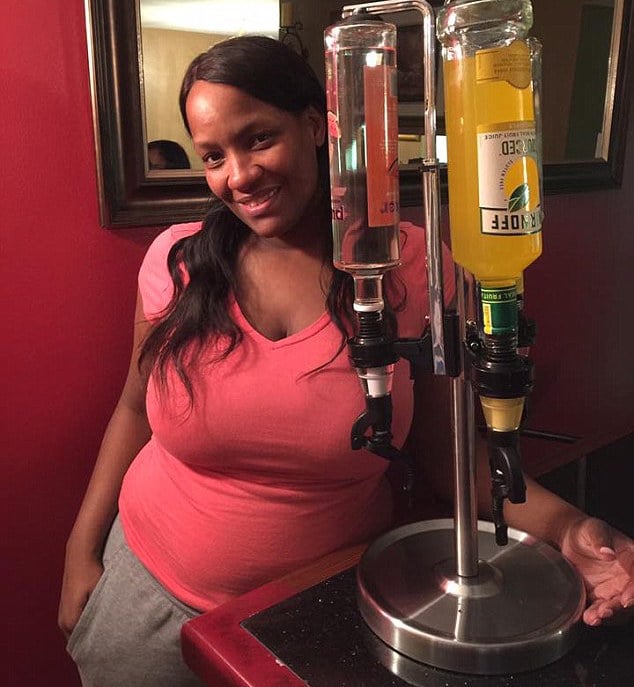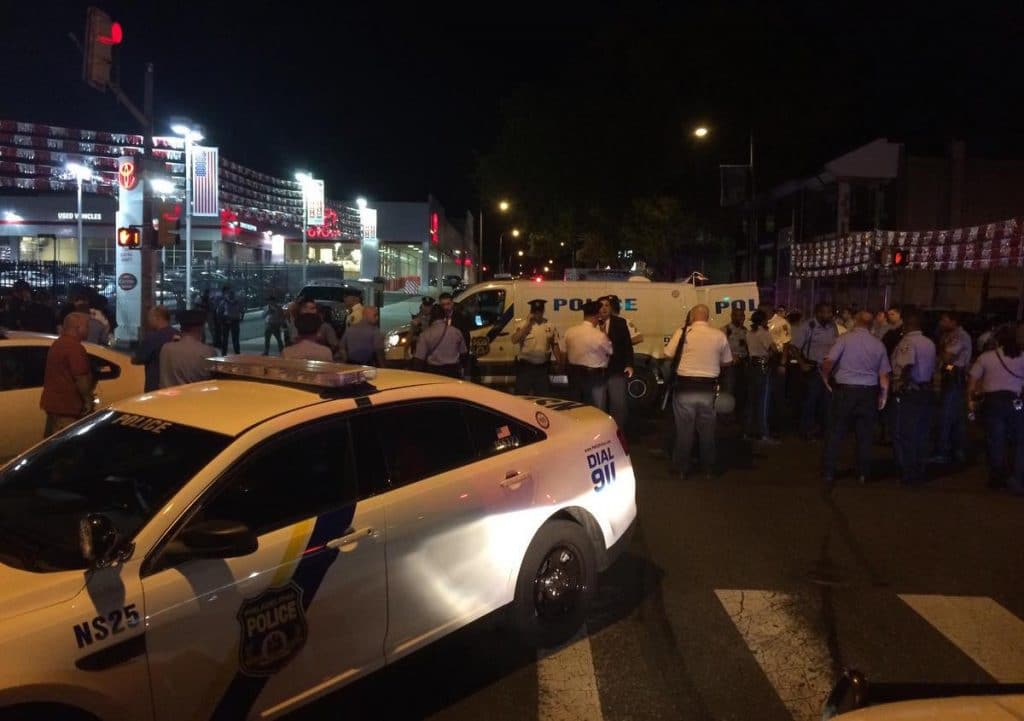 Philadelphia Police Officer, Civilian Shot In West Philadelphia Read More: https://t.co/NFJvJvZ9i6 pic.twitter.com/O4a7blo65e

— CBSDFW (@CBSDFW) September 17, 2016
#UPDATE: 2 Philadelphia police officers shot in West Philly; suspect shot and killed https://t.co/U6j2jDeCnE

— Action News on 6abc (@6abc) September 17, 2016
Bullet holes through @PhillyPolice sgt. Window as he was ambushed. @6abc pic.twitter.com/zxcnEY0AEu

— Mike Nik (@6abcmike) September 17, 2016