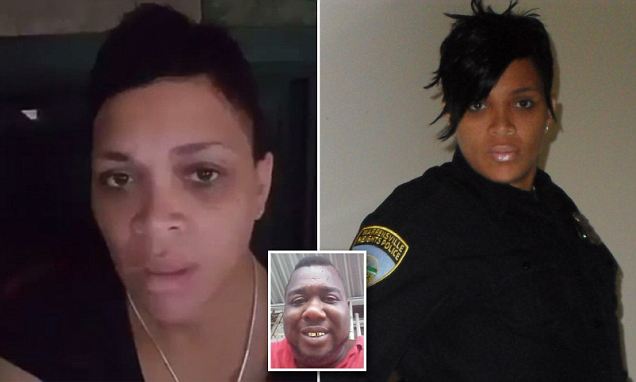 How Officer Nakia Jones a black Ohio female police officer came to shake the internet after expressing her disgust with fellow officers who shoot black men as it were open season.
Officer Nakia Jones a black Warrensville Heights, Ohio female police officer has taken to Facebook in a seven minute rebuke in which she has called out fellow officers for daring to wear the police uniform and murder somebody. A video post which has since gone viral to the millions.
In her post, Officer Nakia Jones holds back little as she told of her disgust and affront of police officers killing black people as it were open season.
Lavish Reynolds photos: Why did you kill my boyfriend?
Why was Philando Castile shot dead by Falcon Heights cops?
Howie Lake II suspended for previous black shooting

NSFW: New Alton Sterling video emerges, no gun drawn
Citing the latest spade of shooting murders to rock the nation, Jones tells of having watched the graphic video of Baton Rouge, Louisiana man, Alton Sterling's murder early Tuesday morning at the hands of fellow police, 'over and over.'
Tells the officer who first got her start in 1996 in East Cleveland: 'How dare you stand next to me in the same uniform and murder somebody. How dare you? You ought to be ashamed of yourself.'
In her video monologue, where Nakia pours out her grief, disbelief and outrage (if only more police officers had the courage to join Nakia…)  with fellow police colleagues the 35 year old woman describes her own journey of having wanted to be a police officer and what she believes ought to inspire one to pursue a career in the force.
Having grown up on East 93rd and Kinsman in what she calls a 'ghetto' neighborhood and later in East Cleveland, Nakia Jones describes how her upbringing and desire to see change and good inspired her to become a cop.
Tells Officer Nakia Jones: 'The reason I became a police officer is to make a difference in people's lives,'
'I know what it's like to have a parent on drugs. I know what it's like to watch people be picked on and bullied and all kinds of things. 
'I said I wanted to make a difference and I want to be that change, so I became that change.' 
She said that she is a wife and the mother to two boys, one of which showed her the video of Alton Sterling's shooting.
Tells the female police officer as she conveys her disbelief at how fellow officers having taken to what she perceives to be abusing the trust of the community:
'How dare you stand next to me in the same uniform and murder somebody,' she said. 
'How dare you? You ought to be ashamed of yourself. If you're that officer and you know you have a God complex and you're afraid of people who don't look like you, you have no business wearing the uniform. Take it off.' 
In her video post, the black female officer also take aim at those who she believes unfairly criticize and categorize all police officers together after police involved shooting incidents as well as those who commit gun violence.
Told Officer Nakia Jones: 'I'm so hurt, it bothers me when people say: 'police officers this' or 'police officers that'. They put us in this negative category,' 
'But I'm saying to myself, 'I'm not that kind of police officer'.'I know officers that are like me that would give their life for other people. 
'So I'm looking at it, and it tore me up because I got to see what you all see. 
'If I wasn't a police officer and I wasn't on the inside, I would be saying, 'Look at this racist stuff. Look at this.' And it hurt me.' 
In a bid to prove her point, Nakia Jones says there are officers who would give their life to defend people, while calling out those officers with racist leniencies.
Extols the cop: 'There's many of us who would give our life for anybody, and we took this oath and we meant it.
'If you are an officer who is prejudiced, take the uniform off and put the KKK hoodie on.' 
'If you are white, and you work as (a police officer) in a black community, and you are racist, you need to be ashamed of yourself.
'You stood up there and took an oath. If this is not where you want to work, then you need to take your behind somewhere else.  
'If you're afraid to talk to an African American female or a Mexican male or female because they're not white like you, take the uniform off. You have no business being a police officer.'
Watch this video of licended gun owner Philando Castile being killed/ murdered by a Minnesota police officer:… https://t.co/gentNQQcvK

— Alfredo Nava (@Notorious_Nava) July 7, 2016
In her video posting, the police officer calls on black men and children to stop using guns and to unite together as a community, in an attempt to call for an end to gun violence.
'Put these guns down because we're killing each other,' Jones said. 'And the reason why all this racist stuff keeps going on is because we're divided. We're killing each other, not standing together.' 
So affected has Officer Nakia Jones been with the spate of shootings, the female police officer concedes having contemplated quitting.
'But I need you all to support the (officers) that are right,' Jones said. 'And I need for you to stand against those that are not right.'
Jones' video was shared hours before the fatal police involved shooting of Philando Castile, 32, whose death was live streamed on Facebook  by his girlfriend, Diamond Reynolds, on Wednesday in Falcon Heights, Minnesota.  
Jones' video has been viewed more than 3.8 million times on Facebook with more than 192,000 shares in less than 24 hours since being shared. Indeed.