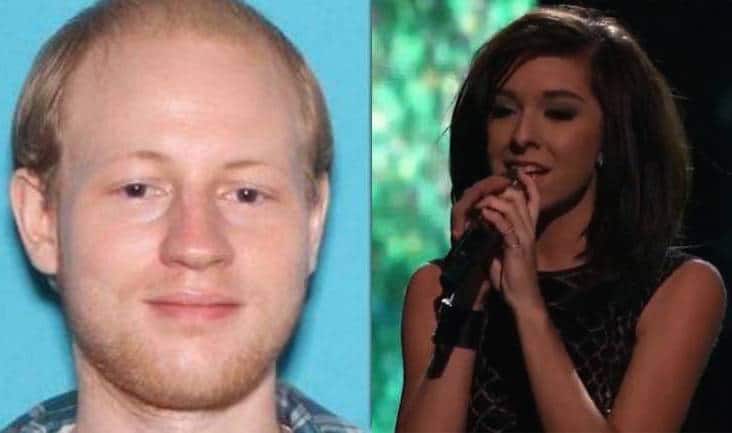 Did Kevin Loibl break down when he realized that the object of his desire was unattainable? A die-hard fan obsessed with the object of his desire.
Kevin Loibl the Orlando shooter who took the life of Voice Star Christina Grimmie has been revealed to have undergone an assortment of physical transformations in a delusional bid to become the 22 year old singer's boyfriend.
A Best Buy worker by day and a diehard fan by night, Kevin James Loibl, 27, underwent a number of cosmetic procedures in a bid to win his eventual love, including undergoing a hair transplant and laser eye surgery.
Other changes included Kevin Loibl ceasing to eat meat in a bid to lose weight so he could ultimately impress the object of his desire, Christina Grimmie.
Yet it would not be, when the desperate and flummoxed man left his parents St Petersburg home in Florida where he lived, last Friday afternoon where later that evening he would take to finally greeting the object of his desire.
With Grimmie having just finished a performance with indie band, Before You Exit, the Youtube star was backstage circa 10.30 pm signing autographs for fans when Kevin Loibl turned to make his way to the star.
Opening her arms, Kevin James Loibl instead took out a cache of two handguns and a knife where he fired off gunshots, fatally striking the singer twice in the head.
Kevin Loibl: 'I wanted to be Christina Grimmie's boyfriend'
Why did Kevin James Loibl murder Christina Grimmie?
'Known to her family' Christina Grimmie killer came loaded with aim to murder Voice star
Why was Christina Grimmie Voice star shot and killed?
The shooting death of Christina Grimmie according to a report via TMZ comes as a result of the St Petersburg Best Buy worker intent on changing the circumstances of his life and eventually making the Voice star his wife.
So consumed was the retail worker, that colleagues told how Loibl would constantly listen to the singer, even conspicuously claiming at one point that he had played online games with Grimmie after purportedly having met with her in March.
Yet what ultimately may have provoked Kevin Loibl was when he came across images of Grimmie in the grips of another man.
Co-workers who worked with Loibl said Loibl became furious when pictures surfaced online of Grimmie with record producer Stephen Rezza, whom he believed to have be a new love in the singer's life.
After the shooting, Kevin Loib;'s family apologized for the murder with a hastily scribbled note stuck on their front door.
It read: 'Deepest sorrow for lost [sic] to the family, friends and fans of the very talented, loving Christina Grimmie. No other comments.'
To date authorities have yet to release a motive for what may have led to the man killing his object of desire as an image of a disjointed deeply unsatisfied and humiliated man takes shape….