Christina Grimmie killer may have been known to her family as a deranged fan. Police are now investigate motivate after suspect came fully loaded backstage.
Authorities have told during a press conference in Orlando that the gunman shooter who killed Voice Star Christina Grimmer Friday night came heavily armed specifically to kill the 22 year old Marlton, New Jersey native.
Addressing a thronging packed journalists meeting, Orlando Police Chief John Mina said the gunman, yet to be publicly identified was a 21 year old white male who'd traveled to Orlando from another city in Florida specifically to kill Grimmie.
Why was Christina Grimmie Voice star shot and killed?
A report via the dailymail told that the suspect did not know his victim, despite coming to the concert at the Plaza Live Theater armed with two handguns, extra magazines and a knife. 
Of note, a reddit user by the handle, starstarstar42, said local news was reporting that the gunman 'was someone known to her family'– suggesting that the man had most likely sought access to the singer in the past and may have been referred to authorities.
Wrote the user: 'That's pretty vague, but this might be a case of an old boyfriend or an ex-employee/fan club president ala' the Selena murder back in the 90's.'
'That would be speculation, but that's what it's looking like,' responded Police Chief Mina, when asked if the Voice star had been murdered at the hands of a 'deranged fan'.
Prior to the much beloved singer's tragic death, USA Today reports that Grimmie was signing autographs backstage just on 10.45 pm, after having finished a performance with band, 'Before you Exit' when a man walked up and shot her.
ABC's WFTV 9 reports that Grimmie's brother, Mark, was able to tackle the shooter, who then successfully turned the gun on himself, dying instantly.
Reports told that the Christina Grimmier's shooter fired off five rounds of which two bullets struck the singer in the head.
Horrifically, the shooting happened in front of about 60 children and teenagers told a report via the Orlando Sentinel.
Told the singer's publicist just on 2.45 am after it was disclosed Grimmie didn't make it after being rushed to hospital:
'It is with a heavy heart that we can confirm that Christina has passed and went home to be with the Lord. She was shot at her show in Orlando and, unfortunately, didn't survive the gun shot wounds,' she said.   
'We ask at this time that you respect the privacy of her family and friends in their time of mourning. If you'd like to give back to Christina's family in her memory, please consider donating to the families GoFundMe page in their time of need.' 
Ironically, prior to her performance earlier that evening, the singer had posted a Snapchat video where she invited fans and followers to come and see her perform at the Plaza Live, in Orlando, Florida.
Told witness, Karla Abel, 21 via People magazine: 'I didn't see the guy come up to her. My back was to her at that moment,'
'But suddenly there was this sound. I at first thought it was some sort of firecracker, or even something with the microphones inside. It took me a minute to figure out what it was. I think there were like six or seven shots.'
'Everything went f–king crazy,' she added. 'People were throwing themselves onto the ground, and covering their heads. All I could do was look at the exit doors and duck and run out. But it was terrifying. Everyone was screaming.'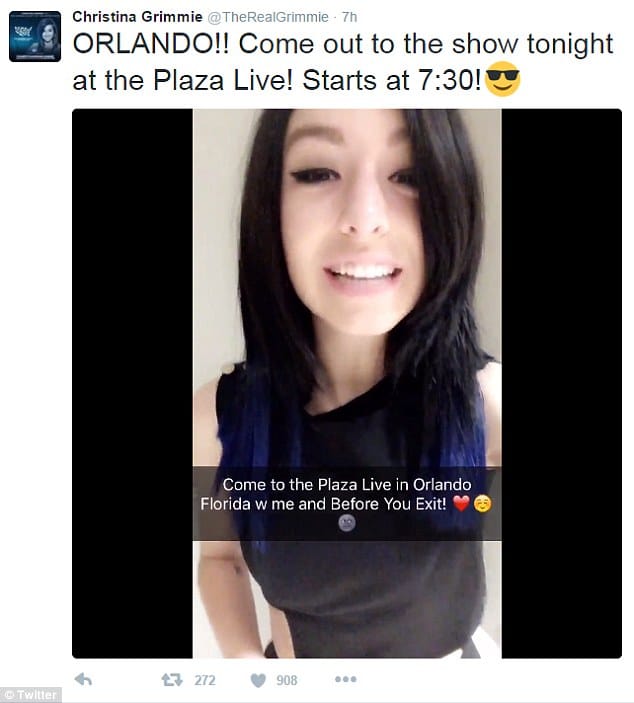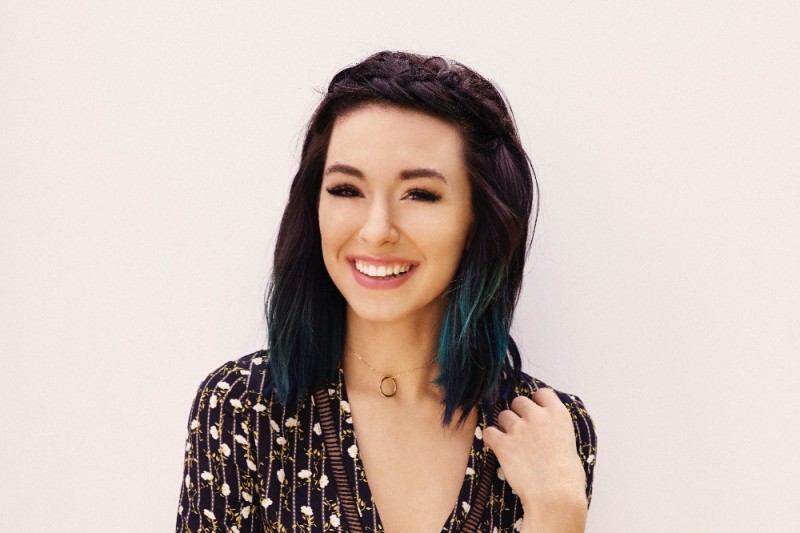 During Saturday morning's press conference Orlando Police Chief Mina said detectives were meeting with her parents and that authorities plan to release the gunman's name near the end of day on Saturday. 
He added that the gunman had plans to travel back to the city where he was from after the shooting. He did not name the city from which Christina Grimmie's killer had come from.
He also said that the venue where the concert was held has unarmed security guards who check bags and purses for weapons when people enter the building. 
However, there are no metal detectors and it's unclear how the gunman made it inside with the weapons.  
Police are checking the man's cell phone, computer and social media to see if they can find a motive for the horrific shooting and say he has no prior criminal history that they are aware of so far.   
To date the gofundme page has raised $10, 100 at time of press.
Today we lost an angel, sister, and a beloved friend. #RipChristina pic.twitter.com/EkwTKsaLFr

— Before You Exit⇞ (@beforeyouexit) June 11, 2016
She was such an amazing singer and had such a beautiful voice you will be missed ?? #RIPChristina https://t.co/tfJ0XJqCS7

— ♡ (@SunriseKalli) June 11, 2016
When Christina performed 'Wrecking Ball' on The Voice! ?? #RIPChristina https://t.co/Dpjj0DKvMA

— Miley Cyrus Source (@MileySourceNews) June 11, 2016