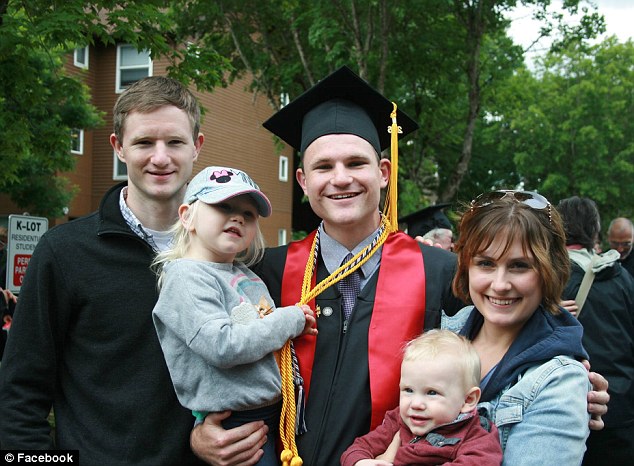 What led to Colin Nathaniel Scott a nature guide disobeying warning signs and falling into a hot geyser spring at Yellowstone National Park hot spring?
Colin Nathaniel Scott, a 23 year old Portland, Oregon man has died after literally being boiled alive after slipping and falling into a hot spring at Yellowstone National Park.
The man's death comes after straying off a designated boardwalk in the Norris Geyser Basin area on Tuesday, where water temperatures can reach 93 celcius (200 fahrenheit).
The incident led to authorities calling off the search for the missing man, after being unable to retrieve Scott's 'evaporated' body,  citing the 'extreme nature and futility of it all.'
The Norris Geyser Basin is the hottest and most dynamic thermal area in Yellowstone.
The accident occurred in an area where boiling water flows just beneath the earth's crust.
Told Park spokesperson, Charissa Reid: 'They were able to recover a few personal effects. There were no remains left to recover.
'It's very fragile rock and can be thin as a skiff of ice.'
The park ranger reiterated noticing an increase in people straying from trails and approaching animals this year, caused, in part, by the sheer number of park visitors.
'The rules in the park aren't just arbitrary,' she said. 'They're really here to protect people who are visiting the park and the things that they're here to see.'
The accident came as Colin Nathaniel Scott was with his sister at the time with authorities saying the man disappeared after having walked up to 200 meters from tourist paths. At the time, the man's sister observed her brother falling off before seeking help.
Scott's death comes despite warning signs abound the park warn tourists that they mustn't veer off from the boardwalk or face the dangers of being boiled alive.
Not necessarily understood is why Colin Nathaniel Scott chose to disobey park rules and step off the boardwalk?
### Watch: Woman suffers burns after entering closed Yellowstone National Park hot springs
Park rangers say Scott may have underestimated a hot geyser spring before traveling off the boardwalk, while others wonder if the man simply slipped or even purposefully fell in?
Some boardwalks over Yellowstone hot springs do not have guard rails, and more visitors have died in them than any other natural feature.
A report via cbsnews describes Colin Nathaniel Scott graduating from Pacific University and ironically previously working at the Jackson Bottom Wetlands Preserve in Oregon, as a nature guide according to Mary Loftin, a manager at the Hillsboro, Oregon, parks and recreation department. Scott worked there for about 20 months fielding questions from visitors, and his stint ended last year, she said.
'A very nice young man; a bright spirit,' Loftin said.
Colin Scott's linkdn page showed him also working as a research assistant at Pacific University prior to recently graduating.
Since 1890, there have been 22 fatalities involving thermal waters in Yellowstone, Ms Reid said.
The last recorded death was on August 22, 2000, when Sara Hulphers, 20, of Oroville, Washington, died after she fell into a hot spring and received third-degree burns.
Tuesday's horrific incident comes on the heels of several other high-profile incidents at the park.
On Saturday, a 13-year-old boy was burned around his ankle and foot after his father, who had been carrying him, slipped in the park's Upper Geyser Basin hot spring.
In May, a Canadian film crew was accused of leaving an established boardwalk and stepping onto a geothermal feature where they snapped photos and took video of themselves.
Also last month, park authorities revealed they had to put down a bison calf after a Canadian tourist put it in his car boot because he thought it looked cold.