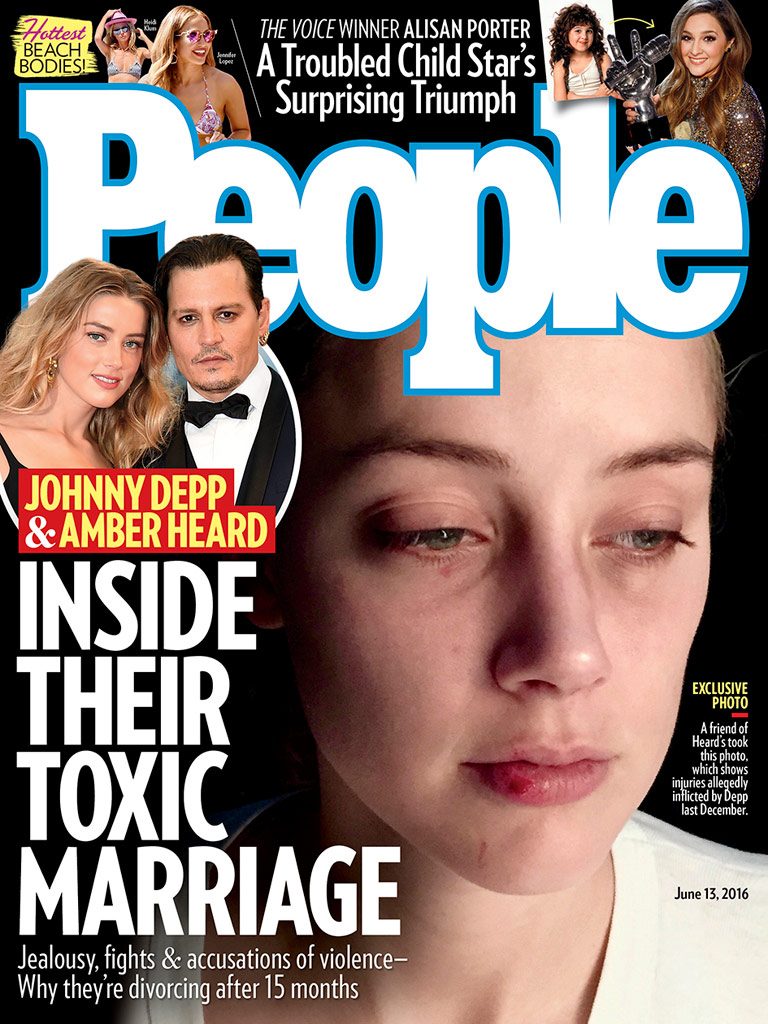 Amber Heard new abuse photos: Exclusive images said to have resulted from a December incident corroborated by a source who told of witnessing many attacks.
It seems things might be going from bad to incredibly worse for Johnny Depp as new revelations tell of the iconic actor having an ongoing history of violently beating estranged wife, Amber Heard.
A report via pagesix quotes a source telling having witnessed previous abuse inflicted on Amber Heard at the hands of the irate drunken actor with a bad temper.
One instance included Heard texting the source, a female friend, during an alleged altercation last December where the concerned friend rushed to the couple's LA pad only to find Heard battered and bruised.
Recalled the source: 'I got to her apartment to find her with a cut and bruised lip, a swollen eye and a chunk of hair missing from the top of her head,'
'This incident really stuck with me because she confided in me that day that she feared for her life after an intoxicated Johnny tried to suffocate her with a pillow.'
Shockingly the source alleges having witnessed other instances of abuse at the hands of the boozed up actor.
Reiterates the source:'I have personally witnessed the aftermath of Johnny Depp's violent and abusive behavior towards her on many occasions.' 
The latest allegations dovetail with new photos released via people magazine, in which the tabloid tells of the images being obtained after a December altercation. The images reference the actress having told during her filing for a restraining order against the actor where she told, 'there was one severe incident in December 2015 when I truly feared for my life.'
The new Amber Heard abuse photos show the actress with facial injuries, including an apparently bruised eye and cut lip – allegedly caused by Depp in that incident.
Of note, a rep for Depp declined to respond for comment about the photos, or about Heard's allegations of abuse. Depp's divorce attorney Laura Wasser said in court documents that Heard, who filed for divorce from Depp on May 23 after 15 months of marriage, is 'attempting to secure a premature financial resolution by alleging abuse.'
Amber Heard finances: I spend $44K on my luxury life but only make $10K a month
Doug Stanhope pathetic Wrap essay: Is Johnny Depp being blackmailed?
Johnny Depp beating: 'Amber Heard is lying, she just wants my money'
Is Amber Heard lying for money? Cops saw no black eye marks
'He offered to pay me hush money' Johnny Depp domestic abuse. Amber Heard files restraining order
Amber Heard Johnny Depp divorce: 'What am I doing with this fat old man?'
Johnny Depp divorce: Why did Amber Heard want out?
Hollywood's ugly obsession with famous, dangerous men https://t.co/PpLSXThe2s

— The Independent (@Independent) June 1, 2016
@ Amber Heard prove your point on court not on magazines we aren't judges so stop releasing photos that prove absolute anything 🙂

— sheldøn (@DrunkyBorghy) June 1, 2016
I really don't like the way that Amber Heard is being treated in the media. How will this coverage impact upon domestic violence victims?

— Fiona (@Fionaah27) June 1, 2016
If Johnny was so abusive, why did you marry him @AmberHeard ? You're a lieing golddigging crotch monkey.

— Lisa Monaco (@LisaMonaco6) June 1, 2016
Of question, is how long the degree of alleged domestic abuse at the hands of Johnny Depp, Heard is said to have suffered?
By December 2014, after having met the year before, rumors started that Depp and Heard's relationship was in trouble.
'There is no rush to marry at the moment,' a source told People at the time. 'Johnny is crazy in love with Amber, but there is turmoil in the relationship.'
Come Feb. 3, 2015, the couple went on to marry, despite hints of discord within their relationship.
A month later after returning from their honeymoon from Depp's private Caribbean island retreat, Depp injured his right hand punching a wall during a fierce fight the couple had in Australia, sources told Entertainment Tonight.
The wound was so bad that Depp had to fly back to the US and undergo surgery, which stalled shooting on the fifth "Pirates of the Caribbean" flick for more than a month.
Sources have told that the couple's marriage was on the verge of collapse after just three months, with the couple agreed to stay together for at least a year before walking away.
Painting Depp as a paranoid alcoholic, Heard said in court papers that she lives 'in fear that Johnny will return to [our house] unannounced to terrorize me, physically and emotionally.'
A judge granted her a temporary restraining order.
Told lawyers for Heard last week: 'Johnny's team has forced Amber to give a statement to the LAPD to set the record straight as to the true facts, as she cannot continue to leave herself open to the vicious, false and malicious allegations that have infected the media.'
To date, Depp's legal team has vehemently denied the court allegations, accusing Heard of coming forward out of pure financial interest. Claims that the Depp's team may struggle to continue making with the latest release of incriminating photos…