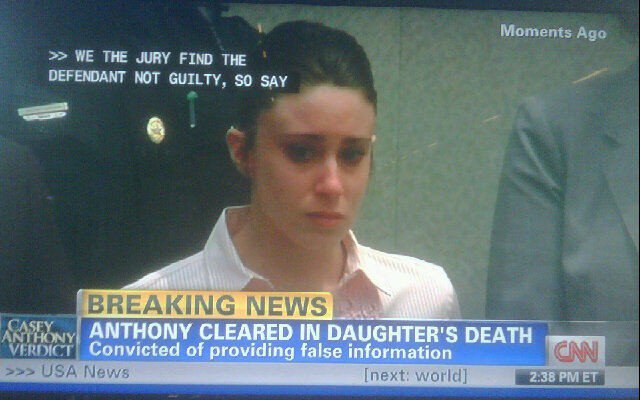 Dominic Casey private investigator makes stunning allegations throwing into question Casey Anthony's actual innocence along with allegations of sex for legal services.
Dominic Casey a former private investigator on Casey Anthony's defense team has alleged that her trial attorney, Jose Baez, telling him that the accused child killer did in fact kill her toddler daughter, Caylee, along with 'burying' her body.
According to an affidavit filed in court relating to Casey Anthony's bankruptcy case, Dominic Casey told: 'Baez had told me that Casey murdered Caylee and dumped the body somewhere.'
To boot, Dominic Casey went on to allege in the 15 page affidavit filed in Florida on April 25, that Anthony traded sex as a form of payment with Baez, for his legal services.
Told Dominic Casey via RadarOnline: '[Baez] called the network saying they would have to take a raincheck, hung up the phone and said to Casey: 'You now owe me three bl*wjobs.'
According to the PI the demands on Casey Anthony only intensified over time as the alleged murdering mommy was broke and hard up for cash. Complicating matters was the fact that the public threatening publishers and media agents vetoing their outlets if they paid the presumed child killer off, ensuring Anthony was unable to make a quick payday off the trial. 
In his affidavit, Dominic Casey said he quit working for Jose Baez and the Baez Law Firm on October 1, 2008.
'You owe me 3 bl*wjobs' Did Casey Anthony pay Jose Baez lawyer fees with sex?
Come Wednesday, Baez vehemently denied all allegations, releasing the following statement:
'I unequivocally and categorically deny exchanging sex for my legal services with Ms. Anthony.  I further unequivocally and categorically deny having any sexual relationship with Ms. Anthony whatsoever.  I have always conducted my practice consistent with the high ethical standards required of members of the Florida Bar.  My representation of Ms. Anthony was no exception.' 
Told the lawyer via in a cease and desist letter via WFLA News Channel 8: 'As you are aware, this information comes from an attention seeking, delusional individual, with a history of making false and outrageous claims, not only to court officials, but to the media.'
Adding: 'Legal action is forthcoming.'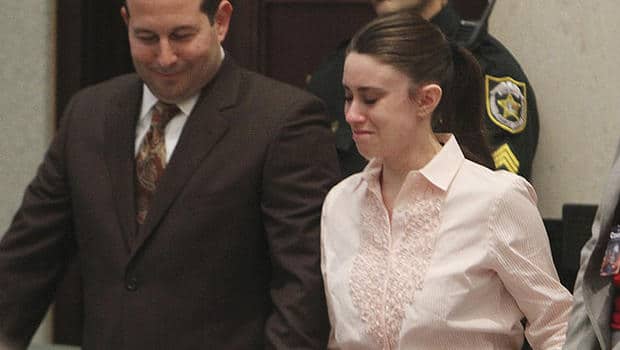 The new claims come five years after America's most maligned woman was acquitted, after her daughter's body was eventually found in a swamp near Anthony's home.
Since her acquittal the much reviled mother has lived in hiding in Florida off charitable donations, after unable to get a job and fears for her life after receiving a plethora of death threats.
Adding fissure, is Dominic Casey's allegations that Baez 'Baez had told me that Casey had murdered Caylee and dumped the body somewhere and, needed all the help he could get to find the body before someone else did.'
Of note, the latest allegations come as Casey Anthony was seen once again in public, having bought a $25 000 car. How the automobile came to be financed from the 'bankrupt' woman is yet to necessarily be understood.
Casey Anthony is all smiles as she buys a new car https://t.co/WINp71UyZC pic.twitter.com/bQ0CVzIqPp

— Daily Mail US (@DailyMail) May 25, 2016
Death threats, Casey Anthony launches photography business, Facebook fan page barraged.
Casey Anthony re surfaces in West Palm Beach in 2000 square foot home. No longer broke?
Casey Anthony parents face eviction. Had yard sale of Caylee's toys.
Casey Anthony wins reprieve as judge dismisses volunteer group's bid to recoup $100K spent on search.
Casey Anthony bankruptcy hearing. Living off hand outs.
Casey Anthony finally resurfaces from her secret Florida hide out spot. Here are the pictures of doom…
Casey Anthony lives it up on the beach but she has a few complaints. New pictures.
Casey Anthony files for bankruptcy. Will she get out of lawsuit payout?
Casey Anthony terrified that Lifetime drama about murder trial will ignite new death threats.