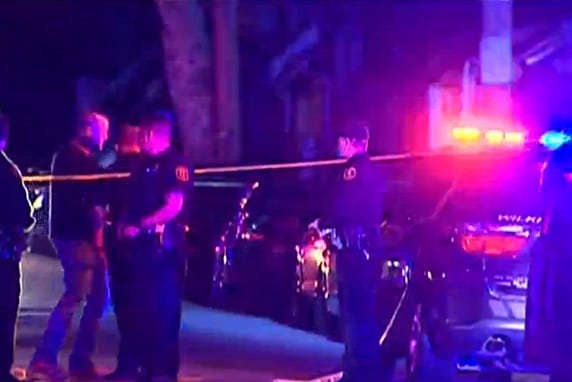 Wilkinsburg shooting: 2-4 suspects on the loose after a suspected neighborhood block party ambush.
Initial reports tell of four females and one man being shot dead and three others wounded in a mass shooting Wednesday night in Wilkinsburg, Pennsylvania, in which witnesses told of hearing up to 25 gunshots.
According to a report via WPXI-TV the Wilkinsburg shooting occurred just before 11pm on the block of 13o0 block of Franklin Avenue, a residential area of Pennsylvania city, near Pittsburgh.
Authorities said the shooting happened during a backyard party, yet to date police have told that they no suspects have been taken in to custody.
Nevertheless a report via KDKA-TV tells of authorities seeking at least four suspects fleeing from the area according to witnesses.
How or why the shooting came to occur is to date not necessarily understood.
Authorities in the interim have declined to release the name of the dead and the injured.
During a press conference cops said there was a party going on in a backyard alleyway behind a house on Franklin Avenue when the two gunmen ambushed the victims.
Lt. Andrew Schurman of the Allegheny County homicide unit said the gunmen barged into the party and opened fire in an ambush-style attack. He said gunshots came from two distinct locations but police don't believe anyone at the party fired back.
Since the shooting, four people were taken to local hospitals with injuries, with one of the victims dying at hospital and four pronounced dead at the scene.
Pittsburgh Mass Shooting: Four killed. Four injured. https://t.co/6rm43QGScT #Wilkinsburg #7News https://t.co/enZb3MWBww

— 7 News Sydney (@7NewsSydney) March 10, 2016
Police officer just showed up with police K9 pic.twitter.com/AmPFg4OoSl

— Beau Berman (@BeauWTAE) March 10, 2016
Alleyway behind house with shell casings is Hazel Way in Wilkinsburg pic.twitter.com/DRGdBZyVIa

— Beau Berman (@BeauWTAE) March 10, 2016
BREAKING: Official press release on Wilkinsburg shooting where five were killed, total of 8 hit #wpxi pic.twitter.com/xZG6NOJ2dI

— Joe Holden (@WPXIJoeHolden) March 10, 2016
MASS SHOOTING on Franklin Ave in Wilkinsburg. Sources say 7 possibly 8 shot #WTAE pic.twitter.com/E2qYVC6UX0

— Kelly Brennan (@Kbrennan_WTAE) March 10, 2016
It looks like there are at least 40 shell casings on the ground behind Franklin Ave in Wilkinsburg after a shooting pic.twitter.com/Ehl8luG33I

— Beau Berman (@BeauWTAE) March 10, 2016
Believe there were multiple gunmen – fired into backyard party pic.twitter.com/RKWUS6fW8L

— Beau Berman (@BeauWTAE) March 10, 2016
UPDATE: at least 40 evidence markers on Hazel Way #wilkinsburg #pittsburgh #wtae #crime pic.twitter.com/ll4V5JXabc

— Kelly Brennan (@Kbrennan_WTAE) March 10, 2016