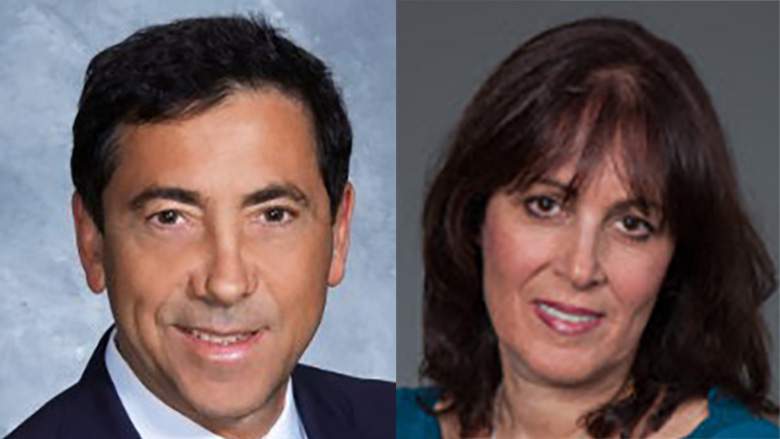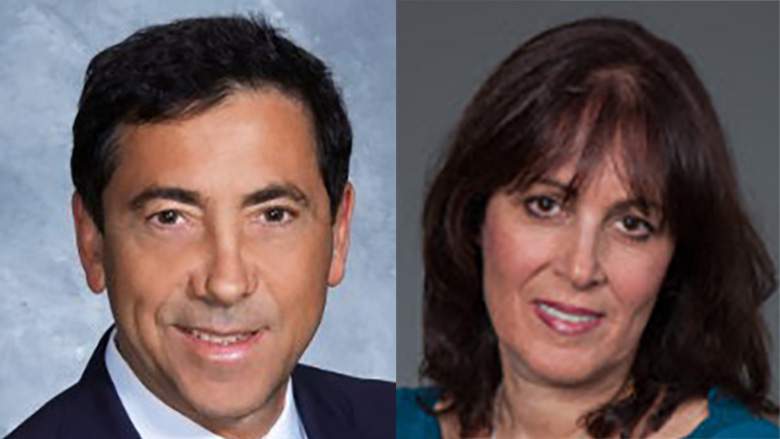 Authorities are questioning the husband of slain Scarsdale, NY woman, Robin Goldman Reich, 58 after the man called cops to tell that his wife was bleeding to death after 'being seriously injured' at their multi million dollar Westchester home.
The investigation comes after the husband, Jules Reich, 61 called 911 at 10 am Wednesday to tell that his wife had just been attacked.
When cops arrived at the couple's expansive 5700 square foot home in the exclusive province of Heathcoate, at 50 Lincoln Road they noticed the man bearing 'defensive wounds.'
Jules Reich stabbed wife 21 times, smoked a cigarette before calling 911
'I wanted a divorce' Jules Reich charged in Dr Robin Goldman stabbing death
Taken into custody, as of 6pm tonight, the husband was yet to be charged. Cops would tell in a press conference that they were considering the death of Robin Goldman Reich as that of a homicide, her mortal wounds consistent with stabbing wounds.
'This is not a random act. This was an isolated incident,' Scarsdale Police Captain Thomas Alpizio told reporters. He said there is no threat to the public and called the incident 'domestic' in nature.
Responding to his mother's death, the couple's son, Adam Reich, told the New York Post his mother 'was great, a great person, amazing.' It's not known if they had any other children.
Of note, a report via heavy tells according to court records, Jules Reich petitioned for divorce from Robin Goldman Reich in August 2015. The matter was still pending, court documents showed. No other details were available.
The incident comes as the couple were well regarded by their prospective professional colleagues, the husband according to his linkdn profile worked as a lawyer and CPA for WeiserMazars on West 150th st with the slain wife a beloved pediatrician who had worked at Montefiore Medical Center according to a report via the nypost.
Told a stunned security guard at Montefiore, Kassim Ray: 'Dr. Goldman was murdered? Oh my God this is horrible! I'm completely shocked. She was a very pleasant lady. She always smiled and said hello to everyone. Nobody ever said or felt anything bad about her. Not with that smile.'
The security guard went on to tell the wife was highly popular among the hospital's staff, from the top doctors to the hourly workers.
'A lady of that stature? Who would want to do that to her? I've worked here for three years and she was always very nice to me. I need to spread this news. Her dying is really going to bring pain to a lot of people.'
Ironically, The WeiserMazars LLP website calls Reich a 'leader in corporate consulting.'
According to the outlet, Jules Reich 'has more than 20 years of experience as a leader in corporate consulting – advising corporations, startups, venture capital and private-equity firms in a broad range of industries.'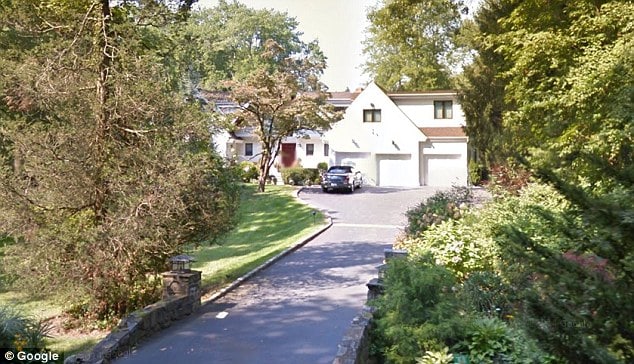 The husband earned a law degree from NYU, a Juris Doctorate from Benjamin N. Cardozo School of Law, and a BA in accounting from Brooklyn College. He is a Certified Public Accountant and a Member of the New York State Bar Association.
Both Reich and Goodman are said to be Jewish and both sat on a gala committee for Westchester Jewish Council.
Offered Neighbor Judy Raphael: 'I'm living here 34 years – nothing like this has ever happened.
'It's a very safe neighborhood,' 
Told neighbor, Robert Graf, they are 'fine, upstanding people,'
Adding: 'I'm just shocked to know this could happen. It's shocking when it hits so close to home.'
Other neighbors told knowing little of the crime or the couple as authorities struggle to understand what led to the gruesome death in a seemingly idyllic community.