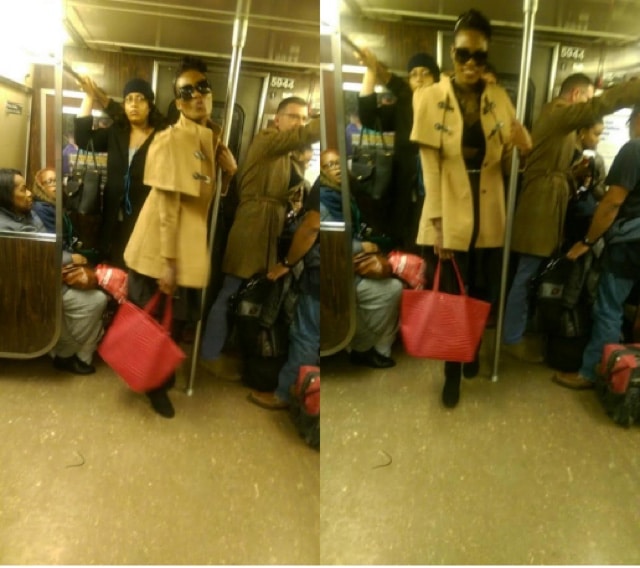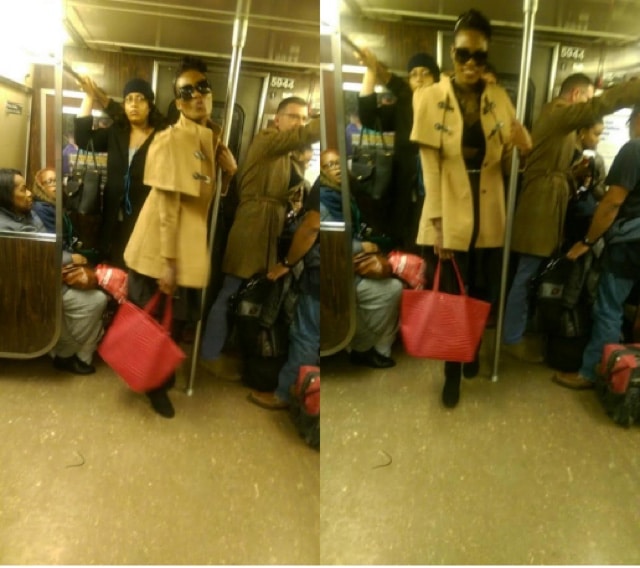 Authorities are on the look out for a female passenger after an incident recorded on mobile showed a crazed woman 'merrily' slashing at a male and female straphangers on a downtown A NYC subway train Friday evening.
The woman, dressed in a fashionable beige cape shoulder coat and sunglasses is observed at one point getting into an altercation with both a male and female passenger, aged 35 and 28 respectively, just before the train enters Jay street about 7pm.
The video obtained by gothamist shows the female straphanger seemingly becoming irritated by the man and woman holding on to the same pole she was leaning on.
Suddenly without warning the woman pulls out an encased blade out of her red purse, uncapping it with her teeth, moving towards both man and woman.
Tells the suspect: 'Do you want a clue of what's going to happen when I get off this train? I'm going to cut you and I'm going to get away with it. Now if you say one more word, it's going to end very badly.'
The suspect then turns to the person filming the incident on cellphone and says brightly, 'Hi, I'm used to cameras,' then: 'Get my good side.'
After a brief pause, the suspect lunges at the victims with the blade. Fortunately other riders manage to separate the suspect from the victims, but not before the man and the woman receive small cuts to their faces, according to cops.
The suspect got off the train at Nostrand. The victims declined medical attention at the scene, police said.
The suspect is described as being about 30 years old, 6 feet tall and 180 pounds. Cops have asked anyone with information to contact Crime Stoppers at 800-577-TIPS. 
Isn't it time you also caused a scene on the subway and made tabloid headlines too?
Video: Nyrel Wade clipped and dragged to his death by NYC subway train
Woman beaten on NYC subway after asking father to stop hitting child
Watch a brutal nyc subway mugging take place.