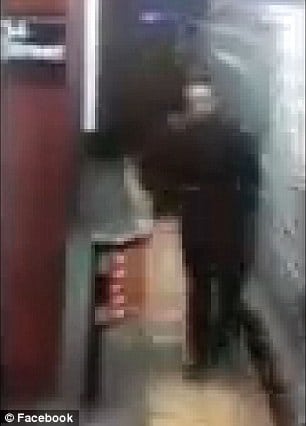 Cops are investigating the leaking of a video which shows footage of 23 year old Nyrel Wade being clipped and dragged to his death by a NYC subway train as he walked past a subway platform to urinate.
The incident reports the nypost came to happen this past Saturday just after 1am at Penn Station after the man transgressed past a 'Do not enter' sign.
As the Pratt Institute employee turns to walks back, an A train leaving the station hits him, knocking him to the ground and dragging him under the train as his body becomes trapped between the platform and train.
The NYPD has said that the train driver nor the conductor saw the incident and Wade was found 15-feet into the tunnel by a transit worker later on Saturday morning.
The footage was captured by an MTA security camera and the NYPD has said that is investigating who leaked the video, which has been watched 80,000 times on Facebook.
Since the incident, Internal Affairs Bureau has told it believes an NYPD officer is responsible for putting the video on Facebook.
One source, who has watched the film told the New York Daily News. that Wade's death is 'the most disturbing thing you have ever seen.'
Offered the victim's mother, Sophia Farquharson: 'I was so hysterical when I heard about the video,'
'I don't want anyone to see it and remember him by it. You don't want a constant reminder of how your child died.'
She said she has been trying to get the video pulled from Facebook, and has been warning his friends and relatives about it. She has since added that she refuses to watch the video.
Reiterated the mother who is considering legal action against the MTA over the security breach: 'I can't see how someone could be so cruel,'
'It should never happened. The man who posted it was taunting and making fun of the event.'
The NYPD have said that Wade's family in the Bronx have been notified and friends have posted condolences online for the popular faculty member and amateur musician.
Offered MTA spokesman Kevin Ortiz: 'Sadly, the video speaks for itself on the inherent dangers associated with unauthorized activity in the subway system,'
'We are also working with the NYPD to investigate who posted this video as there was a clear breach of protocol.'
Investigators are currently waiting for the medical examiners report to determine whether alcohol played a part in the tragic accident.