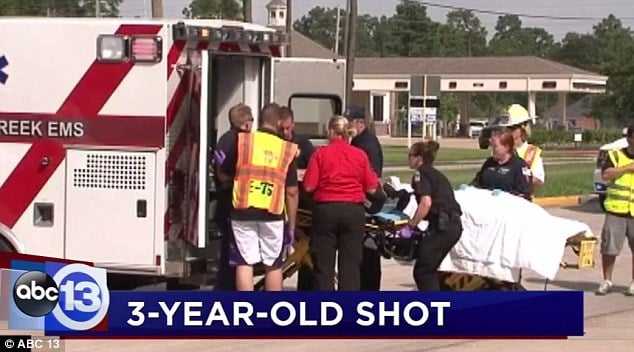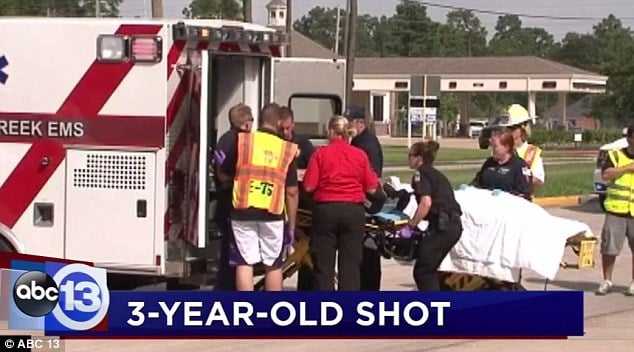 A three year old Texas boy is clinging to life after accidentally shooting himself in the head with his grandfather's gun.
The incident came to pass whilst the child's grandparents were babysitting him on Sunday afternoon in their Spring-area home at the Bainbridge Estates, NewsFix reports.
They had put the child down for a nap at around 3.30pm and heard a gunshot about 30 minutes later. 
Who's to blame? Braylon Robinson shooting: 3 year old boy shoots one year old
Codrick Beal, 4 year old boy shoots self dead. Who's at fault?
Missouri baby boy shot dead by his 5 year old brother.
Sister accidentally shoots dead brother while posing with gun for Facebook picture.
Told Sgt. Ben Beall via KHOU: 'When they went in to check on him, he had apparently located a .380 semiautomatic pistol that was in the bedroom and had apparently accidentally shot himself in the head.'
Precinct Four Constable Mark Herman told ABC that there was an 'exit point' in the boy's wound. 
From there the grandparents called 911 to report where the toddler was taken by Life Flight to Memorial Hermann Hospital where he remains in critical condition. 
And here's where things get tricky.
According to Sgt Beall the gun was in the bedroom, but the boy's grandfather couldn't say for sure whether the pistol was on or in the nightstand.
Whilst detectives now believe that it appears the loaded pistol had been left out on the nightstand. 
Deputy Thomas Gilliland, with the Harris County Sherriff's Office, has been tasked with investigating where the gun was stored and whether it had a lock. 
In the hours after the attack, neighbors said the child's grandparents regularly babysat the child in their 5,000-square-foot home. 
One neighbor said the boy's grandparents are 'the nicest folks in the neighborhood', describing them as 'well respected' in the community, according to the Houston Chronicle. 
If the loaded pistol was left out on the nightstand in the room with the boy, the grandparents will likely face a charge of making a firearm accessible to a juvenile, Beall told ABC.
The charge, a misdemeanor, could result in a fine and up to one year in jail. 
Between 2007 and 2014, 311 children under the age of 14 died from accidental shootings sources the Centers for Disease Control and Prevention. 
About 660 children are hospitalized each year for firearm injuries. 
Reiterated Detective Gilliland: 'The importance of gun safety and child locks always becomes magnified with tragedies such as these,'
'We stress the proper storing and locking of weapons away from children and others.'
And then there were these comments on the web that caught my attention, see what you think?
I don't get it. Was he arrested? Is this a crime? Or are we just assuming that gun owners can't be expected to exercise any responsibility for their guns?
What kind of a mentally deficient individual leaves a loaded weapon in a room with a child?
Personally I think if there weren't child locks and a gun safe grandpa should be in jail for neglegent homicide. But that's just me. I think "rights" come with responsibilities and consequences.