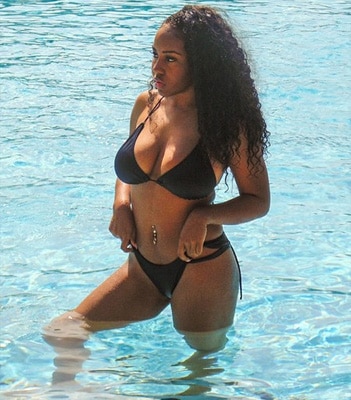 Dajerria Becton aka Keef Cakez on social media has been identified as the 14 year old McKinney, Texas teenage girl who came to be manhandled at the hands of Corporal Eric Casebolt.
In a video uploaded by 15 year old white teen Brandon Brooks an entire nation has come to wonder out aloud what led to Saturday's confrontation which saw the police officer short of assaulting the young black woman and withdrawing a gun at two teens who came to the young woman's assistance after she was unceremoniously grabbed by her braids and dragged to the ground.
Corporal David Eric Casebolt resigns declines to apologize. Will he be charged?
#OpMcKinney: Anonymous releases Corporal Eric Caseblot's address offers $200 bounty
New McKinney Pool video surfaces: 'They started it, it was not racial.'
In an exclusive with Fox4 the manhandled teen told: 'I'm guessing he thought we were saying rude stuff to him,'
'He grabbed me, twisted my arm on my back and shoved me in the grass and started pulling the back of my braids. I was telling him to get off me because my back was hurting bad.'
Added the girl's aunt: 'It wasn't right, I think his force was excessive.'
The teenager, who said she had not been involved in the fight reported to police, said she hopes officials take the incident seriously.
'Him getting fired is not enough,' she said.
The teen would add that she had been invited to Saturday's pool party and had not been involved in an fight which broke out after patrons took umbrage at uninvited 'black guests' who had come along uninvited, with one individual having told black attendees: 'Go back to 'Section 8 housing.'
That said, there is indication prior to the arrival of cops, uninvited attendees had come to cause mischief and resentment amongst guests at the private pool party taking place at Craig Ranch North Community Pool.
Told one social media commentator, Bryan Gestner: 'I was there. I am the 'bald white Cracka.' This was a twitter party that turned into a mob event. Jumping pool fence. Assaulting 2 security guards, attacking a mother with 3 little girls. The video doesn't show everything y'all. Kids were drinking and smoking weed and didn't give 1 fuck about the parents and children around. This is not about race. This is about outside kids invading our neighborhood and had no respect for authority or the residents there.'
@AlysiaStern @CNN @deray @k1dmars @Keef_Cakez oh n the white Cracka…?here he is: pic.twitter.com/kq3z96bNum

— Ego Altered (@EgoAltered02) June 8, 2015
Nevertheless questions have been raised as to the degree in which Corporal Eric Casebolt, who has served ten years on the force came to handle Saturday's incident and to what degree institutional racism played a part in the way McKinney Police Department chose to handle the milieu. 
The video, which was posted online shortly after the incident, shows the cop pushing Dajerria to the ground and pinning her down by leaning on her with both of his knees.
The unarmed teenager is heard on the video screaming: 'Call my momma! Call my momma! Oh God.'
As Casebolt struggles to maintain control, he is also seen pulling out his gun at two boys.
'I felt like he was actually getting ready to hurt someone,' one witness, 13-year-old Jahda Bakari, added to KTVT.
'They were trying to make us leave, but if we ran, they'd chase after us, and if we stayed, then they'd arrest us.'
That said there have also been questions as to the actual age of the teen who came to be manhandled with the girl's twitter handle acknowledging she is not 14 but rather 19.
Since Saturday's incident, Eric Casebolt has been put on administrative leave, while McKinney Police department investigates the incident. 
Of note the suspended officer was named McKinney's department's Officer of the Year in 2008.