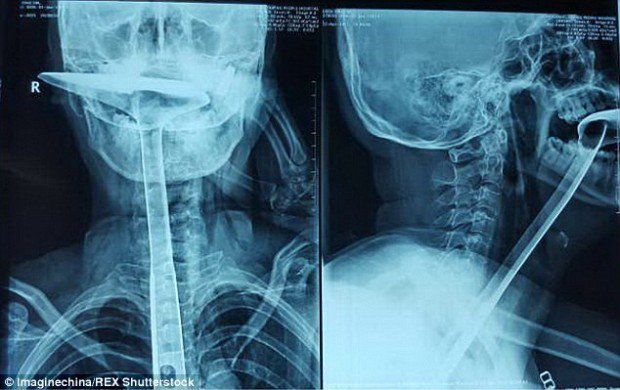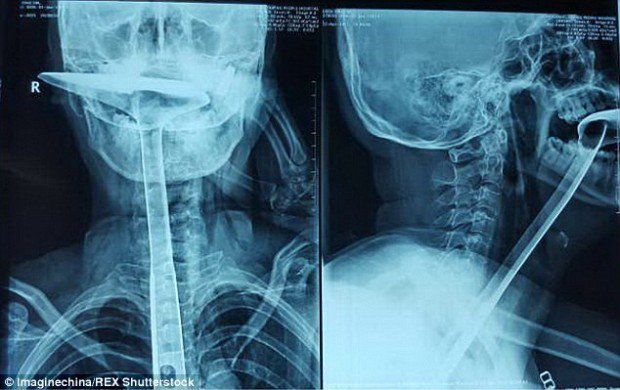 Guan Hsuing a 31 year old Chinese woman startled doctors after she appeared with a long kitchen spatula wedged down her throat.
According to medical reports the woman had cooked up a new recipe involving exotic herbs and spices which in turn led to the woman's throat starting to swell in an allergic reaction.
Parched and struggling to breathe, the woman at first tried to clear her throat using her fingers before resorting to three chopsticks.
Still struggling the woman then decided (yes kids this is the part where you are allowed to close your eyes…) to lodge a 12 inch (30 cm) spatula down her throat with the hope of alleviating her swollen throat.
Except it didn't alleviate anything as the woman now found to her panic the spatula had somehow permanently lodged itself down her throat.
Long sigh, looking out the window, how will I explain this at the office….
Recalled the woman via Ecns.cn: 'I remember some folk remedy saying it helps to use something to unclog the throat,'
After an ambulance was called, Guan Hsuing was rushed to Kanghua Hospital in Dongguan, in south China's Guangdong Province.
When she turned up, doctors thought they were dealing with somebody suffering from mental health problems.
Admitted immediately for emergency surgery, doctors were able to extract the cooking utensil but at a cost.
During proceedings they were forced to cut away 20 centimeters (8 inches) of the woman's oesophagus which had been damaged beyond repair.
They then had to stretch her stomach lining in order to make a new connection between her oesophagus and her stomach.
Xiao Pu, a thoracic surgeon at the hospital would later relay it 'was a once-in-50-years case, if not 100 years.'