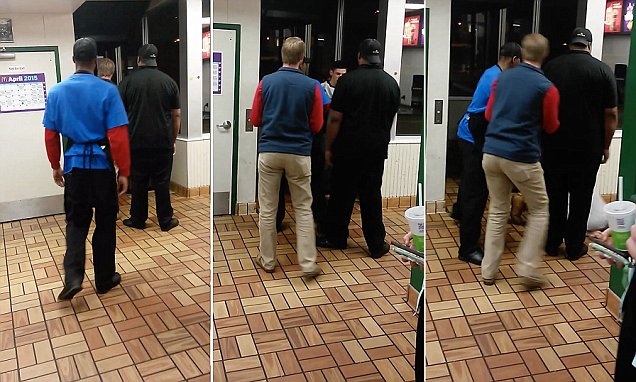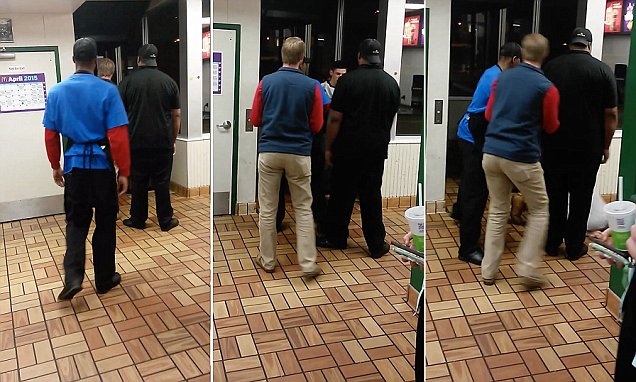 Cell phone video (see below) has shown the moment a McDonald's employee knocked out a drunken customer with a single punch after the customer attempted to regain entry into an East Lansing, Michigan outlet after having been made to leave.
The incident caught on tape by a customer last Thursday circa 2 am shows the instant a young white male customer was delivered a sucker punch by a McDonald's kitchen worker.
Prior to being walloped, witnesses told how the nuisance customer had been made to leave after spitting on the counter and throwing a 'Caution: Wet Floor' sign behind the counter.
Having abused staff the customer was asked to leave before being escorted out of the building.
It's when the nuisance customer attempts to regain entry that the video picks up on the ensuing commotion as the customer is now heard but not seen attempting to get back into the McDonald's store.
As a patron and cashier speak to the man a second McDonald's employee then approaches.
He is seen walking around his co-worker, approaching the customer who briefly appears on camera.
The next moment, the McDonald's worker, dressed in work attire knocks him out with one punch. 
Told Kevin Lange, a Michigan State student who filmed the incident via MLive: 'He [the customer] definitely instigated it,'
Yet went on to add: 'But, it got taken too far. He didn't have to get punched, he could have got pushed out and told not to come back.' 
Police reported that the young man's injuries were not life-threatening and that they are investigating the assault. 
At present it is not necessarily understood why police were not immediately called when the drunken customer first began to resist.