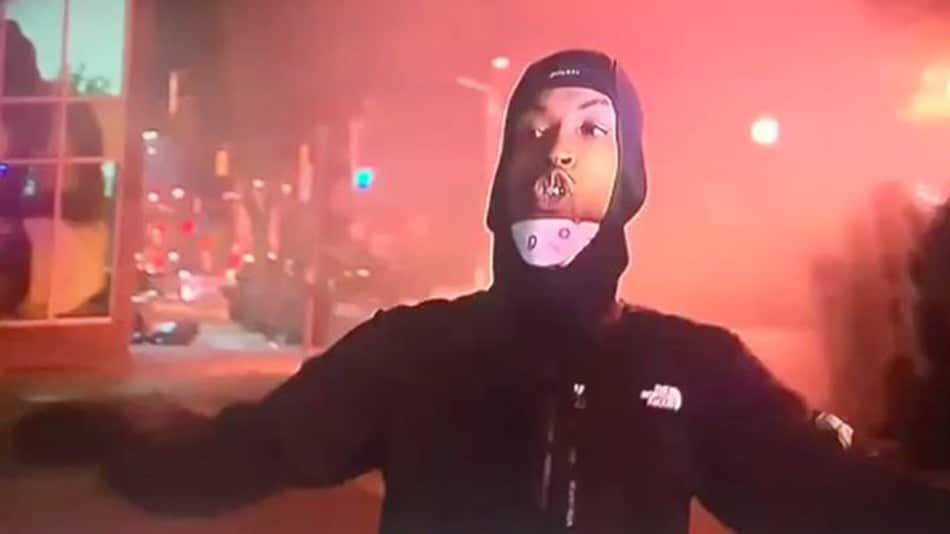 Baltimore protester Joseph Kent has been arrested by cops after Tuesday night's 10pm curfew. The takedown of the noted community organizer is believed to have come as a result of prior gatherings and responses Kent has organized, principally that of the Michael Brown protests in the city.
As Wednesday morning rolled, the protester's status still remains of question as cops were seen brazenly kidnapped the 21 year old as CNN cameras rolled live.
At the time of his kidnapping, the noted Morgan State University student who rose to prominence during concerted Michael Brown protests was seen standing with his hands in the air alongside riot police just after 11pm.
Yet moments later in dramatic footage a National Guard humvee was recorded rolling up to the man as a swarm of officers dramatically retained the protester. Because of the camera angle the man's arrest is not seen as the targeted protester was now suddenly out of sight presumably in the confines of the humvee.
So much for being read one's miranda rights or is this what society ought to blindly accept if one is a young African American in a 'state of emergency'?
Tweeted Washington Post's Wesley Lowery: 'I watched Joseph Kent spend hours trying to clear young people from street & keep them from rioting last night in Baltimore.'
It would later be disclosed that Kent had been taken to the Baltimore Central Booking & Intake Center where he awaited due process.
Yet here is where things get surreal.
Going on to 12 hours after Kent's arrest, Baltimore based lawyer Stephen Beatty said that Kent's name wasn't on 'the list of people being presented for bail reviews.' Nevertheless adding there was 'chaos' at booking with the suggestion that Kent may yet be released on his own recognizance.
The demonization of Baltimore looters as thugs. Are they just criminals?
Baltimore official Carl Stokes to CNN host: 'Call them niggers ok!'
Toya Graham, Baltimore mom: 'I didn't want him to be another Freddie Gray' 
Baltimore mom smacks son for taking part in riots. Becomes internet star
Baltimore riots: 'We will get you if you are not African American'
How did Freddie Gray die? Had spine broken in two places
Which raises the question why was Kent swooped up in the fashion that he was?
Clues might come from recent statements Kent made in the Baltimore City Paper in November where he conceded having been involved in organizing community groups since he was in middle school.
Told Kent in part: 'Everyone knows me at Morgan already, organizing and making sure everything running the correct way and peaceful and everything like that,'
'So, everybody already knows I'm going to do things the right way, so when everybody else and community people and civilians and people who joined and saw that the Morgan students were looking up to it, before you knew it, the whole city was on my back and I was just carrying the whole city.'
Adding intrigue, famed civil rights organizer in Baltimore, Rev. Heber Brown III, told the City Paper that Kent is like 'Martin Luther King with tattoos and gold fronts.'
Kent has been previously vocal against authorities when he was seen rising to prominence after organizing  Baltimore's protests against the shooting of unarmed teenager Michael Brown.
Since Kent's kidnapping users on twitter have been circumspect as to how the organizer came to be targeted and taken down.
See what you think below:
Like they timed the armored vehicle perfectly to block what was happening #JosephKent

— …… (@humbled_) April 29, 2015
@BaltimorePolice What is happening to #JosephKent? Where are you disappearing him to? Is this due process? Stop this cycle of lawlessness.
— Eli Campbell (@elijcampbell) April 29, 2015
Joseph Kent attested? Be safe brother. #BaltimoreUprising pic.twitter.com/G9JPpZo9qU

— S.Greene (@theSGlife) April 29, 2015