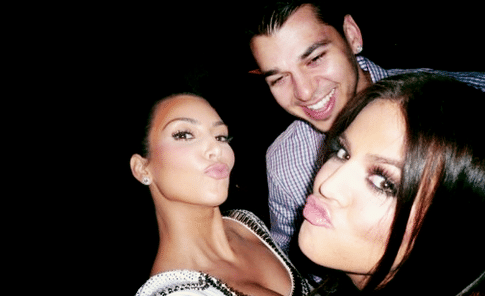 It seems things continue to go from bad to worse in our telegenic reality saga otherwise known as the Rob Kardashian train wreck in surround stereo and media hype.
The newest pegging of Rob sees him now being threatened with eviction from sister Khloe Kardashian who has all but have run out of patience for her 'mooching' 'pot smoking' 'sleep all day, up all night' brother who just refuses to get a job, get back in shape and goes weeks without even leaving her house.
Rob Kardashian drug addict? Percocet, Norco and Xanax to name a few
The Kardashian family is very mad at Rob Kardashian for being fat
Rob Kardashian: 'I know I'm fat but that's my problem, not yours.'
Sad Rob Kardashian flies to Kim Kardashian's wedding. Looking fat again. 
Reports radar: Rob's main supporter, Khloe Kardashian, could be giving up on him too — and is even considering legal action to get him out of her house!
Poor Rob. All he wants is to escape the telegenic madness that is reality godzilla and now he has to worry about being ridiculed by his very own sister who can't help but wonder how her brother gets to live off her good graces.
Yes kids, that's the pot calling the kettle pitch dark black.
Reiterates a source (define source?) via Starmagazine: 'Khloe is fed up with Rob and his lazy, mooching ways,'
'He hasn't made any attempt at getting work, going to therapy, getting help or giving up drugs.'
Adds the source: 'He orders food, smokes pot and spends hours watching TV and playing video games.'
He sleeps all day and stays up all night."
Sounds like the perfect life. Sell your soul and sit back and live off your multi millions.
But that shit won't rest well with Khloe who knows a loafer and a freeloader when she sees one.
Continues radar: Khloe told momager Kris Jenner, "she'll consider legal action to force him out if he's not gone by January."
Poor Rob. First he got dumped. Then he got depressed. Then Rob got fat.  Then Rob did fun drugs. Got ditched at elder sister's Kim Kardashian's wedding for not looking the part and now faces having to hit the boardwalk if he just can't get out of his slump.
What do you think kids? Will a stint in rehab, a few laps around the park, some self respect and a severing of the family ties and refusing to live off their wealth help Rob get his life in order? Or will Rob just sell out too and get his with his own tv show? The Rob Kardashian shit show
top image found here