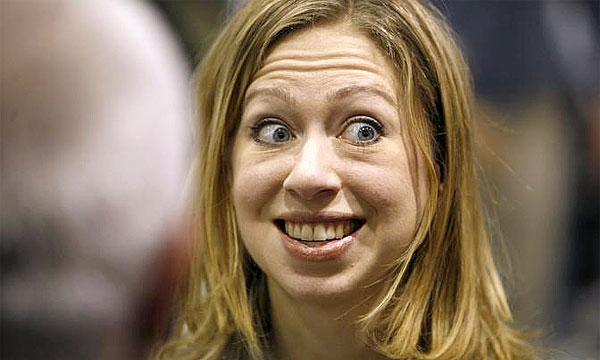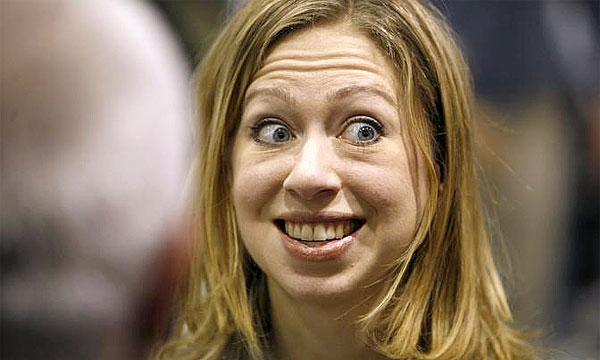 NBC has told announced that former presidential daughter, Chelsea Clinton, whose father Bill Clinton served as president of the United States twice and whose mother, Hillary Clinton served as the Secretary of State (and who maybe or maybe not aspires to also be president) today resigned from her cushy almost non existent job at NBC where she was paid $600K a year to essentially do nothing. Nothing except serve as a very necessary conduit to a political dynasty. Which is what good journalism is surely all about these days?
Chelsea Clinton: I'm just too rich to care about money.
NBC paid Chelsea Clinton $600 000 for the privilege of being privileged
The announcement comes as Chelsea Clinton reiterated she would be leaving the network 'to continue focusing on my work at the Clinton Foundation and as Marc(Mezvinsky- her hedge fund husband)  and I look forward to welcoming our first child.'
Brought on in 2011 initially to do stories for Brian Williams' 'Rock Center' news magazine, Chelsea Clinton's 'work requirements' would take an abrupt change when studio heads decided for reasons unknown to cull the program.
From there Chelsea Clinton would go on to appear in a few 'light hearted general interest' segments which had her conferring with fashion designer Linda McCartney as they discussed the rigorous philosophy of vegetable stands as well as a poignant telecast which suggested that 'elephants are very human.'
The type of rigorous journalism which begets a rigorous $600K annual salary, never mind most journalists work for one 20th that pay and loose change for back to back hours which is sure to afford them an existence in the up and coming back water provinces of their chosen cities.
It wouldn't be until earlier this year that Chelsea Clinton then announced that she would be now only working on a month to month basis as the prospect of her mother announcing a 2016 presidential run had her wondering if she might be 'too close' to the gravy train.
That announcement would coincide with the announcement that Chelsea Clinton and her well to do investment banker husband Marc Mezvinsky would announce the arrival of their first child in the upcoming fall after having moved into a luxury $10m Gramercy Park, NYC apartment.
The resignation comes a couple of months after Chelsea Clinton took to making the flippant statement where money was hardly an issue which led to a variety of media outlets posing the uncomfortable question why exactly Chelsea Clinton was being paid such an inordinate amount given the fact that her media presence was close to negligible or non existent. At the time NBC would stay low, insisting that Chelsea Clinton was a valuable key player.
On Friday, Clinton wrote a lengthy message on her Facebook page, thanking NBC for the 'opportunity' and her hopes for working with 'the NBC family well into the future,' who by now one wonders must be quietly relieved as they have too have been forced to save face. Alas.
Pontificated Chelsea Clinton:
'"When I joined the NBC family in 2011, I had long respected NBC's commitment to telling the stories of 'ordinary people doing extraordinary things.' I loved watching the 'Making a Difference' stories about remarkable people and organizations making a profound difference in our country and our world. I am grateful NBC gave me the opportunity to continue this important legacy.'
'To continue focusing on my work at the Clinton Foundation and as Marc and I look forward to welcoming our first child, I have decided to leave my position as a NBC Special Correspondent.'
'At NBC, I've had the opportunity to share the work of people like Carlos 'Coach Khali' Sweeney , whose Downtown Boxing Gym offers kids on the east side of Detroit a lifeline through academic tutoring and boxing instruction. I met Principal Peggy Candelaria, whose Homework Diner in Albuquerque helps kids with their homework and also feeds those same kids and their families, fostering a renewed sense of community, a program that now serves as a model across Albuquerque and beyond. I also spent time with Annette Dove whose TOPPS program in Pine Bluff, Arkansas, continues to fill the hunger, education and safety gaps for kids of all ages in her community. I will always be inspired by their and others' collective passion, courage, ingenuity and perseverance.'
'I am profoundly grateful to NBC viewers who responded to the stories I shared, providing funds to help expand the reach of those programs and who encouraged their schools' principals, their mayors and local activists to think about how to build similarly transformative programs in their own communities.'
'It's been a privilege to be part of the NBC Family. I admire the work and dedication that their reporters, producers, crews, editors and studio teams deliver every day, particularly as I personally experienced through the stewardship of Brian Williams at Nightly News and Rock Center. I especially want to thank Deborah, Alex, Tracey, Catherine, Mary, Victor, Soraya and everyone I had the honor of working with in the field, in the editing room and at Education Nation.'
'While my role with NBC News may be coming to an end, I look forward to working with the NBC family well into the future."'