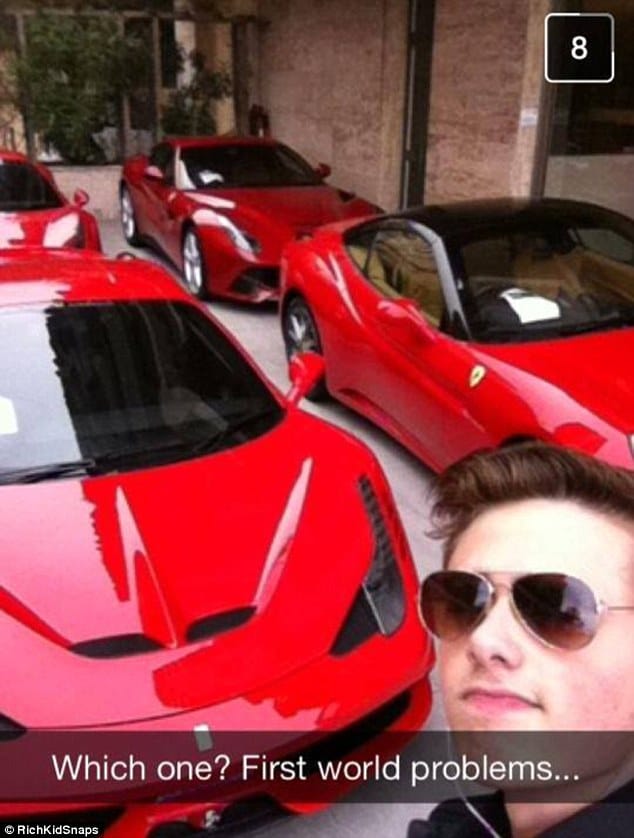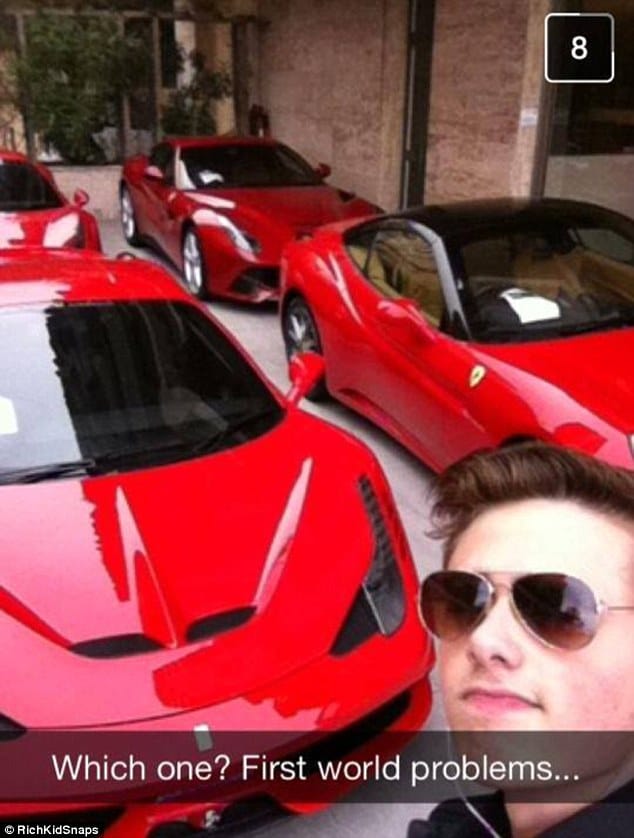 First came rich kids of instagram but now, an  equally new popular app, the rich kids of snapchat  has taken to assisting the very well to do photo documenting their over the top luxury existences.
Snotty kids of rich kids of instagram react to criticism dished out at them.
The rich kids of instagram. If only your summer was as glamorous too
Rich kids of Instagram. Tumblr for loaded teens.
Launched by a 17-year-old boy from the UK, Rich Kids of Snapchat is a Facebook page offering a glimpse into the luxurious lifestyles of a group of teens and 20-somethings.
The pictures on the site are of sports cars, private jets, luxury goods and lavish homes, all with captions revealing the kids' nonchalant attitude to money. Naturally.
Started by an anonymous teen who (can you guess why?), according to his spokesperson, began trading equities and commodities at the age of 12, and now is enormously wealthy.
First launched in the UK last fall, catering to boarding school and university students with a penchant for compulsive spending, the rich kids of snapchat has since ballooned to 241K likes.
Participating on the page involves the teen sending an invitation to people to add him on Snapchat so that he can send them pictures of his own lavish lifestyle.
That said the teen has no bones about accepting snaps from the equally rich, which then go on his Facebook and Instagram pages.
To get their pictures online, people send their snaps to the Rich Kids account. The manager of the account then filters through them and posts the best ones on the internet.
Causing stir is the disquieting trend that some images make fun of the less wealthy, referring to them as 'peasants'. One such snap shows a person drawing the Chanel logo onto a pair of well-worn espadrilles. 'How scholarship kids fit in,' reads the caption.
In another picture, a Louis Vuitton shoe bag is stuck onto the ceiling, covering a smoke alarm. The caption says: 'How to smoke safely in your dorm'.
A number of the photos show just how expendable pricy products are to these youths. An iPhone, for instance, is used to stabilize a chair with uneven legs, and an iPad is used to slice a chocolate cake.
Since infiltrating the UK private school system and amassing well over 240,000 'likes', the account has set its sights on the U.S., apparently starting with the students at University of Southern California in Los Angeles.
According to the Daily Trojan, Rich Kids recently sent out a message on Snapchat claiming they were coming to the private university in the fall, and the news was not taken very well.
'This could be a potential black mark for the university,' says student writer Charlotte Chang.
Charlotte goes onto to explain that the school has recently been trying to distance itself from its reputation of being the 'University of Spoiled Children'.
Reiterating: 'The blow-up of this Rich Kids phenomenon is not only an indication of growing materialism, but also a rise in hypocrisy in society's standard ethical values.'
Responding  to criticism, the Rich Kids of Snapchat founder today went on to write a post defending the Facebook page.
'It is important to note that I would never, ever, judge someone based on their wealth,' he stated. 'I created this page for entertainment purposes only. I meant no offence whatsoever.'
Adding: 'My Snapchat's sole purpose is to inspire other young people to go out and achieve what they want to achieve. I show my extreme lifestyle so that people can see that even me: someone who isn't especially intelligent, and started with only £500 (when I was 12, I am now 17) is able to achieve great things.'
He also wrote in an email to BuzzFeed that despite appearances, he is generous with his money, too.
'Understandably it upsets people that I am spending money on unnecessary things, and more importantly bragging about it,' reads the email.
'However I donate over 80% of my income to charity. In fact my bank automatically sends 80% of any payment going into my account directly to my charity holding account, which then gets distributed to around 100 charities of my choose at the end of every month.'
Which forces the awkward question if that is indeed what is going on why aren't images of these charitable acts instead being posted unless of course that too is wishful thinking…
Isn't it time you felt better about yourself by demonizing those with less financial and social mobility than you?