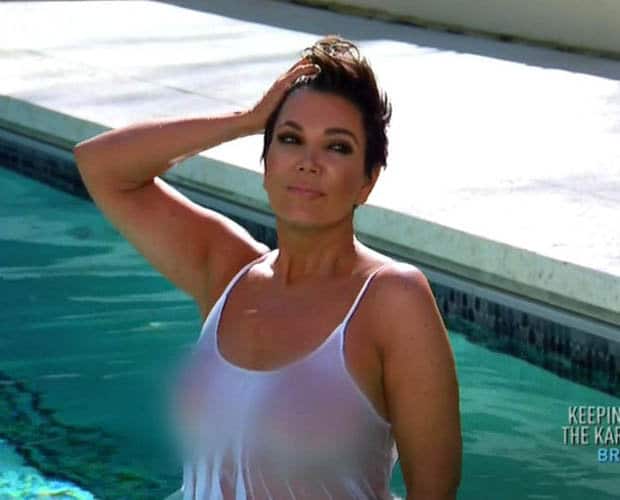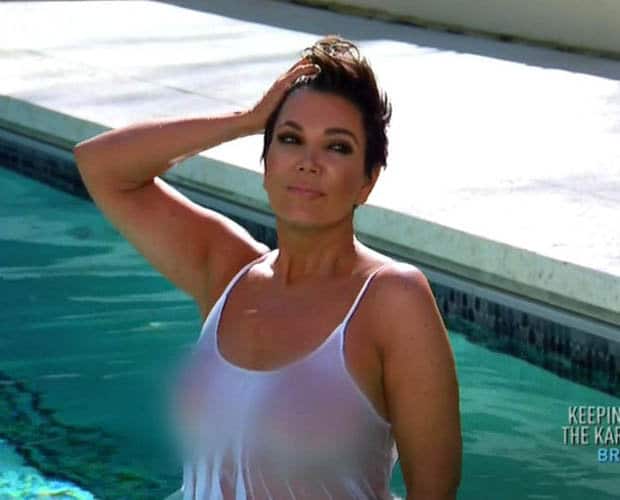 It seems Kris Jenner has declined to pay heed as the illustrious reality mother put daughter, Kim Kardashian to shame as she took to exposing herself and then some as she participated in a wet t shirt romp and pole dancing activities to the obvious chagrin of our collective darling Kim.
Kris Jenner Instagram. The bikini shots to salivate over
Expert: Kim Kardashian selfie doctored in recent workout shots.
Oh really? How Kim Kardashian lost weight. 100 squats a day
The good shit came to pass on last night's series premiere of Keeping up with the Sham Kardashians.
For her part the family patriarch told age is but just a number as she flaunted her bountiful modesty during a wet t shirt photo shoot.
Wearing a skimpy white vest in the Kardashian pool, the 58-year-old matriarch bared her breasts as her top went completely see-through in the water.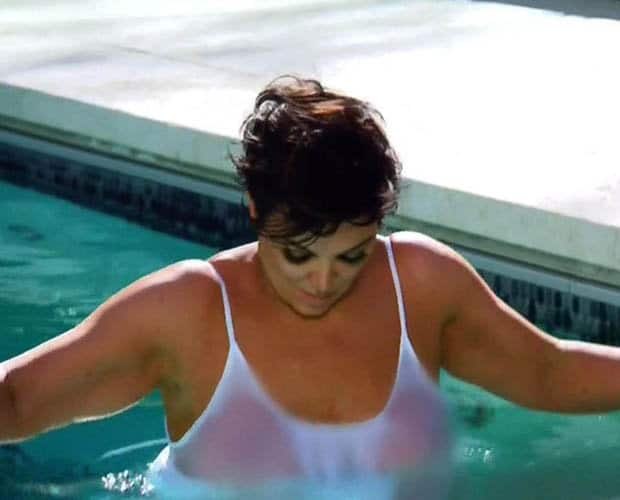 And although pimp momma was in seventh heaven it seems her three eldest daughters were hardly amused as Kim, Khloe and Kourtney looked on with disparaged gusto.
Told Kourtney who out of all the Kardashians over the years has managed to retain a modicum of decency and an aversion to overt thrill and shrills: "Why are your t**s out? That's so embarrassing for your life and for your soul."
Joining the frey was Khloe Kardashian who has an avalanche of questionable photo images marauding on the web, who warned mommy dearest that she  risked getting a yeast infection by going commando in the pool.
Could one imagine? Indeed !
To which retorted our new collective heroine (yes move over Kim, it's mommy's turn now) told: "I want to show my girls that being 50 you don't have to curl up and disappear, you can feel vibrant and sexy at any age."
The comment had come after viewers had been earlier in the show serenaded with images of pimp momma challenging her eldest media whore daughter, Kim to a bout of vicious pole dancing which naturally left Kim flummoxed as Kris Jenner showed the world who is really pulling the strings…