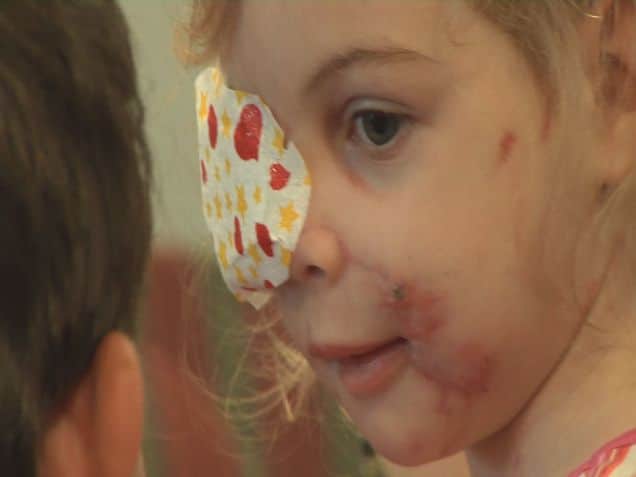 Did you donate to the three year old girl, Victoria Wilcher, purportedly chased out by KFC? Hopefully you didn't as new evidence points to the fact that the scare and rush them out and make a scene incident never happened in the first place. But that of course may be a little too late for KFC who promised the three year old $30K along with the many hundreds of individuals who pledged funds to the three year old who still needs a series of reconstructive operations after her grandfather was mad enough to allow the three year old to sit in a room full of pit bulls. And let's not forget the  Jackson, Mississippi, KFC employees who have had to endure death threats and taunts since the story broke.
Victoria Wilcher's family shut down facebook and gofundme page. 
Victoria Wilcher receives $30 000 from KFC. Did Grandmother lie?
Victoria's Victories: Three year old Victoria Wilcher's eye scar get her thrown out of KFC. 
News of the Kentucky Fried Chicken hoax which was first suggested last week on our site, after interesting comments began to appear on the web has now been corroborated by a news report out of Laurel Leader-Call.
Since the story first broke, questions began to be raised how it came to be that no one actually remembers the scene taking place, why for that matter video cameras failed to pick up on the instance and the interesting comments by Kelly Mullins and family on the the Victoria's Victories Facebook wall about how much things were actually costing and how short the family was and how the family came to initially claim a KFC outlet which had been closed for years was responsible for the show down. Until that is the family realized that they had made a 'simple mistake' and named a new KFC outlet in the town, where the traumatic experience supposedly all took place.
gawker: Security footage does not put Victoria or her grandmother, who claimed to be with her, in the KFC (or even another KFC) the day the incident supposedly occurred. And apparently, no one made their order—for mashed potatoes and sweet tea—that day, either. No one even ordered mashed potatoes and sweet tea as part of a larger order.
The family had been raising money on GoFundMe for Victoria's medical bills, and as The Clarion-Ledger reports, their widely-reported story gave a serious boost to donations:
More than $135,000 has been raised through the online donation site, gofundme.com, since June 13. The fund was created by Bates on April 28. The funding before the chicken caper came from seven donors for a total of $595.
Reports laurel: On May 20, Victoria's Victories posted: "Victoria's family is really struggling with the insurance company. Currently the(y) are not paying for the formula that goes into her feeding pump. If you can donate please do. They need your help."
No donations were given after that post until June 13, when the bogus KFC incident went viral. The fund collected 46 donations on June 13. On June 14, 164 people donated. The 15th, 709 people donated and on the 16th, when the firestorm had reached its zenith, 1,085 people donated. From June 17 to noon June 21, 855 more people had donated to the fund.
Since the purported incident went viral, doctors have even agreed to waive their fees—a Las Vegas surgeon offered Victoria's family free plastic surgery. And the Frank L. Stiles Foundation has pledged to cover all the costs of reconstructing Victoria's face.
According to Bill Kellum, the lawyer representing Kelly Mullins, Victoria's grandmother has told that the family has not decided whether or not to take the money from KFC. Hasn't decided to take the money or not? Does that sound like a position a genuinely victimized family would take or one that is running scared for legal reasons?
Nevertheless KFC has said in the interim it will honor the donation even in the face of increasing inconsistencies and what is obvious to now be called the great Kentucky Fried Chicken Hoax:
Dick West, who is the president of West Quality Food, one of the largest franchisees in the KFC chain and the owner of the local KFCs, also declined comment. However, on Saturday night, he made his feelings quite clear on the Facebook page of a Jackson television station when he posted "When the allegation was first made, KFC pledged $30,000 to go to medical expenses and started an investigation to find the truth. They have pledged the money even if it is proven that the incident never happened. At this point their story is full of holes. Any thinking person who follows their timeline can see it. The event at KFC never happened."
And then there was this statement midnight from Victoria's Victories Facebook wall, make of it as you will: