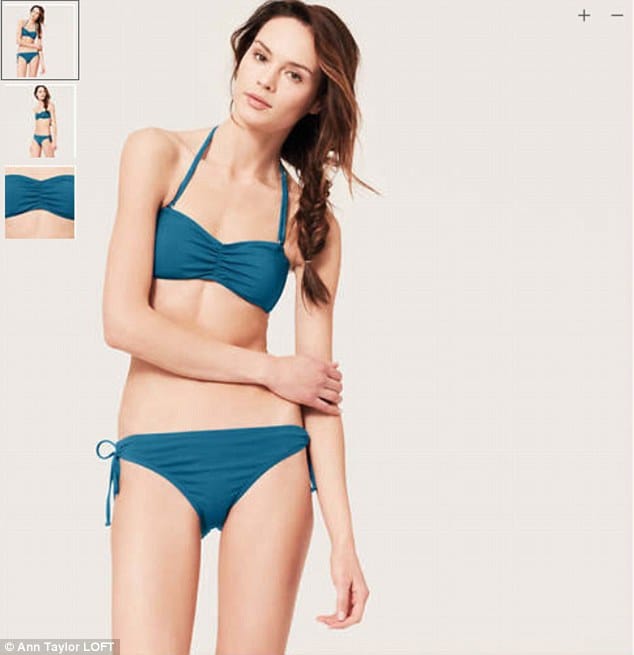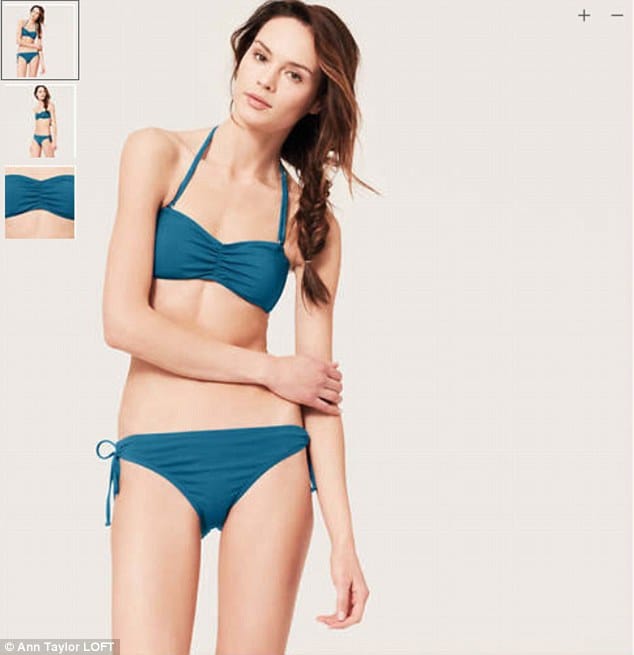 Fashion retailer Ann Taylor has joined the increasing amount of labels guilty of drastically changing the way their models look in advertisements to the great consternation of buyers and feminist media pundits alike.
jezebel: This seems like a tragic mistake—it looks like some poorly executed and generally shitty photo cropping/editing went on here. (I actually can't stop laughing at this one.) It's definitely not as terrifying as some of the nightmarish Photoshop horrors Ann Taylor has inflicted upon us in years past. But still—bathing suit season is as good a time as any to remind myself I need to grab a hacksaw and shovel out a chunk of my waist to find the perfect swimsuit. See, ladies, if you just ripped out your rib cage on one side, cracked your spine and walked around permanently hunched over to one side, you would look sooo sexy!
Hmm who knew ladies? Chopping or grinding away half your weight would make all you females sexy to us men? Personally I always thought wit, charm, élan and a desire to better oneself might do the trick and the rest of what nature gives all of us.
But this is the real world and in the real world, the way a woman is presented says volumes as to whether you the consumer will be swayed to go ahead and buy that vanquished item. Cause as we must understand the media and fashion brands know better than us as to what makes for positive role models, cause we give them the power and they just lap it up. But that's just me postulating and vigorously stirring my afternoon chamomile tea.
jezebel: In an email to Jezebel, a spokeswoman for Ann Taylor LOFT says that a very uncomfortable looking photo of a model in a bikini on their website was only "minimally retouched" and that any reason it might have looked overly photoshopped was actually just because the model was standing "an awkward angle."
And the email reprinted below: The photo in question was actually only minimally retouched to remove a tattoo. Admittedly, the photo highlighted the model at an awkward angle, making it look as if there had been significant retouching. That was not the case. You can see in the original photo the shape of the model is consistent, and the retouching was simply to address the tattoo and not the shape of the model. Because the photo could be perceived as significantly retouched, we have replaced the shot on our website.
At our heart, we are a brand that is about making women feel more confident and stylish. The LOFT team is personally committed to making sure our product and marketing live up to brand promise.
Hmm awkward angle, awkward skewing of what and how females ought to be portrayed to each other and a desire to make a living while all the while looking sexy. I say expect more photoshopping in the future to come…