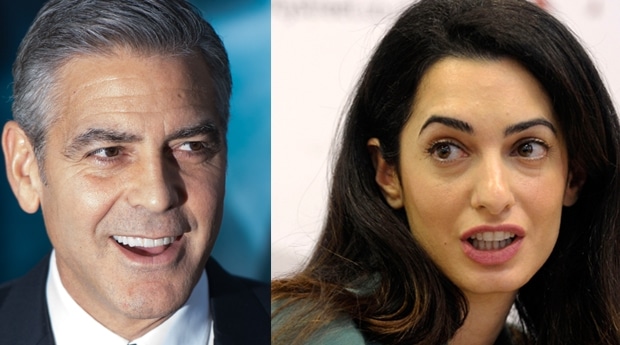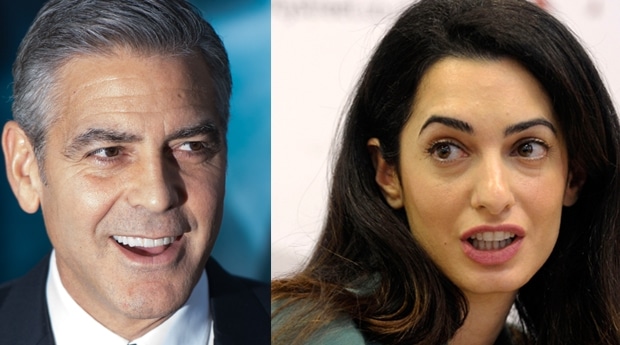 To be blunt George Clooney's latest girlfriend, Amal Alamuddin is way out of his league. Or to put it another way, way above what he's used to dating. Which is all the more telling as to why this time he's chosen to get to know a woman who actually possess qualities that might match his own and in the process challenge him as a human being.
Of course the only question is whether Amal Alamuddin believes this to be the case as well.
Who is Amal Alamuddin anyway? George Clooney engaged. 
In order to get the low down on this unlikely pair, an examination of what each brings to the table is in order.
George Clooney brings old world charm, talent, looks, Hollywood élan and to his credit has dabbled in human international affairs. And of course let's not forget the man is loaded.
To his detriment, the actor has a habit of going out with young hot women, who after a while he somehow finds himself being bored by and slowly distancing himself from.
To date these women have included models, former models, servants who want to be models, or former WWE wrestlers who could pass for models.
All of them have behaved appropriately, were always on his arm when he needed them to be, and played their role to perfection, until he got tired of them.
Which in essence shouldn't surprise the actor who has an affinity for insisting on challenging acting roles which by extension ought to mean he would be into challenging more than conspicuously beautiful women. But somehow until now all he's gone after are the summer block busters, which might register at the box office but leave little lasting long impression on a man whose after something more substantive and matching his particular mettle.
Time to meet Amal Alamuddin. What do we know about her?
She is regarded one of the most intellectually rigorous barristers working in London. Known to have caught the eyes of many in and beyond her profession as well as coming from a stock that has her well trained in manners, tact, intellectual curiosity as well as being an avid pursuer of human rights. Something that George Clooney has sought to do in his personal life as well as in various film roles he has played.
Advised this morning's issue of the UK's dailymail: The beauty, born in Beirut, is fluent in French and Arabic and is also believed to be advising Kofi Annan, the former United Nations Secretary General, on Syria.
She is also the author of several book chapters and articles on international criminal law. 
Last year she topped the 21 Hottest Baristers in London list for women, created by Yourbarristerboyfriend.tumblr.com.
At present she's representing Julian Assange and fighting his extradition to Sweden. 
The lawyer is 36 years old, never been married, and is a graduate of the New York University School of Law.
We also know she first started getting to know George Clooney last October, when the pair were spotted together in London where the lawyer lives and works.
In February, Amal Alamuddin was seen on the actor' arm as they both attended a White House screening of his latest film, Monuments Men, where onlookers described them as being 'very much together.'
In an interesting comment the actor was once asked who he's greatest love was. The actor responded he hadn't yet met her. Until now that is….
above image found here