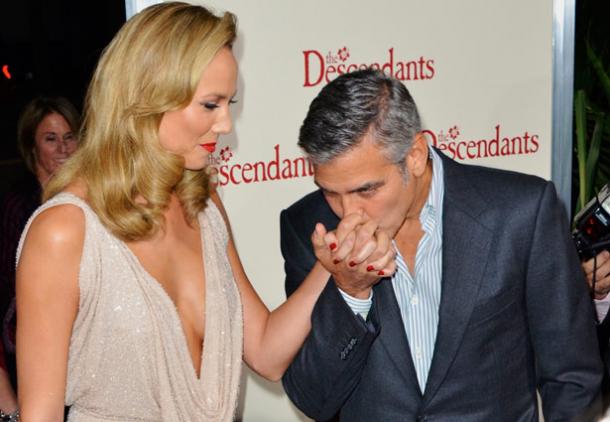 Has George Clooney split from girlfriend of nearly 2 years Stacy Keibler?
Rumors are beginning to fire up that Hollywood actor and general heart throb, George Clooney may have called it quits girlfriend Stacy Keibler who he met back in July 2011. The two are said to have met only a month after Clooney walked away from his love interest, Italian actress Elisabetta Canalis. At the time his split from Canalis was mired with controversy with rumors that Clooney was not necessarily happy with Canalis who may have been a bit too wild for him.
Although Clooney and Keibler have to date refused to address whether they split a tweeter response posted by Keibler hinted at an ambiguous resonance when she tweeted the following with respect to new travel plans which do not include Clooney who is currently in Europe on a new film project:
'Up up and away…,' 
Interestingly the UK's dailymail has also gone on to note the following position taken by the former WWE wrestler who has seen her profile rise dramatically since being involved with the much ballyhooed actor:
'It's really not anyone's business. A personal life is a personal life,' Stacy previously said. 'I know there has to be a happy medium being in the public eye. You just have to remember not to give everything to everybody.'
Also complicating matters is the following assertion via a source as told to The Sun:
'They knew it was never going to end in marriage or babies and Stacy does want kids and a husband in the next few years.'
The Sun also goes on to tell the following:
George softened the break-up blow by giving the former wrestler an apartment and a load of jewellery.
At present it is not sure if the couple are just taking time apart due to work commitments or are simply preparing for the inevitable spilt as the A list actor reconsiders other projects and of course other possible love interests…or if they have simply already split and are choosing not to reveal their affairs to the media.