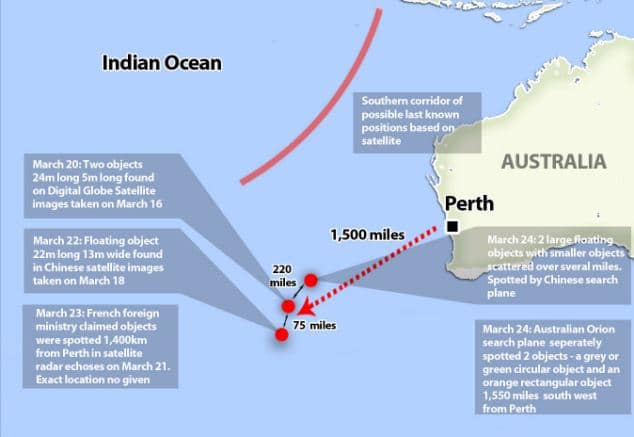 Malaysia's prime minister, Najib Razak has this morning told relatives of missing Malaysian airlines Flight MH370 has more than likely ended up in in the southern part of the Indian Ocean. The statement comes off the back of new reports that surveillance crews may have come across new objects believed to be that of the missing flight, but as of yet unconfirmed.
During his press conference Razak told new analysis by the UK Air Accidents Investigation Branch and tracking firm Inmarsat indicated the flight ended in the southern Indian Ocean. He also added none of the 239 passengers and crew survived.
Flight MH370 Satellite images point to 122 new pieces. 
Malaysia Airlines flight MH370 disappeared because of suicide. 
Najib Razak also confirmed that Malaysia Airlines Flight MH370 vanished from civilian radar screens less than an hour after take-off from Kuala Lumpur for Beijing with 239 people on board on March 8.
No confirmed sighting of the plane has been made since, but much debris has been found in remote waters off Australia which might be part of the missing plane.
According to Sky News, the families of the passengers on the missing plane are now due to be booked on to flights to take them to Australia.
During his announcement, Razak said that British firm Inmarsat had employed 'a type of analysis never before used in an investigation of this sort.'
The new data revealed that MH370 flew along the southern corridor where investigators had said the plane could have travelled along, based on pings sent several hours after it disappeared on March 8.
Investigators had drawn up two huge search areas in two large arcs – a northern corridor stretching from Malaysia to Central Asia and a southern corridor extending down towards Antarctica.
Inmarsat was not immediately available for comment, while the AAIB referred any inquiries to the Malaysian authorities, who they referred to as the 'lead investigators'.
The announcement was made as an Australian navy ship was on its way today to retrieve two new objects spotted by military aircraft in the search for the missing Malaysia Airlines jet.
HMAS Success was expected to reach the two objects by tomorrow morning at the latest, Malaysia's government said, as a mounting number of sightings of floating objects raised hopes wreckage of the plane may soon be found.
So far, ships in the international search effort have been unable to locate several 'suspicious' objects spotted by satellites in grainy images or by fast-flying aircraft over a vast search area in the remote southern Indian Ocean.
Reiterated Australian Prime Minister Tony Abbott: 'HMAS Success is on scene and is attempting to locate and recover these objects.'
The objects, described as a 'grey or green circular object' and an 'orange rectangular object', were spotted about 2,500 km west of Perth on Monday afternoon, said Abbott, adding that three planes were also en route to the area.
Despite the frustrating lack of answers, Australian Prime Minister Tony Abbott was upbeat.
'Obviously we have now had a number of very credible leads and there is increasing hope – no more than hope, no more than hope – that we might be on the road to discovering what did happen to this ill-fated aircraft,'
Adding fuel to a possible find, a Chinese plane has reported spotting "suspicious objects in the southern Indian Ocean" during its search for the missing Boeing 777 and a separate Australian plane also spotted potential debris, said to be "circular" and "rectangular."
And then there were these comments on the web that made me wonder as well:
First the "wreckage" is found. Second, the Malaysians will say "it was a catastrophic failure". I don't believe the Malaysians. From the start they provided bogus information. Crucial hours and days were lost looking for the plane in the WRONG direction while they sat on info that their Air Force picked up an unidentified plane on their radar. Had they sent jets to intercept and made visual contact, we may have had a different outcome. Now Malaysia will do their best to save face by suggesting mechanical failure when it is clear to everyone doing this search the "mechanical" failure seems to have put the plane into a location of perfect nothingness in the Indian Ocean. Fact is, someone on the crew, more than likely the Captain, hijacked this plane and killed everyone. The changes in altitude, either a struggle in the cockpit or a struggle in an attempt to get into the cockpit. My heart goes out to those poor souls who lost their lives. May they rest in peace.
So, not a single piece of the plane has been found, pictured, recovered but Malaysia has announced it went down and are flying the relatives to Australia. I guess they now want us to shut up and move to the next news right? Nothing to see here.
To me, this doesn't seem like facts but more conjecture. They used a type of investigative process that has never been used and from that they know it went down? If this is in fact what happened. they need to show some physical evidence which still as of yet there is zero. If I were one of those family members I would still not have closure based on this very sketchy information.
How can they conclude that unless they have actual wreckage? Until they examine what they assume is wreckage and confirm that it is from the plane, they should not announce that it went down
For two weeks the Malysian Prime Minister was rebuked for not doing enough even though he could not do much more.  Now he makes an announcement based on little more than hope and and some old images and everyone is all excited.