An Australian couple have told their intent to go ahead and give birth to a child that has two faces and two brains, this despite doctors pleas to abort the pregnancy.
Australian conjoined twins pass away.19 days old 
Renee Young's babies born with one head and two faces defying odds
Renee Young and Simon Howie, of Sydney told they were shocked when an ultrasound revealed the twins they were expecting were in fact only one child, but with two perfectly symmetrical faces and two brains connected to the one brain stem.
Three-dimensional scans show the child has two legs, two arms and one body and all its vital organs, including a strong beating heart.
Whilst doctors told the couple that they should not keep the child 'because it would be looked upon by the public as a freak', the couple has decided to go through with the birth and 'surround' the child 'with people who love it.'
Above the neck, the child has one double-vaulted skull and two faces with an exact duplication of eyes, nose and mouth.
Renee Young described her unborn conjoined twins now 19 weeks old, are 'healthy. The heartbeat's beautiful.'
'The brain activity 's good,' she told the Nine Network's A Current Affair, 'in both brains.'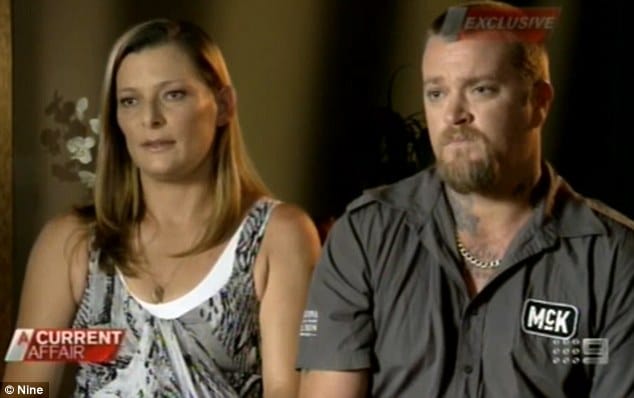 The condition, an extreme form of conjoined twins known as craniofacial hyperhidrosis or diprosopus, is so rare that only 35 cases have ever been recorded. None have ever survived.
Doctors have told the couple that the medical likelihood of the baby surviving past infancy is next to zero.
The couple, who live on welfare in a public housing block told their strong 'family base' meant they could protect the child, no matter her deformities.
Pressed on why the couple had refused to end the pregnancy, they retorted they objected on 'moral' grounds.
Told Simon Howie: 'We thought it was the same as bringing home a child with autism or Down syndrome,' 
'I don't really believe in terminating a baby if it's healthy and growing fine.' 
Renee Young would later tell when told of the child's condition that it was too far along in her pregnancy to abort the child.
Further tests were made and and a meeting with their obstetrician the couple saw images of their baby's duplication, which occurs only in four per cent of conjoined twins.
Specialist's advice to end the baby's life was met with the couple's firm resolve to 'go through with it'.
'Everything happens for a reason,' told Renee Young.
The couple told they had defied the doctors' urging them not to bring into the world a child that would be regarded as a freak partly because Renee Young had never terminated a pregnancy and because they had a family 'that gives us a lot of support.'
Added Simon Howie: 'We've got a really big family, we don't really involve ourselves in the community except for schools where the children are.'
Told maternal foetal specialist Dr Greg Kesby: 'It's probably the rarest of all the conjoined twins, you'd be thinking numbers of one in a million to one in two million for this kind of anomaly.'
Dr Kesby said there was a good chance the couple's child would not survive to a live birth but if she did, treatment could prove costly.
But the burgeoning family said they would 'cross that bridge as it comes.'
That said one can't help but wonder what costs will be assumed and to what extent the couple will be physically be able to meet the child's obligations and to what extent they will attempt to claim their insurance provider to foot the balance of the bill. A bill which would implicitly have to be borne by others
'If we have to go back to work, we will,' told Renee Young who is on a disability pension for her severe rheumatoid arthritis and is looked after by Simon Howie, who draws a carer's pension.
The couple's three teenage daughters, Jess, Patsy-Anne and Angel said they did not believe their mother should terminate the pregnancy.
'We'll love it no matter what,' Jess said.
'It might be deformative, but it's still a baby. It's still a human,' said Patsy-Anne.
Contemplated Renee Young: 'If I only get two days with the baby, I only get two days,' 
'That's just the time we actually get to spend with the baby and its brothers and sisters get to meet their little brother or sister.'
And then there were these following comments on the web that made me wonder as well:
This couple do remind us that killing a child in the womb is an unnatural act of murder. That they have the strength for this is impressive and moving, especially given the pressures placed on them by a society that believes by and large that infanticide is acceptable and even desirable. How low we have sunk. I wish this loving family well.
It is entirely up to the parents, and their religious and ethical beliefs how to handle this, and for each person … that is different. Live and let live… God bless them and their little baby. I hope that they will all be OK.
I think it is selfish for them to bring such a sick infant into the world when she/they will suffer from no end of health and social complications as a result of this extreme abnormality.
She continues to have children even though it means she can't even take care of herself because of her severe RA. If you are going to have a conversation about "moral" issues, perhaps you need to start with why you continue to have children when one of you cannot take care of them because you need care yourself. And now you are bringing a child into the world that will need an enormous amount of care, and you are going to wait until the child is born to discuss possible life extending care.