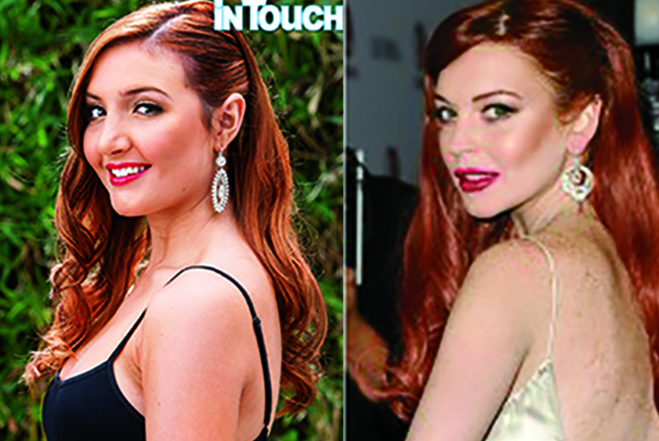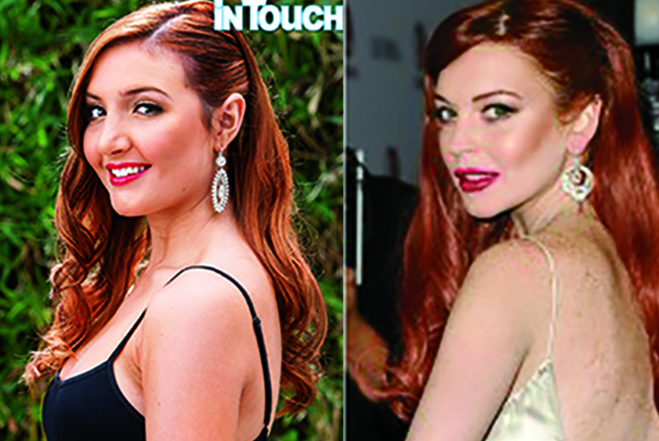 Oh no! Lindsay Lohan wants nothing to do with new half sister Ashley Horn.
Lindsay Lohan only finds out she has a half sister live on Good morning America.
Michael Lohan would like to introduce you to his 17 year old love child.
It seems life in the cauldron box called Lindsay Lohan and co has taken yet another interesting turn as it has now been revealed that Lindsay Lohan half sister, Ashley Horn has gone on to spend $25 000 in plastic surgery to look like her. 
Tells Lindsay Lohan half sister, Ashley Horn to  In Touch magazine:
'I've gotten rhinoplasty, a bit of refinement underneath my cheeks and jawline, some fat injected into my chin and some fat injected into my upper cheeks.'
Enlisting the expertise of Houston-based surgeon Dr. Franklin Rose, Ashley tells how she sought to copy Lilo's look during the height of her fame.
'My goal was to look like Lindsay in her good days, when she was around 18, 19 years old,' Horn told the magazine.
Ashley, who naturally is also aspiring to launch her own Hollywood career (aren't we all?) goes o tell how smitten she is with the results, going so far as to reassure us that she is now the better looking version of Lohan magic.
'I'm hotter than Lindsay!' 
'I have no problem saying that.'
While Ashley may now resemble her famous sibling even more, she claims that they are nothing alike when it comes their personalities.
'I'm not Lindsay. I wasn't raised in that family.'
 'I don't drink, do drugs or party. I like being a responsible person.'
Which of course is missing the real part about why the tabloids love Lilo in the first place and why she's the preferred hawt mess that makes Hollywood dizzy.
The makeover naturally didn't escape papa pimp Michael Lohan who went crazy and shit when he gave an exclusive on popdust to condemn his little girl, whom he no longer along with her mother Kristi speaks to.
Told papa pimp Lohan: 'It's disgusting and totally crazy!' 
'It's totally shocking. Why on earth would she do something like this? It's just sick and twisted.
'She's only 18 years old and she's undergoing plastic surgery? She was a really pretty girl in her own right, why would she do something like this?'
Goes on to reflect papa pimp Lohan on what he calls a cynical move (kids is this the magic kettle calling the pot black and then some?) to take the limelight off his treasure nugget Lindsay:
'I suspect Kristi is behind the decision for Ashley to undergo all this surgery purely for publicity purposes,' 
'The crazy thing is Kristi is constantly complaining that she's broke and yet she manages to pay out $25,000 for her 18-year-old daughter to undergo cosmetic surgery when it's totally unneeded!
'I don't know what is going through her head to do something like this… but if she thinks for some twisted reason it might help bring Ashley closer to Lindsay I can say for definite that it won't—it will just push her further away.'
Interestingly Lilo who has in the past barely acknowledged the existence of her half sister (can anyone guess why?) has yet to react to the new mangled mess that has parked into her life.
Why look like a trash bag when you can be one instead…