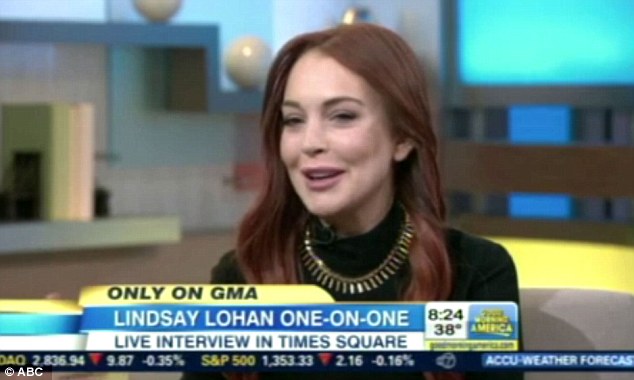 Oh no! Lindsay Lohan wants nothing to do with new half sister Ashley Horn.
There to promote her upcoming Lifetime movie, Liz and Dick on the Goodmorning America show GMA's host Amy Robach received the shock of her life when she turned to ask our collective hero about her thoughts about having a new half sister only to have  Lindsay Lohan react as if she never heard such a thing existed in the first place.
The news of a new half sister, Ashley Horn was revealed courtesy of 'The Trisha Goddard show,' yesterday where a befuddled 17 year old girl looked on aghast upon the revelation live on air that Michael Lohan, dubious scumbag nervously looked on as she opened the yes or no envelope sealing her fate.
At the time of the revelation the 17 year old girl backed off when Michael Lohan offered to hug the girl who responded; "I don't want to be a part of what they've called the Lohan train wreck,"
Which interestingly leads us to the other end of the train wreck, Lindsay Lohan who then looked on nonplussed with the new revelation that she had a new half sister.
Replied the unaffected Lohan:  "I didn't even hear that, so thanks for the news!" 
But then again what would have come as utter shock for most by this stage has become normal in the days and years of Lindsay Lohan who's brain fibers by now have grown nerve twitch responses to the usual array of good shit that goes on in her life.
Which is nature's way of saying it only wants Lilo to survive the daily assault that she's been subjected to and if Sunshine now has a new half sister and they tell her about it live on tv, so be it, why be the wiser when it really could have been really bad news that would have really floored Lilo, like her crack dealer having gotten up and suddenly moved to Tijuana.