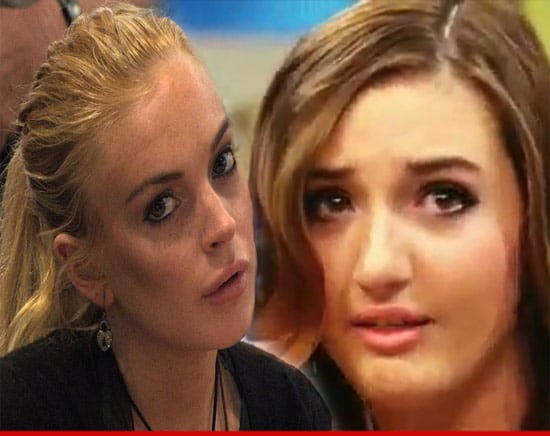 Lindsay Lohan only finds out she has a half sister live on Good morning America.
Michael Lohan would like to introduce you to his 17 year old love child.
It seems Lindsay Lohan is not impressed with the sudden appearance of her new half sister, Ashley Horn, having publicly declared this weekend: 'I want nothing to with my half sister.'
News of the sudden existence of Lindsay Lohan's new half sister  came after her scumbag daddy Michael Lohan (does the shirt fit kids?) appeared on the "Trisha Goddard show" where all eyes were pried on the magic envelope as it was slowly opened to reveal the all so shocking news that Milo had spawned a love child with a fling hook up whilst separated with then wife Dina Lohan in 1995.
Upon finding out that she was indeed Milo's little girl, Ashley Horn declined Milo's attempts to hug her (yes better late than never right kids?) instead sobbing the following:
"I don't want to be a part of what they've called the Lohan train wreck,"
Which brings us back to Lilo who effectively has issued the same fatwa (I know I'm in a real good mood this morning), that she too wants nothing to do with the joke called Michael Lohan traveling circus. Of course when Ashley assuaged that she wanted nothing to do with the Lohan train wreck one can reasonably assume she also meant that bixch Lindsay Lohan too. But of course Lilo, a seasoned media whore always knows better…
tmz: We're told Lindsay has been aware of the paternity dispute for a while — since it's been going back and forth for years — but did not know her father had taken a DNA test until we broke the story.
Lindsay has not communicated with Michael since he leaked the recorded phone call during her fight with Dina last month — and no longer wants anything involving him in her life, love children included. 
Lindsay says she's doing much better now without her father's drama — and she wants to keep it that way.
We're told Lindsay has no ill feelings toward Ashley — but finds the entire situation "disgusting" … especially because Michael had the affair while he was still married to (and having kids with) Dina.
Disgusting? Mercy us.
Of course the above may explain Lilo's rather nonchalant response on the Goodmorning America show when she was asked by presenter Amy Robach how she felt about having a new half sister? Responded a demure Lilo:
"I didn't even hear that, so thanks for the news!" 
Which of course was Lilo's brain cells communicating that over time she's developed this mutant gene that's allowed her to block out all the negative shit that goes on in her life, which in essence acts like a kind of wind shield from the dizzy episodes called 'this is my destructive life starring me.'
And how has Milo responded to Lilo's snub?
"I am sorry to hear Lindsay feels that way. I met Ashley and she is a good kid. But we all have our choices to make in life, as well as our own prerogatives. Who knows, maybe someday things will change. Regardless, I want the best for all my kids."
Yes Milo wants the best for his kids, which shouldn't surprise us when Milo pillages Ashley and whores her out to the lions of media dens…