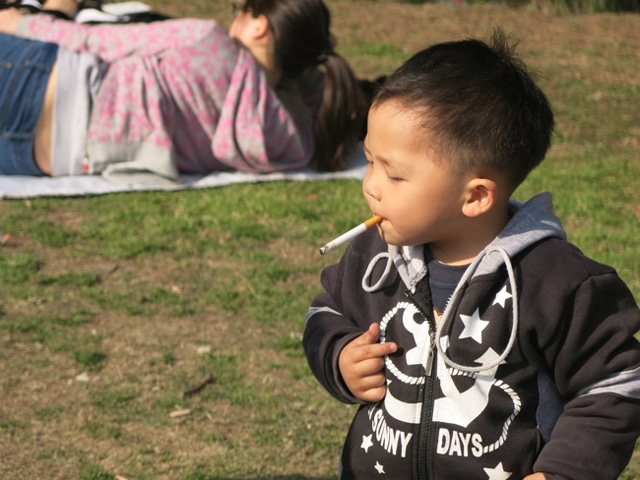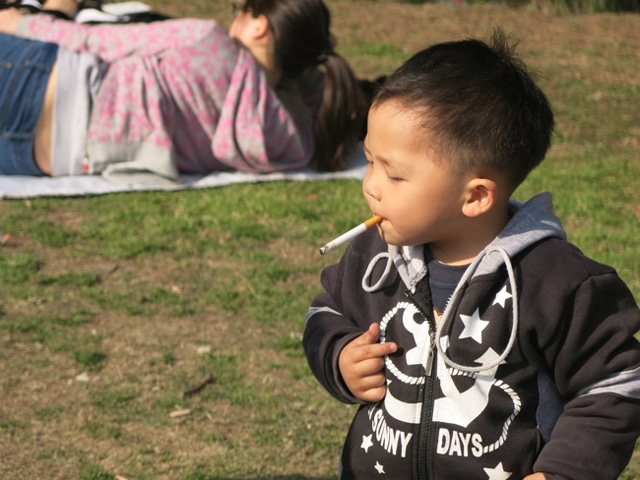 Here are some pictures making the media rounds (although I have been warned it is April Fools day so this shit could all just be a prank or dangerously too real, I haven't made up my mind yet…) which are causing bloggers to chafe on their finely primed Gaulloise smokes, second hand edition of  J. D. Salinger's 'Catcher in the Rye ' and gently tended to caffe lattes. I know the temerity…
Courtesy of blog shanghai style file comes the following. Look and read and kids and ask yourself if this is at all possible?
And now for something completely different. We interrupt Shanghai Style File's usual broadcast of all things chic to present to you a smoking Chinese toddler spotted on Easter Sunday in Shanghai's family-friendly Fuxing Park. My jaw dropped when his pajama-clad mother handed the tot a cigarette… then lit it for him … then smiled on as he smoked it… then laughed as he rolled on the ground when he felt sick. As I snapped photos, my friends begged the parents to intervene, but they just enjoyed the show. This is a disturbing scene indeeed, but I could not not share this.
Reflected one commentator on the web which brought a wicked smile to my face:
He's even doing a correct Chinese cigarette grip. Do you know how hard it is to get little kids to grasp utensils correctly? I'm impressed.