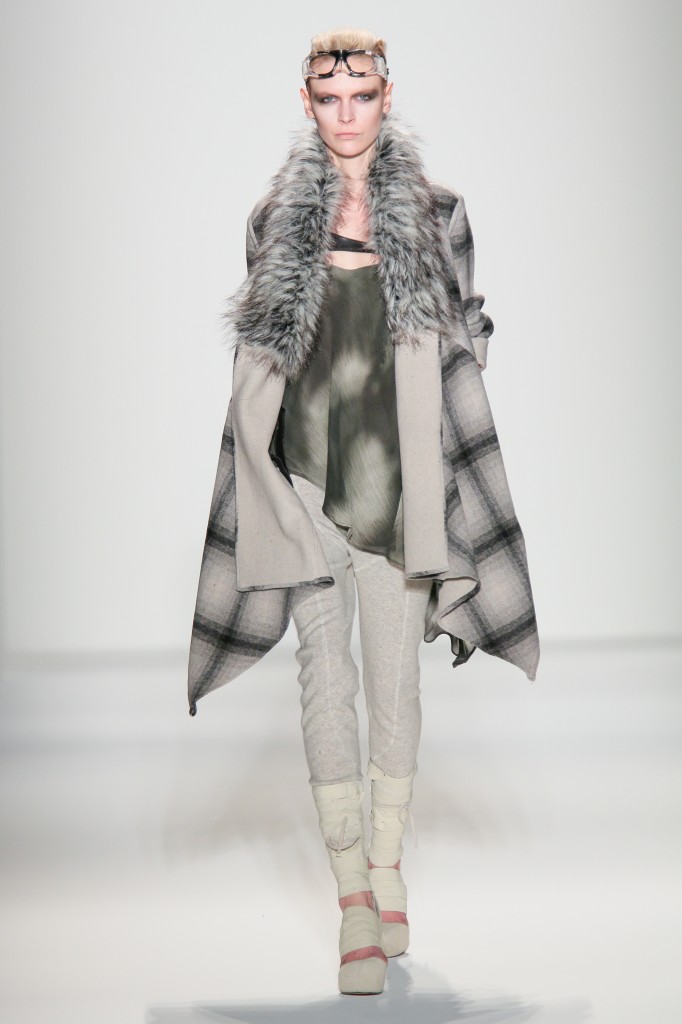 Lets first start out by asking how all of the Swedish zombie models at the Nicholas K Fall/Winter 2013 show managed to keep from eating each other? Ice blue eyes behind clear sleek goggles and palely painted faces walked the runway to the sound of unidentifiable dark techno.
You felt as if you were at the ski lodge with all of your favorite "undead," while the boys lounged around in their long johns, leather and slipper gripped rubber sole socks, and the girls in their sheer tops, and creamy grey eye shadow.
Much of the layering and mix matching consisted of leathers paired over top of glossy synthetics, and fuzzy cashmere head coverings, and the color palate reflected creams, dark earth tones and blacks.
The girls were also featured wearing clear heeled wedges with cut up dark fabric that wrap its way along the entire shoe and up the leg, which we will probably see replicated at H&M in two months from now.
An impressive show all in all, however, this writer's favor does lie with the men's collection. The layering, paid with the coy bare socks really did it for me. Next winter's goal is to find the zombie boyfriend who will take me to Vail, with his leather and long johns in tow – these days I don't think that will be hard to find.
The Fall/Winter 2013 show featured styling by Wendy Schecter, hair by Nick Irwin for Catwalk by TIGI, make-up Tina Turnbow for by NYX, nails by Lisa Logan for Red Carpet Manicure, women's shoes by Nicholas K, and men's boots by Danner.