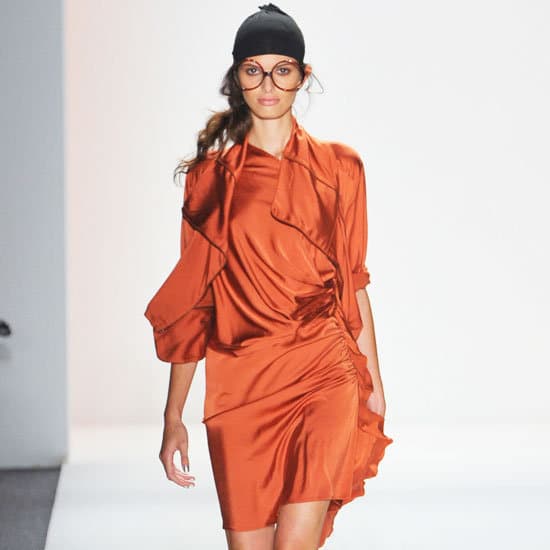 Even before the Nicholas K show there were rumblings of who may be sitting front row, that great arbiter of cool and worthiness (so I have been told). Flocking to my right were a phalanx of paparazzi snapping happily away at who I couldn't tell cause simply I didn't recognize them (the duo, Aiwo Jawo and Caroline Hjelt being snapped were a Swedish pop band by the name of Icona Pop who I was happy to greet after the show). A look to the right saw another beehive swarming at the next must be famous and fabulous celebrity. Unfortunately once again I didn't recognize who was being photographed, which must be pretty terrible for a seasoned tabloid writer. Never mind.
That said the real stars of the the Nicholas K presentation were simply the designers themselves (siblings Nicholas and Christopher Kunz) who season after season keep impressing me with their originality, gusto, whimsy and provocative schemes.
Sauntering down the runway (some designers like to have their models thump down that bixch but personally I enjoy that extra second savoring the wears on display) were a smorgasbord of thoughtful and cohesive pieces (yes the collection worked as a whole and individually).
Included on display were once again the Nicholas K staple of earthy tones, mustard ochre, with tassels ribbing from the elbows and wrists the light tunic sashaying effortlessly as the models showed off their wears.
From the recurring hooded tops that glamorously swirled around the neck and around ones shoulders (think old world Hollywood), to svelte skull caps, fitted cashmere sweaters (yes please), and for the boys knickerbocker shorts over tunic undergarments that went past the shorts and up to the knees and svelte loose silhouette jackets.
The look was layer over layer, flowing over another flowing extending piece, motif, draping and luxuriating around ones inner torso and creating a thoughtful and constructive appreciation of light fabrics and earthy colors. Cargo pants, bomber jackets and the overall casual but very chic and comfortable ready to go attire.
Then there was the cardigan that stopped midriff around the back of the model's waist and then re asserted itself as sinewy billows around the wrists, a romantic after thought, perhaps a reaching to a bygone glamor and softness.
What also amused this author were the kitschy over sized sunglasses the designers had some of the models wear and the ingenuous sandals that came with reinforced shoe strings as straps,not that I have ever been a fan of sandals in my life but these looked quite fetching and cleverly made- a definite must have among you chaps.
Another thoughtful collection and stellar work from the team of Nicholas K.
to see more photos go here