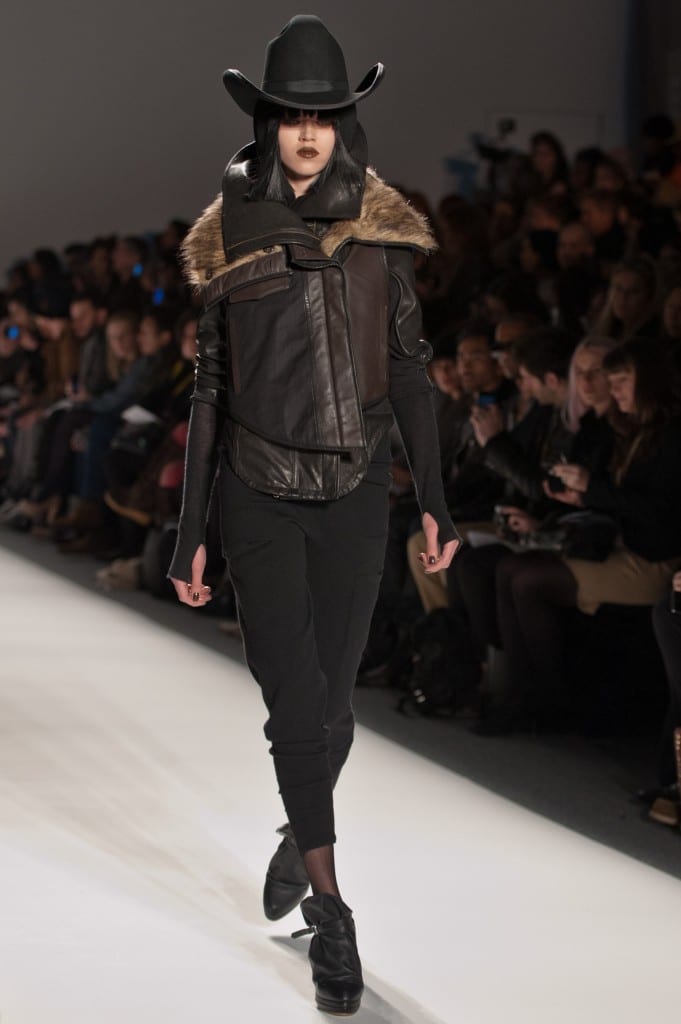 Nicholas K was the first designer at this years IMG Mercedes Benz NY Fall/Winter 2012 to show and if their uber outwear collection was any indication it looks like this years collections may have some pleasant surprises for fashion enthusiasts.
Pouncing down the runway, sibling designers Nicholas and Chris Kunz had a flotilla of dowdy looking models (but spectacular dowdy nevertheless) decked in what could be described a fusion of glam cowboy regalia (I'm betting some of you will be strutting with the moxy cowboy hats soon) with a hint of the 1930's with the flapper haircuts and slink hem lines.
In keeping with their downtown cool and outdoor ouevre the designers had their models decked in bomber jackets with high shearling collars, lots of draping tassels and their signature over sized light mink scarves. Models were also seen wearing hoodys with or without cowboy hats, graphite shingles flowing (the 1930's flapper hint).
As has become the signature motif for the up and coming line, Nicholas K drapes item over item creating an airy light flowing appendage that stimulates the eye.
Some of the fun pieces included what looked like a gun halter slung over ones shoulders and wrapping across the back. Instead of guns though one got 2 large pouches. Boots were chic and clunky and the tortoise necklace were a nifty touch too.
As the models skunked to the beat of an uber Neil Young classic fitted with a dance beat over the sunset one couldn't help but thinking how well Nicholas K pulled off their newest line and how after season after season they just keep getting better. Another resounding collection from a dynamic line that you kids must have in your closet, or preferably on your persons. Kudos.
Images continue next page.