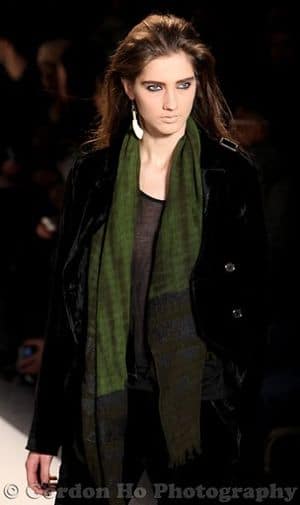 If Goth is your forte than the designer duo of Nicholas and Christopher Kunz of Nicholas K was sure not to disappoint. Officially kicking of Mercedes Benz Fashion week here in NY, the brothers sent a motley crew of gaunt and wonderfully eerie models strutting the runway as if in a rendition of a country sultry day with goth surreal director Tim Burton as the ringleader.
With velvet satin flare pants tucked into knee high boots, and flannel shirts tied around the waists, the brothers dared to contrast glam with diehard grunge- perhaps a testament to the disposition of how the designers see the world and a playful reckoning of two different counter cultures.
With fur trimming lapels and macabre sober colors that accentuated the play of light fabrics versus heavier accessories the collection served to play on the idea of today's youth as a type of urban guerrilla fighter on the go.