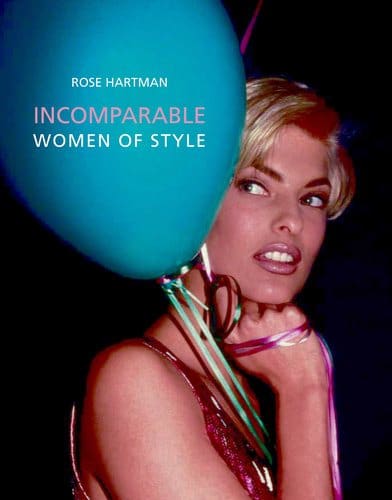 'Style is the way you go to bed and wake up in the morning.'
And thus begins the delightful odyssey of Ms Rose Hartman who to this very day remains one of the most iconic glamour photographers of our time.
I first met Ms Hartman over 4 years ago as a surly young paparazzo/society writer (which fortunately or unfortunately to this very day I remain) where she amazed me with a compact digital camera in her possession which she was toying with whilst I disparaged society guests floating above and around us. Ms Hartman on the other hand who admittedly was rather aghast at my nonchalance was studiously fixated on the room, you could see even as she sat there irritatedly listening to me (she must have wondered who was this audacious scoundrel) her eye scanning and focusing on the subject. And that in essence is the spirit of Ms Hartman, she has an eye and a capacity to get to the core of her subject. Later that evening she managed to call me out for being the rude and rambunctious individual that I am so capable of being. Alas. Which is to say Ms Hartman since the 1970's when the concept of iconic photography, celebrity and glamour first presented itself has been there to catch it all.
Since then, I have marveled at Ms Hartman's uber capacity of taking some of the most compelling photography on the scene and it is no surprise that to this day she remains at the top of her game. Which raises the question, how does she still manage to do it and how is it that she's managed to remain at the top of the heap especially with the influx of paparazzi photography which in so many ways has cheapened the art of glamour photography.
Thankfully for us, Ms Hartman has only gone from strength to strength, enjoy the interview below, I certainly did. Maybe Ms Hartman might take the time to photograph you one day, and maybe this time I will agree to Ms Hartman's overtures to have this surly author be photographed by the venerable Ms Hartman herself…
Here's more about her latest book that the venerable ACC Editions have come out as a wonderful retrospective of Ms Hartman's stellar work. Go out and buy it now!
New Food pays a retrospective to glamour photographer Rose Hartman.