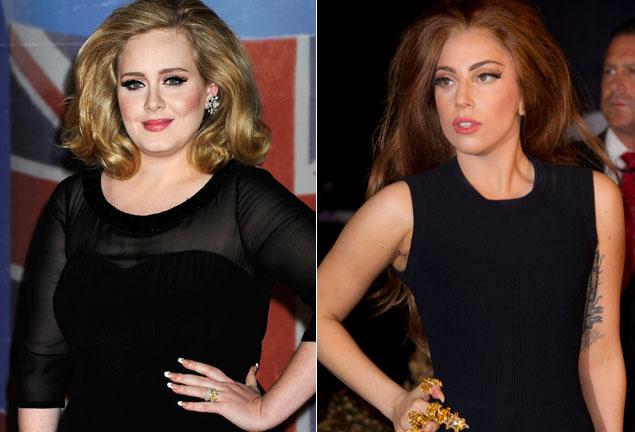 According to Lady Gaga who has opened up to Stylist UK she thinks the media have paid too much attention to her recent weight gain and given the topic more coverage than it probably deserves.
"I was acutely aware of some photos on the Internet – my mom called me and was like, 'Did you gain weight?'" the 26-year-old singer revealed. "Everybody was telling me about it, and I didn't really care.
I thought, 'Well, I don't really care if they think I'm fat, because, quite honestly, I did gain about 30 pounds.'"
Lady Gaga then goes on to point out that fellow female vocalist Adele hasn't been targeted by the tabloids (well except by Lady Gaga herself…) who has largely escaped jabs from the media about her weight save the less than stellar jab from designer Karl Lagerfeld(aka Uncle Kunty) who has strangely made it his business lately to have a jab at high profile figures in the press.
"Adele is bigger than me – how come nobody says anything about it?" Gaga quipped. "She's so wonderful and I think her confidence is something I have to match. She has set the bar very high for a lot of women.
I need to be a confident woman and just say politically active things when I can that are helpful to young people."
Lady Gaga's latest comments come after her initial response to the hoopla about her weight gain which in essence had the pop star labeling 'society as ugly.'
Of course this all might be true but what Lady Gaga is not acknowledging or revealing is that for the longest time she has used her body image as part of her musical canvas to curry favor, mystique and curiosity as to her brand and label. In Adele's case it has strictly been the quality of her music and she has not indulged her fans with inclinations to images outside of her singing unlike Lady Gaga who has until now proudly paraded like a blood soaked vamp with triumph until that is she let herself go and put on weight….
And then of course this reaction from one of stylist's readers certainly caught my attention too:
To answer the train wreck's question . . . because Gaga is trash and Adele is class. Gaga brought it all upon herself for showing so much skin and doing things like pissing in rubbish bins. Adele just had a baby and like Jessica Simpson, her priority is her new baby, not her weight. It doesn't change the fact that she has an amazing voice. Gaga's bulimia/anorexia issues aren't Adele's thankfully. Gaga did anything outrageous she could think of for attention because she wanted to be a 'star' … now its catching up with her… How dare she even compare herself with Adele.
Lady Gaga defies critics of her weight gain by strutting in new skimpy outfit. Leave it or take it!
The world still refuses to accept Lady Gaga's weight gain. Now confesses to bulimia