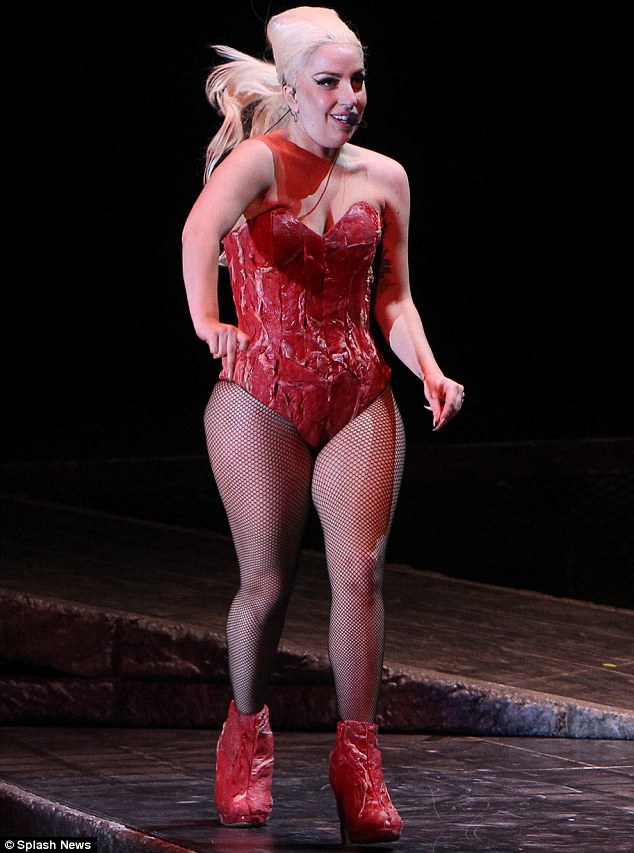 Lady Gaga defies critics of her weight gain by strutting in new skimpy outfit. Leave it or take it!
The world still refuses to accept Lady Gaga's weight gain. Now confesses to bulimia
Here's a surprise for those who obsess over Lady Gaga, girlfriend has packed on the pounds and it didn't go unnoticed when she performed last night in Amsterdam, Holland.
dailymail.co.uk: Looking much bigger than usual around her thigh and hip region, Mother Monster was also sporting a fuller face as she belted out her biggest hits. 
And as the Alejandro hitmaker later changed into a pair of high-waisted khaki trousers and a black bralet, her weight gain around her waist was clear to see. 
Which poses the immediate question what are we to make of Lady Gaga's latest weight gain? Too much of the good life, a sudden declaration that she no longer cares about her looks (which seems absurd as Lady Gaga is all about getting us to notice how she looks) or just nature taking its toll and us the public accepting that our collective heroine Lady Gaga is mortal after all and we needn't put her on some pedestal of unattainable goals. Then again not to be crude it does appear that this is more than just a few pounds here and there….
And then there was this earlier this year, which comes as an anomaly given the singer's dramatic weight gain:
Gaga has been open about how hard she usually works to maintain her trim physique, and caused controversy earlier this year by revealing her diet habits.
Writing on her Twitter page, she said: 'Just killed back to back spin classes. Eating a salad dreaming of a cheeseburger #PopSingersDontEat #IWasBornThisWay.'
Then I came across this comment from a reader below which might just put things into perspective, see what you think…
I saw her last week in Manchester; she looks amazing. She is beautiful inside and out. I don't get the point in this story. So what if she has gained a little weight. Its no big deal. Its not news worthy. Say what you want about her but what she stands for is amazing and she is so passionate about what she believes in. So, so what if she has put on a little weight…. be who you are, love who you are and don't live your life for other people or conform to what others want. Straight from the talented lady herself. Instead of putting people down, why not write about all the amazing things she does for others, all the charities she helps, all the things she does for her fans to show she appreciates them, about how damn talented she is. Or just how amazing her concert is – she danced her butt off for well over 2 hours, she cried, she laughed, she brought fans on stage and best of all she wrote every single lyric of the 20 somethings songs she sang.