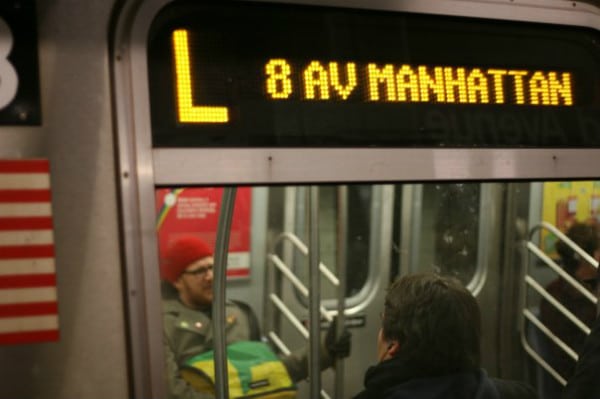 Have you had the courtesy of having the Love Conductor Erika Christensen hook you up yet?
Admit it, how many times have you boarded the train and found your self staring at someone wandering what it would be like to kiss them, be kissed by them in return and frolicking in satin sheets. I know I have and so has Erika Christensen who has made it her calling to connect single straphangers on NYC's L train.
nypost: In one recent outing she spotted a man in his 20s selling paintings on the platform of the Bedford Avenue station in Brooklyn.
"Are you single?" she asked bluntly, pulling out her business card — "You've been spotted," it reads — and handing it to the slightly startled man.
"If he gets in touch, I have a couple girls I can fix him up with," she said confidently.
Perhaps it might surprise you to know that Ms Christensen has now made spotting hipsters lonely hearts on the subway a budding career where she has now amassed a dozen clients each who pay her between $39 and $456 a month for matches, date planning and coaching services.
Shunning bars where most of us so often go to find love or romance (I have found book stores and boheme cafes to be my calling) Ms Christensen prefers the patina of the subway system.
"I'm using the subway as this great recruitment tool,"
Which probably ought not to surprise anyone given the surge of young attractive single people who everyday catch the L train.
"It's a totally natural idea for New York. There is that little nugget of hope that makes commuting more exciting."
Which probably explains the time when I passed on a note to one woman whether she'd enjoy tea with me who later that day called me, which in turn turned into a beguiling romance. But then for those of you who lack the courage, or simply the foresight to know who's checking you out, there's Ms Christensen.
"You're lying if you say you're not checking everyone out on the train."
Indeed Ms Christensen probably has a point there….
You can find Erika here: http://trainspottings.tawkify.com/
or here on her twitter handle: @Train_Spottings
Observations on the L train. NYC.
Learning to love the 'hipster.'
WHAT DO HIPSTERS LIKE TO DO IN THEIR SPARE TIME?
The arrival of the Bushwick hipster.
WHAT ARE THE TEN TALE SIGNS THAT YOU REALLY AREN'T A HIPSTER?