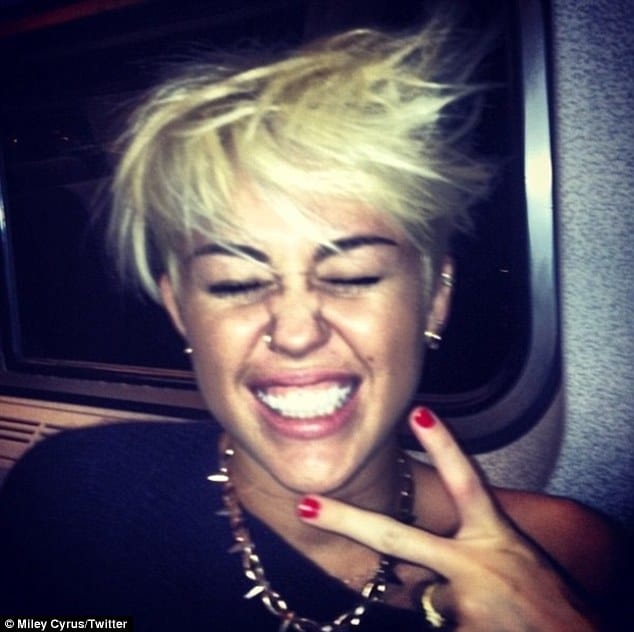 Miley Cyrus insists her new hairdo is just too fantastic. Her fans don't though….
Well if there is one thing Miley Cyrus ought to be used to by now, that's controversy and she certainly caused it this week when the pop singer went out and gave herself a new edgy (and we mean edgy kids) haircut. The hawt bixch is barely recognizable and one can't help but think she did this on purpose cause she knew we'd all put away our after dinner deserts to take a peek at her new hair do.
As the comments started getting hostile (c'mon Miley what were you thinking, you went from angelic teeny bopper idol to East Berlin uber Punk look alike) Miley took to twitter to defend her cut (now that's how you know your ass is mad popular).
Tweeted our collective hawt bixch: 'if you don't have something nice to say don't say anything at all. my hair is attached to my head no one else's and it's going bye bye :)'
And perhaps adding injury to insult, the kid dynamite had this to say after her hair new hair do to her 7 million followers:
'Never felt more me in my whole life'.
For those of you interested in emulating the new look (and there sure will be) Miley's hairdresser was Hollywood hawt bixch Chris McMillan (who coincidentally is famous for creating Jennifer Aniston's 'Rachel' haircut from 'Friends.')
Never mind Miley. Scallywag still thinks you are an uber hawt bixch. Work it, bon chic!!!
Miley Cyrus tweets new picture of her in nearly non existent itty bitty shorts
It's time to salivate at Miley Cyrus vixen's little body.
Miley Cyrus would like to show off to you her new $127K Mercedes Benz.
Never mind Miley Cyryus will always be the hawt sleazy bixch that you will always hate.